Yes, even Eddie Murphy was a movie vamp, and he was better at it than he has been in most of his other movies (Norbit!). "Vampire in Brooklyn" has him as Maximillian (pretty hot vampire name) from the Caribbean in this Wes Craven comedic film. He comes to New York in search of a Dhampire, a daughter (the fabulous Angela Bassett) of his hometown vampire. Max is also the last of his vampire lineage and must mate (never liked this kind of theme) to continue the race. Khadeem Hardison is pretty good as the Renfield type character in this telling of the Dracula tale.
New Inside True Blood Blog By Gianna Sobol
Sam Trammell has a cameo along with a slew of celebs you'll recognize in this trailer-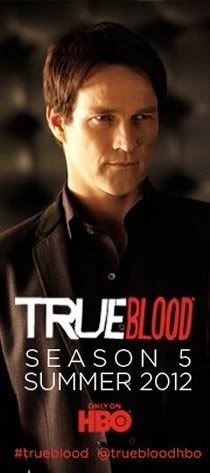 Stephen Moyer has dropped a hint about what is coming up for Sookie and Bill-
Stephen also revealed the couple missed working together so much in the last series when the relationship between his vampire Bill Compton and Anna's telepathic waitress Sookie Stackhouse came to an end. The 42-year-old said: "Anna and I love working together, it's all we've ever known, so we kind of miss it, but I think they realised halfway through season one that our show works best when there's conflict ."But the actor hinted that season five will see more changes for Bill and Sookie. "There is something that happens at the beginning of the season which changes their relationship again," he teased.
Digitalspy has this vid and more with Deborah at their link.
Joe on another mag cover, many more at DA Man, some new information from Joe's interview too. This is just the TB related bits, but it's much longer-
DA MAN: Have you read all or some of Charlaine Harris's The Southern Vampire Mysteries—the literary inspiration behind True Blood?
Joe Manganiello:
I read each coinciding book before each season in an effort to get inside the writers' heads. I wear the books like a loose jacket.
DA MAN: Do you discuss things much with creator Alan Ball? And is he open to input from you or the rest of the cast?
Joe Manganiello:
I don't tell daddy how to f*#k … Alan is a genius. I trust his judgment implicitly and I give everything I have to my job, which is playing Alcide. Alan and the writers give me the situation and what I'm going to say and then I put my stink on it.
Kidarazzi and Ryan, he is the most comfortable with these kids.
More pics at TVLine of Ryan on "New Girl" at the link.
Don't forget Denis O'Hare's play is opening soon, ticket info is here.
Nothing new but a nice review of some spoilies.
What a waste it was to kill off Ed Quinn so fast, he is the hot in hotness-
Joe bringing some attention to a worthy cause, Claire's Place Foundation
This seems so familiar, maybe I've seen it before but it is up now by AllStephenmoyer-