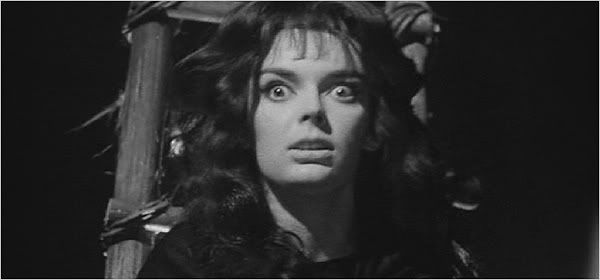 I was always going to feature
Barbara Steele
, but felt like I had to save her for something grand. Then I realized I don't have to do only one post with her, she deserves many being the Queen of Horror. Growing up it seemed like she was in every horror flick on TV, so beautiful and so deadly. When I saw her in "81/2", it confused my little kid self, it was in Italian with subtitles so I figured she was Italian and thought of her as the Sophia Loren of horror. Who could forget her in Bava's Black Sunday? The movie is still stunning in it's use of light and dark, all shadows and pathos, Bava's signatures. Ms Steele starred in more films out of the genre than in it but she was always a star in her horror outings. I used to get a kick out of seeing her in repeats of TV shows like Secret Agent or Alfred Hitchcock, I always think of her in black and white. I would love to see her on True Blood, can you imagine the awesomeness of that?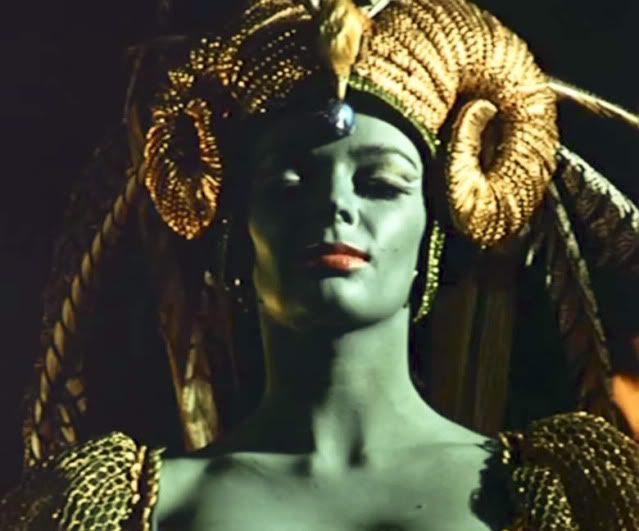 She's in her 70's still beautiful and fabulous.
Finally!

Denis OHare's

tweet-
Sorry I've been so quiet - running to LA and back to film something...oh, just some TV show....can't say more....
Rhoswen7 comes thru again-
Here's a casting notice for episode #507. There's gonna be a wedding...
TRUE BLOOD, Episode #507
Director: Michael Ruscio
Writer: Brian Buckner
Location: L.A.
Start Date: Approx. 3/16/2012
[BLACK OPS VAMP] Late 20s to early 30s, a Black Ops Vampire, he/she is involved in a mission to capture a prisoner. CO-STAR.
[TYRESE] A beer-drinking, pizza-loving African-American man in his late 20s, Tyrese is another member of the trashy, low-rent anti-vampire hate group. POSSIBLE RECURRING.
REVEREND SKINNER] Male, 40s to 50s. This minister is seen on video, performing a marriage ceremony. Co-STAR.
[SWEETIE] Female, Caucasian. About 30, she is a large woman who's having a noontime romance with an older married man. RECURRING.
[BRIDE-TO-BE] Female, 20s, Caucasian. A bride-to-be at a big Southern wedding, she's attending a karaoke party after the rehearsal dinner, and sings "You Light Up My Life" to her groom, until she's interrupted. CO-STAR.
[GROOM'S MOTHER] Caucasian, mid to late 40s. The mother of the groom, she also attends the karaoke party after the wedding rehearsal, and recognizes an uninvited guest. CO-STAR.
[SECURITY GUARD] This security guard in charge of protection announces an unexpected visitor, and later snaps into almost-action, awaiting orders. CO-STAR.
Ok, this supposed spoiler is a complete rip off of Rhoswen's casting call, sad.
Violet in Seattle: Please tell me you've got something on
True Blood
? Maybe who Sookie is going to end up with?!
True Blood
is on its way this summer and we've just gotta say, there's nothing like a southern wedding: the birds are chirping, the heat is overwhelming, and the vampires are crashing your rehearsal dinner. To answer your burning question: Yes! There is going to be a wedding. And there
is
going to be karaoke at the dinner! Eonline
New Inside True Blood Blog-
Meet the Department Heads
By Gianna Sobol
Name:
Marc Garcia
Title:
Key Medic
What you've been up to this week:
I just read episode 5 of season 5. So I now know what the audience is dying to know but won't know until next June! BWAH HA HA HA!! We're well into filming, so it's very busy. We have stunt rehearsals, rigging and set building as always on our lot and locations. There was a plague (Cold/Flu) that ran through the set after Christmas that has finally subsided. So on that level things are mellow.
Weirdest thing you've had to do for True Blood:
I can't think of anything really weird that I've done on set. Aside from treating people for standing by with an alligator, Brahma bull or rattle snakes on set, watching a mock pit bull fight, actors and stunt people (sometimes totally naked) fighting, falling from horses, moving cars, running around on fire, treating 50 naked background actors for mild hypothermia, stomach aches from swallowing too much fake blood, or describing what really happens when a body dies to an actor for research. I'd say for the most part it's all pretty normal on the True Blood set most of the time.
Oh! Last season I did volunteer to bite/eat "rotted luminous fruit" from Fairy Land that had sterile maggots on it after one of the actors changed their mind about doing it. The idea was scrapped however.
Favorite episode or scene and why:
That would definitely be the first fight between Sookie and Debbie Pelt in season 3. It took 4 or 5 days to film that scene. I was amazed at the level of skill and energy Anna, Brit and their stunt doubles Heidi Pascoe and Stella Angelova had for every take. Those girls are so tough. They could very easily take everybody's lunch money on this set. Every bump they took made our Director Lesli jump up and down like she was at a pro wrestling match. Those girls were all pretty beat up by completion of that scene. The end result looked amazing on TV.
Angela Robinson has joined our little writers room and is off to a running start. I just read her first draft of Episode 505 and it was pretty amazing. As she gets ready to prep the episode, I asked her a few questions about her new gig...
Gianna: What were you up to before you joined us here in Bon Temps?
Angela: I was working as a Co-EP on Hung.
Gianna: Were you a fan of the show before you joined the team?
Angela: I was! Although, I wasn't up to date.
Gianna: What's it been like joining a show already in its 5th season?
Angela: It's been really fun and exciting. Alan is awesome to work with and the other writers have been very welcoming and are insanely talented. I'm in prep for my first episode now, so I am just now meeting the cast and crew.
Gianna: Which episodes are you writing?
Angela: I will be writing episodes 505 and 511.
Gianna: What's been the most challenging part of the new job?
Angela: I think getting a feel for the tone of the show and the voices of the characters. I've always been on shows since the beginning, so it's a different ballgame to come into a show where everything is already established and figuring out how to do your thing within the established parameters.
Gianna: Who's your favorite character to write for and why?
Angela: I've only written one episode -- but so far, I really like writing for Sookie, I enjoy her struggle to retain a sense of normalcy in her increasingly dangerous life. And I like writing Jessica, I think the dichotomy between her natural goodness and the dark side of her vampireness is fun to explore.
Gianna: How is True Blood different from other shows you've worked on?
Angela: It's way mellower, and the hours are great! Of course, I haven't entered production yet. Ask me again in a month.
Gianna: Any fun hints you can drop about the coming season?
Angela: I am terrified to utter a peep because there are so many rabid fans out there, so I am going to remain mum on that. Suffice to say it will be awesome.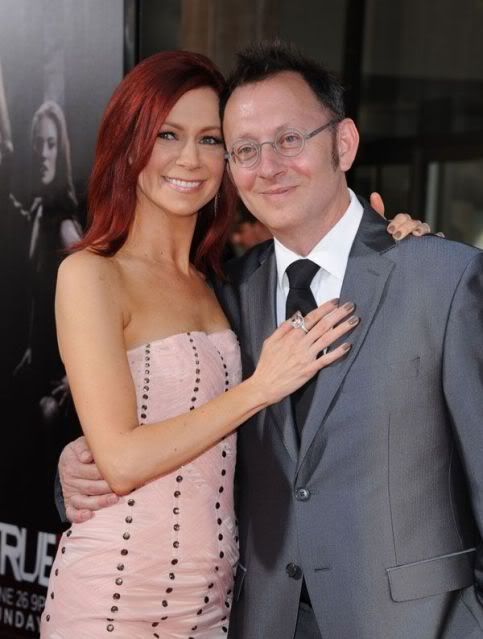 Fred Topel's interview with Carrie Preston it's long and mostly about her movie "That's What She Said" read it all at the Suicide Girl's.
What is your life as a filmmaker like compatibly or separate from your life as an actor?
You know, I find that they really complement each other because I learn a lot in front of the camera about what to do behind the camera. I certainly have more respect now for what does go on behind the camera, what the director is trying to accomplish, why things take as long as they do, why continuity is important. All those things that then I can try to apply when I'm in front of the camera. And I am on a TV show now that has such a huge cast that we're in all the episodes but we don't work every day. So I have the luxury of having a steady paycheck right now, which is always rare for an actor, which affords me time to work on my film projects so they definitely complement each other in that way.
Have you ever directed an episode of
True Blood
?
No, I have not.
I don't know if
True Blood
is the kind of thing that I would be naturally good for. That said, I would love to shadow one of the directors. In other words, be by his or her side from the minute they come on to when the episode is locked because I've not experienced that whole process. I only just come on set as the actor. I know it's different from features so I would love to do something like that and I intend to talk to them about that and see if they wouldn't mind me doing that.
What sorts of things are you looking forward to getting to do this year?
You know, I just put myself in the hands of the writers. I don't know how they are able to have so many balls in the air and juggle all of them and give all the storylines their due, but they do. I just go along for the ride.
As it's expanded, how has that impacted you?
I have less. I have less to do because there are so many characters, but the thing that I've learned about the show and those writers is, even if you have less to do, it still packs a punch. So I just am grateful that my character is still alive and still there and that they still want and the audiences still want Arlene, because I think she adds a lot of spice to the show.
Would you normally keep your hair fabulously red if it weren't for
True Blood
?
No I wouldn't but I certainly am glad for it because I really like being a redhead. It takes a little
maintenance but I like it.
What interaction do you have with
True Blood
fans?
I do have some wonderful, wonderful Twitter followers and I love to interact with them and I retweet and comment and talk to them. They are very devoted and that's so fun because who would have thought you could reach 37,000 fans with one sentence? It's extraordinary.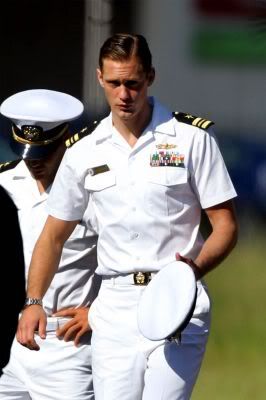 Saturday,March17,
3:15-4:15
Universal Pictures: Battleship and Snow White and the Huntsman—
Universal Pictures will present footage and special guests from two of its upcoming epic action-adventures:
Battleship
(May 18) and
Snow White and the Huntsman
(June 1).
Battleship
director/producer
Peter Berg
will be joined by two of the star's from the film,
Alexander Skarsgård
and
Brooklyn Decker
, to discuss the project.
Snow White and the Huntsman
's director,
Rupert Sanders
, will answer questions about the new movie starring Kristen Stewart, Charlize Theron, Chris Hemsworth and Sam Claflin.
Ballroom, Third Level
Screaming Banshees, how the hell can these actors stand it?
Urban Fantasy News'
Review
of Michael McMillian's Lucid Vol.1-
The story, scripted by
True Blood
's Michael McMillian, is a fascinating arc between the four issues contained in this volume, with more to come in this limited series. Readers are thrust into the middle of this world that is both familiar and foreign, where magic is one of the most important weapons in the hidden chess game between nations.
The main character, Matthew Dee, is a direct descendant of 16th century mystic and consultant to Queen Elizabeth I, John Dee (look this guy up on Wikipedia), which enables him to wield magic and be the "Protector of the Realm" for the United States. I won't reveal why, but I absolutely love how Ariah turns out to be a key part of it all, including the reason that Dee is "lucid" and able to tap into his gift in the first place.
This is going to be good, who'dathunkit last year?
Flashes from the past, Paleyfests
Saturn Award Noms, True Blood gets only one, big difference from past years.
Breaking Bad and American Horror Story Scare Up Multiple TV Nominations in Banner Year for Genre Entertainment as Academy celebrates its' 40th Anniversary.
Best Syndicated/Cable Television Series:
| | |
| --- | --- |
| American Horror Story | F/X |
| Breaking Bad | AMC |
| The Closer | TNT |
| Dexter | Showtime |
| Leverage | TNT |
| True Blood | HBO |