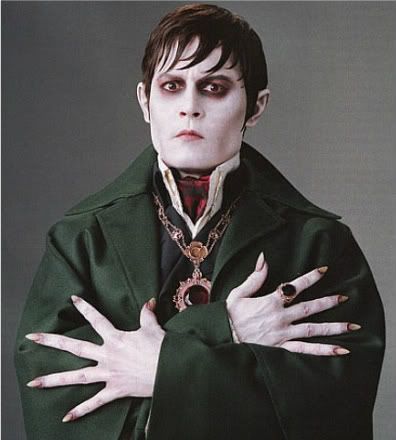 This is going to be fun, look at that face, ha! Edward Scissorhands as a vamp.
From the Vanity Fair Party photo booth and by Justin Bishop, Billy Farrell
Dont know how I missed this from mid-February but Brianna Brown posted this on her twitter-
"Excited to be shooting True Blood this week!" She's also from General Hospital, she played crazy Dr Lisa, she also is one of the Amy Adams looking actresses I get confused about.
According to casting notices, the role of
the bride-to-be is being cast, so the bride isn't any of the current female characters. Also, the mother of the groom is being cast (mid to late 40s), so we know the groom isn't Sam, any of the vampires, Hoyt, Andy (he's too old to have a mother in her 40s), or Jason. The wedding looks like it will be for guest characters.
HBO's "True Blood: The Complete Fourth Season" is available for pre-order on DVD and Blu-ray. This title releases May 29, 2012.
DigitalSpy has the stars of Alan Ball's new series "Banshee" listed.
Chicago Comic and Entertainment Expo will host Charlaine Harris 4/13-15
They have no schedule listed as yet.
OOH Good News for our friends the Nesters! Vote here for the site at the Newnownext Awards.
The longer we don't hear anything from Rutina Wesley the more I think she is indeed Michonne on The Walking Dead.Just saying.
The battle for earth starts in the sea.
Don't you all miss Tommy, Marshall Allman?
From Jethro Nededog's coverage of The Once Upon A Time's Paleyfest Panel-
Who's coming back?
Graham (
Jamie Dornan
) isn't dead in fairytale land, Kitsis teases. And as far as Malificent (
Kristin Bauer
), Horowitz says, "It would be a disappointment if we never saw her again.