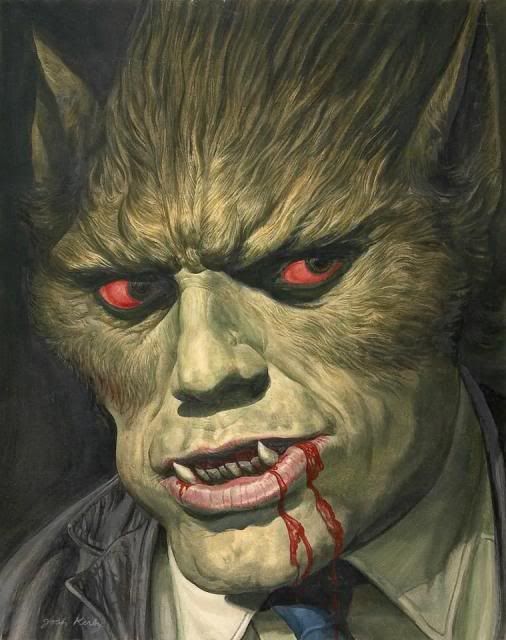 This painting was on Anne Rice's Facebook page and I just had to post for us, his tie is still perfect.
From Joe's twitter-
Furbangers unite! help me get TB's new she-wolf
@
iamkellyoverton
over 1,000 followers by the end of the day! She only needs 255 more!
New Casting Call from guess who? Rhoswen is correct.
TRUE BLOOD, Episode #507
Director: Michael Ruscio
Writer: Brian Buckner
Location: L.A.
Start Date: Approx. 3/16/2012
[LIL] Female, early to late 20s, Caucasian. She's supermodel beautiful. Strong and ethereal. No lines in the first episode. Recurring. FULL FRONTAL NUDITY REQUIRED.
Sookie's cousin Hadley (Queen Sophie Anne's paramour) is back in Season 5 IMDB
Carolyn Hennesy tweeted:
Hey, forgot to mention that I was filming a fantastic promo for the new season of TB yesterday. It's gonna be so wild!
Okay, a P.S. for my Trubies: EVERYONE I've met on TB simply couldn't be nicer. Possibly the best set I've ever had the pleasure to work on.
Sleep well vamps and bangers. Dream big in blood red and to all a good bite!
But WHOSE blood?!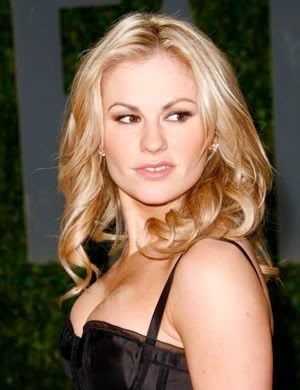 From
THR's Jethro Nededog
-The Academy of Television Arts and Sciences Foundation announces its star-studded presenters for the 33rd Annual College Television Awards on March 31 at L.A.'s Renaissance Hotel. Anna Paquin is joining a star studded line up of presenter for the event.
"It's a huge honor when such visible and prestigious talent turns out to support and recognize the outstanding work of these college students, and this year is no exception," Television Academy Foundation Executive Director,
Norma Provencio Pichardo
, tells
The Hollywood Reporter
. "The College Television Awards feature all the excitement and celebrity of our industry, while serving as the launch pad for its future leaders."
Wetpaint lists some of our favorite Tumblr sites for TB.
Broadwayworld has photos of 'An Iliad" on opening night-
An Iliad plays at New York Theatre Workshop, 79 East 4th Street, between Second Avenue and Bowery. The regular performance schedule is Tuesday and Wednesday at 7:00pm; Thursday and Friday at 8:00pm; Saturday at 3pm and 8pm; Sunday at 2pm and 7pm. There will also be special student matinees on Wednesday, March 14, and Wednesday, March 21, both at 1pm. An Iliad runs through Sunday, March 25, 2012. Tickets start at $70 with a special ticket price of $100 to receive one ticket to a performance featuring
Denis O'Hare
and one ticket to a performance featuring
Stephen Spinella
. Tickets may be purchased online at www.ticketcentral.com, 24 hours a day, seven days a week or by phoning Ticket Central at (212) 279-4200. For exact dates and times of performance, visit www.nytw.org. The running time for An Iliad is 100 minutes with no intermission.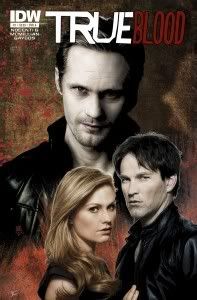 True Blood® Flows Again With All-Star Creative Team all-new adventures rise from the grave in May, from ComicBuzz.
The sizzling collaboration between IDW Publishing and HBO heats up again! Proving that there are helpings yet to be had in this buffet of twisted Southern hospitality called TRUE BLOOD, comics luminaries
Ann Nocenti
,
Michael McMillian
, and
Michael Gaydos
are joining forces with series creator
Alan Ball
to take readers on a brand-new ride through the supernatural underbelly of Bon Temps, Louisiana, in an all-new ongoing series beginning in May. "I'm so happy to come back to work on the TRUE BLOOD
comic
," says
McMillian
, co-writer of the
Tainted Love
limited series. "The show's mythology has become vast and rich over the past few seasons, and our plan is to explore every corner of the vampire universe, past and present. Ann and I are eager to make it a must-read companion piece to the TV series."
One of the covers for French Quarter's Sixth Edition, look inside at Skarsgardfans
Michael McMillian just tweeted this -Good news about my graphic novel, Lucid...!
From Variety-

Warner Bros. has picked up the rights to Archaia Entertainment's comicbook mini-series "Lucid" for writer-producer Akiva Goldsman to develop and produce as a potential new film franchise. Zachary Quinto's production banner Before the Door, which created the book, also is on board to adapt the property for the bigscreen.

Penned by "True Blood" thesp Michael McMillian and illustrated by Anna Wieszczyk, the four-book series takes place in a parallel universe where magic is real and world leaders have secret agents working to fight off supernatural threats. Main character is a young agent, recently appointed "Protector of the Realm," who must use his skills as a covert spy and combat mage to stop an occult technology dealer.