Thanks to Laura and Yami for this perfect pic of Kristin at MonsterCon, puppy!
There's lots of photos still straggling in from Wondercon too, let's see what we can find to post for us all along with some casting news.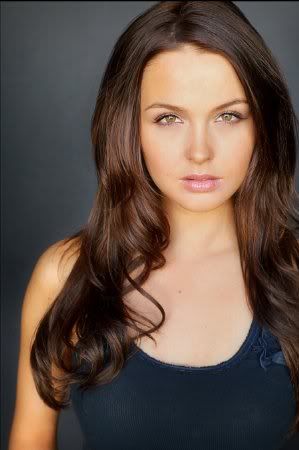 EXCLUSIVE From Deadline: Camilla Luddington
, who portrayed Kate Middleton in the Lifetime movie

William and Kate

, has landed a recurring role on the upcoming season of HBO's vampire drama

True Blood

, which will have a special focus on fairies. Luddington will play Claudette, o

ne of Claude's (Giles Matthey) many sisters, who gives Sookie insight into what it means to be a faerie.

The actress, repped by Progressive Artists, Main Title and attorney Scott Whitehead, most recently did a nine-episode on Showtime's

Californication

, which wraps up a week from Sunday. IMDB Remember folks, all Fae are Brits, oy.
B-Sleuth added a gazillion more pics from WonderCon! All are at Skarsgardfans.
B also has pics of Michael McMillian form WonderCon, believe me I looked everywhere and this is the only place I found any, more at Skarsgardfans.
True Blood Wiki has their page on the Vampire Authority up, sure it will be added to soon.
Carolyn Hennesy
is still filming on TB, love her tweets to fans.
"
Yet another writing day...and looking forward to TB filming! LATER!"
Just got word of my first "location" shoot for TB. Exciting. So wish I could give deets...but June will reveal all!!!
Wetpaint has 10 Things You Didn't Know About Sam Trammell.
From a fan on twitter, (hoped Meloni had his badass shaved head look).-
"It's amazing who you can run into while wandering around a Hollywood studio lot by yourself.
My friend Filthypit (not her real name, lulzing) sent me this-
Some vids from Monster Mania with Kristin-
Can't get anything pass Kristin of Eonline, yeah we saw the casting call too.
DevonCarruthers: True Blood! Anything TB related (preferably vampires and no werewolves!)
How about…old people?! The HBO hit is going to be flashing back to 1931 in season six, where we'll meet Bill's (
Stephen Moyer
) daughter Sarah, who is elderly and sick.
Very
sick.
Thanks to True Blood News, The Nesters, for the vid of Stephen on Top Gear.
From Fearnet.com- A Spoilery Interview with Carolyn Hennesy, in it's entirety at link-
More and more these days, TV shows keep everything secret. No one wants to hint at what is to come - like somehow giving us an overview of the upcoming season would lessen our excitement to watch it.
True Blood
is one of the most notoriously tight-lipped series on television. So I was a little nervous about my interview with Carolyn Hennessy. She is one of the new vamps in Bon Temps this season, so I had nothing to ask her outside of "What is happening next season?" Luckily, Carolyn was an utter delight, devoted to her craft (after getting the role, but having never seen
True Blood
, she sat down and watched all 48 episodes in a mere 10 days), and had a lot to say about her character, Rosalyn.
You play a new character this season, Rosalyn Harris, who is part of the Vampire Authority. Tell me about her.
It's funny because in the script, she is always referred to as "Rosalyn Harris." I feel like it's "Miss Barbara Stanwick" or something. The two names are one name.
Is that a show of respect? Are you higher up in the Vampire Authority?
I am not. The Authority was started by one particular member. I am not the oldest member of the authority but I was there shortly after it started. Very shortly. There are, chronologically, older members of the Authority. But it's [all relative]. It's like if the Authority is 2,000 years old, Rosalyn has maybe been on for 1,950 years. In the grand scheme of things all the Authority members - it used to be eight with Nan Flanagan, but she's gone so it is seven - are the most powerful vampires on the planet.
Do you get to work with Nelsan Ellis a lot?
I do not. I have not gotten to work with him yet. But I have gotten the best: Alexander [Skarsgard] and Stephen [Moyer]. And Chris Meloni [who plays Authority vamp Roman]. So really, a girl cannot ask for more than that. In the first season I am on - and with any luck, there will be more.
It seems that this season is going to be very focused on the Vampire Authority. We've only seen them in bits and pieces. What is going on there?
There is a battle brewing. As has been referred to in previous seasons, there are the [vampires] who are all for mainstreaming. The Authority members are purely for mainstreaming. After all, we are trying to assimilate. We want to be taken seriously. We want to be accepted into this world. We want to be able to live with humans, who outnumber us. That will ensure our survival. Then there are those who don't [want to assimilate]. As Russell Edgington said when he pulled the spine from the newscaster, "We are vampires! We will eat you!" There are two differing factions. Are we going to be able to coexist? That is really what this is all about.
How much of Rosalyn's background did you get to create for yourself?
I got three things: that she is from Texas; that she has hair high enough to interfere with air traffic; and she has a "home-spun wisdom." So she'll come up with the quip that relates to gelding a horse, or say, "Well, when I was on the ranch...." But her instincts are almost always right. Once she makes up her mind, and she knows she is right - and it takes a lot to change Rosalyn's mind. But it can be done.
Does Rosalyn have any romantic entanglements this season? Sex and blood are really the two things that
True Blood
is all about.
Well, we are in the middle of this very dire [Vampire Authority] situation. So far, there have been no romantic entanglements for Rosalyn. I will say that she has a secret crush, but I think that is all I can say. She has a secret crush that I don't even think the writers know about! [Laughs.]
Well, like you said, when you are working with Alex and Stephen, how can you not?
Right! But yeah, she has a secret crush, which I think is highly unusual for a vampire. Vampires can act on anything, but Rosalyn is playing this one close to the vest.
Is Rosalyn for assimilation?
Very much so. She understands the wisdom of it. In the time that Rosalyn has been alive, we have put a man on the moon; we have conquered oceans; we have this synthetic blood. What else can [humans] do that can be of benefit to vampire-kind? That is what really interests Rosalyn, and the only way vampires can reap the benefits of these discoveries is if they act in concert with human beings.
Would you consider Rosalyn a "good guy" or a "bad guy?"
A good guy. A very good guy. Of course, if you cross her, she will snap your neck. As far as I am concerned, Rosalyn loves humans. She loves them for what they may be able to do for vampires.
I know you can't say much about the season as a whole, but is there a general direction this season is going in?
Well, with only my scenes, it would be that there is a real push for mainstreaming. A real push. And then what ultimately results from that tremendous push. That's really all I can say.
Are you done shooting for the season?
No. We're only half-way. We started in late December / January.
How many episodes are you in?
So far I am in seven.
Are you going to be in the whole season?
I don't know.