I was up very late looking for a video from WonderCon of the Battleship panel, finally found one this morning. First, this is from JustJared-
Alexander Skarsgard
,
Brooklyn Decker
, and director
Peter Berg
appear on a panel for their film
Battleship
during WonderCon 2012 on Saturday (March 17) in Anaheim, Calif.
The 35-year-old actor is featured in a new behind-the-scenes look at the making of the soccer scenes from the film along with co-star Rhianna.
"It's been a lot of fun, but I'm pretty sore.
Chris
, this guy from the Marine Corps, is a goalie. He's been helping me a lot,"
Alex
said of learning the role of a soccer goalie. "It's madness. I have no idea how it's going to end up on screen, but I'm really enjoying it."
He's actually doing really good for his first time ever learning to be a keep,"
Chris
said about
Alex
's abilities". More photos at link.
I'm still looking for some Michael Mcmillian info from WonderCon, but I am behind in magazine reading and just found 2 An Iliad articles, so went to TimeoutNY's website to post. Here's the Q&A and then the review.
The Iliad is more than 15,000 lines long. How do you cram such a huge piece onstage?
Denis O'Hare:
We've sort of carved out our version. We've decided to focus on war and its meaning, and the waste of war and the human propensity for violence.

Stephen Spinella:
It's an immense narrative, filled with so many stories that it feels like the other texts that have lasted that long, like the Old Testament. You can imbue them with or extract from them what will satisfy you in whatever age you're in.
Read the whole interview
Q&A here.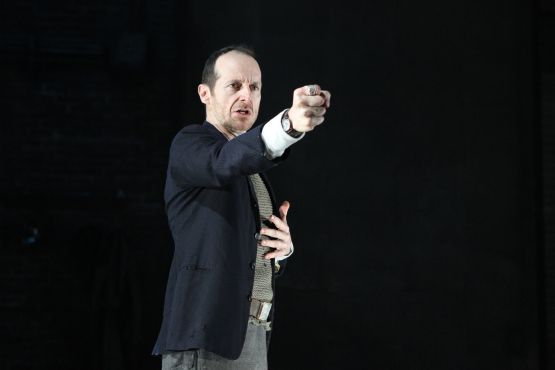 The Poet is played in repertory by Stephen Spinella and Denis O'Hare (the latter of whom adapted the script with director Lisa Peterson from a translation by Robert Fagles). Critics have been asked to attend twice, which could be disastrous if you don't like the material first time around. Happily, here are two of our finest actors and the text—recounting the defiance of Achilles, the killing of Patroclus, the valiant death of Hector and, finally, Priam's nighttime journey to beg for the body of his son—is what you might call time-tested: elemental episodes of heroes and gods balancing honor against the will to live. It's not a straight adaptation; the Poet is presented as a PTSD-addled refugee, dressed in tattered clothes, adding contemporary touches and avoiding parts of the legend that might rip open his psychic wounds. But this isn't a pat jeremiad against war. Sure, we get the message that it is hell (a notion only conservative chickenhawks would take issue with), but also that Hector and Achilles are complex, honorable warriors, and bloodlust is part of human nature.
Enough about the song; which singer should you hear? Although the two soloists share a certain cerebral tartness, watching them back-to-back, you appreciate their broad differences. Spinella is languid, dancerly, droll and patrician; O'Hare is spiky, bustling, gallows-humorous and earthy. To her credit, Peterson doesn't force them into the same blocking, but lets the vocal and physical score emerge individually.
An Iliad
is pure theater: shocking, glorious, primal and deeply satisfying. Each actor has unique brushes and paints, but both fill the eye with astounding sights.
More.
Denis must be exhausted, he flew out to film on his day off of An Iliad-
Do show..come home..kiss the boyz..get on plane...shoot..shoot....get on plane, come home, kiss the boyz, do show..rinse, lather, repeat
From the School of Style Blog-
A few months back we styled Ryan Kwanten
from the hit show True Blood
. The shoot was a fashion editorial for a new magazine called
Institute
. We had clothes from All Saints, John Varvatos, American Rag, and tons of other cool LA shops and showrooms.
Anyhow, on to the behind the scenes pictures, and the final shot from the magazine. Luke Storey took some great shot, wow, has more at the link!
Joe wasn't a slouch this weekend either (

Rutina still is MIA

) Zimbio has lots more pics of the wolfie guy.
Actor Joe Manganiello speaks during The Human Rights Campaign (HRC) Los Angeles Gala at the Ritz Carlton/JW Marriott on March 17, 2012 in Los Angeles, California.
Photo by Frederick M. Brown/Getty Images North America
Teeny spoiler, E1 of S5 "Turn, Turn, Turn", has a Tara Flashback of her as a youngun. Since Michonne is cast where the hell has Rutina been?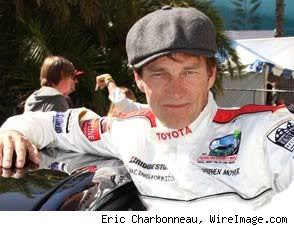 Thanks to The Nest for this info from the Top Gear Blog- Stephen Moyer will be on the next showing of Top Gear.
Tune in, American fans of the American Top Gear – it's on History this Tuesday at 9/8c. You can catch up on episodes you've missed on the

History Channel Top Gear site. Later in the show, actor Stephen Moyer, of the Emmy-winning series True Blood, sits down for a chat with Rutledge. Despite an Adam-like propensity for destroying vehicles in real life and on his show, he attempts to channel this aggression into a physics-bending lap.