Ok, we are still grabbing all of our previous spoilerish posts from everywhere we could find them, sorry that last post was so long. I got carried away and didn't realize I went overboard. Looking back at posts, Blogger sure ruins the formatting of some things, I save and check and then a month later WTF happened! There are big gaping spaces between paragraphs, argh. Onward to season 5, giterdun.
From

Tumblr

,

Denis O' Hare

mentions in the SciFiNow article:

I'm not going to come back to True Blood until mid-March. I had a meeting with Alan Ball last week, and they have devised an amazing trick to allow me to be present, but not fully acting.

(!?)
Insider: For me, True Blood is the first time I remember seeing you on-screen -- did you notice a collective consciousness shift with that role?
Anna: Oh my god, totally. It was the role that put me out there in a much bigger way. I had been doing theater in New York since I graduated. It was my first big job on a popular show. I thank Alan Ball every day for casting me. It was a turning point for me in my career. And I loved that character so much. I actually miss her a lot.
Insider: Well ... that was my next question! Steve Newlin came back at the end of last season, might Sarah join him?
Anna: She might! There might be some Sarah Newlin in season five! You'll just have to wait and see.
Insider: Well, since we didn't leave her in the best place, where do you think she is today?
Anna: I think Steve's left her and she is not happy about it. I think she's confused and lost and spiteful and wants to get revenge on everyone [laughs].
Insider:Is she a vampire?
Anna: I don't think so. I think she's telling the world her story and wants revenge on Jason, her husband and is out for blood. That's what I hope, at least.
Eonline's Kristin

-

Eileen in Brooklyn: Anything you can tease about True Blood, like who is Sookie going to choose, Bill or Eric?
How about…neither? "We call it season of the bromance," sexy star

Alexander Skarsgard

told us at a presser for his new movie Battleship. "We just started [filming] and we're on episode four of season five. I have a lot with Stephen this year," he said, quipping, "Eric is very intrigued by Bill now." Honestly, we're Team Eric no matter whom he hooks up with (especially if he's nekkid)! TV's Top Couple round two, y'all?
Gail in Canton, Ohio: Love all the True Blood spoilers you've been giving us! Any more?
Vampires will have something else to fear besides werewolves, the sun and silver in the upcoming season of True Blood. This new dude is way, way worse. He's…a redneck. And an anti-vampire one at that. This hunter will be a recurring character on T.B.'s new season, so he'll likely be raising all kinds of hell, like killing vamps and taking others prisoner. Want to hear the best part? His name is…wait for it…Joe Bob. You're welcome.
The casting call: Caucasian, early 30's, White trash. An anti-vampire terrorist wearing an Obama mask to hide his identity, he shoots one vampire with a hunting rifle and takes his victim prisoner. Recurring.
Naturally he was tight-lipped about exactly what we can expect in season five, but he did give this intriguing insight:

"It's gonna be really, really good. The whole season so far has been great. It's very vampire centred. I think season five is gonna start paying off the promises of the first four seasons. It's like, ok, now you know the way the world works, we've introduced these separate plotlines, these separate characters, and it's really starting to come together this season in a big, big way".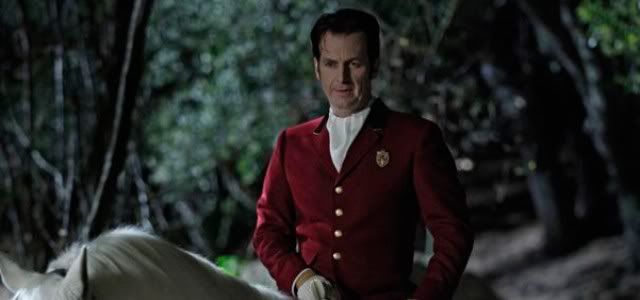 From

NY Mag's Vulture Blog

-When Will Denis O'Hare Return to True Blood?
Filming has resumed on the next season of True Blood, and while we've heard plenty about new additions to the cast like Christopher Meloni, what of Denis O'Hare's villainous vampire Russell Edgington, who appeared to have e
scaped his concrete prison in the last episode?
"I don't know what they have planned for me, but I'll probably be in most of the season, starting about midway," O'Hare told us last night at
Second Stage Theater's All-Star Bowling Classic
. But don't expect any spoilers on how Edgington got away: "If I told you that, they'd bury me again. All I can say is that he's got friends in unlikely places." Edgington brought his own bowling ball and bowling shoes to the event, but when it came to this week'sother big game — the Super Bowl — he was less enthused.
"I don't hate football, I just don't care. I'd rather be at the opera," the out actor told us. "It's not about [being] gay or straight, it's a lot of hype. It's a lot of money, money that could be spent better somewhere else. I think we as a culture could do something better with our attention than worry about a bunch of men in tights running around hitting each other." Although when you put it that way, Denis ...
From Eonline's Kristin-
While the new
True Blood
promo gave us no new (or shirtless) footage, it did offer us this awesome tease: "In Bon Temps, nothing stays buried forever." Yeah, we're guessing this has to do with the death of Debbie Pelt (
Brit Morgan
), which is definitely going to cause problems for Sookie (
Anna Paquin
).
TVLine's Ausiello

's column is more to my thinking, or hoping-
True Blood
is heralding the return of the king.The first teaser for the HBO drama's upcoming fifth season warns, "In Bon Temps, Nothing Stays Buried Forever," a reference to the exhumation of Russell Edgington in the Season 4 finale.
TVGuide's Megabuzz
Got anything on True Blood? —
Simon
NATALIE:
Now that Terry's old army buddy (Scott Foley's Patrick) is in town, we'll finally discover what happened in Iraq that caused the Merlotte's chef to come back with such a severe case of PTSD. In a flashback to 2003, we'll see his squad head out for a night of partying and mischief that goes tragically awry.
Kristin's Spoiler Chat
nathalia004: Anything more on
True Blood
?
Fact: We love us a good flashback, but we love 'em even more when they answer questions that we've been pondering for years. In episode four we're finally going to learn what happened to Terry (
Todd Lowe
) back in '03 when he was serving in Iraq—and believe us when we say it's going to be
intense
.
Skarsgardfans has some fan photos and some added locations shots up for ep 5-
The filming looks like it will be for episode 5.05. photos from prior filming
are on this page
: Could be they are keeping Sookie hostage (again?) Sookie's car was seen at another location showing a lot of front end damage. Or perhaps King Russell is recuperating at this location? Yes waiting sucks!!
Here are some of the photos from another fan taken at the prior filming (Shows the interior) This image below shows what could be a "padded cell". Lots of crosses.
From HighlightHollywood- a set-side source on the "True Blood" lot tells Highlight Hollywood, "Fans should not worry. Alan [Ball] is in full-force, the actors on the show are enjoying the ride, and it's almost daily I see someone read a script and have their mouth open in shock!" Well, here are some season five secrets, with casting going on now for the seventh episode.

The first newcomer for the seventh episode is; Reverend Skinner, who is a Male, between the age of 40 to 50 years old. He will be seen on video, performing a marriage ceremony.

Also, Sweetie (DesArts? woohoo) is a white female, about 30-years-old, she's a large woman, who will be having a noontime romance with an older married man.

And what single guy in Bon Temps could this be fore? Not who you suspect, trust me! They are looking for a 20-year-old woman, to be a (Bride-to-be) at a big Southern-styled wedding. She attends a karaoke party after the rehearsal dinner, and sings, "You Light Up My Life" to her groom, until she's interrupted. And could she be interrupted (another-drum-roll)… the Groom's Mother, who is a white woman, late 40s. The mother of the groom also attends the karaoke party after the wedding rehearsal, and recognizes an uninvited guest. Plus, there is a call out for someone to play a (Security Guard), who is a protector! In the seventh episode, he announces an unexpected visitor, and later snaps into almost-action, awaiting orders.

E1 of s5, "Turn, Turn, Turn", there is a

flashback

for Tara to her childhood, what can it mean? Kristin of Eonline, yeah we saw the casting call too. DevonCarruthers: True Blood! Anything TB related (preferably vampires and no werewolves!)

How about…old people?! The HBO hit is going to be flashing back to 1931 in season six, where we'll meet Bill's (

Stephen Moyer

) daughter Sarah, who is elderly and sick.

Very

sick.

Some bits from Fearnet.com interview with Carolyn Hennesy who will play Texas vamp Rosalyn Harris- You play a new character this season, Rosalyn Harris, who is part of the Vampire Authority. Tell me about her.- It's funny because in the script, she is always referred to as "Rosalyn Harris." I feel like it's "Miss Barbara Stanwick" or something. The two names are one name.
Is that a show of respect? Are you higher up in the Vampire Authority?
I am not. The Authority was started by one particular member. I am not the oldest member of the authority but I was there shortly after it started. Very shortly. There are, chronologically, older members of the Authority. But it's [all relative]. It's like if the Authority is 2,000 years old, Rosalyn has maybe been on for 1,950 years. In the grand scheme of things all the Authority members - it used to be eight with Nan Flanagan, but she's gone so it is seven - are the most powerful vampires on the planet.
Do you get to work with Nelsan Ellis a lot?- I do not. I have not gotten to work with him yet. But I have gotten the best: Alexander [Skarsgard] and Stephen [Moyer]. And Chris Meloni [who plays Authority vamp Roman].
It seems that this season is going to be very focused on the Vampire Authority. We've only seen them in bits and pieces. What is going on there?- There is a battle brewing. As has been referred to in previous seasons, there are the [vampires] who are all for mainstreaming. The Authority members are purely for mainstreaming. After all, we are trying to assimilate. We want to be taken seriously. We want to be accepted into this world. We want to be able to live with humans, who outnumber us. That will ensure our survival. Then there are those who don't [want to assimilate]. As Russell Edgington said when he pulled the spine from the newscaster, "We are vampires! We will eat you!" There are two differing factions. Are we going to be able to coexist? That is really what this is all about.
How much of Rosalyn's background did you get to create for yourself?- I got three things: that she is from Texas; that she has hair high enough to interfere with air traffic; and she has a "home-spun wisdom." So she'll come up with the quip that relates to gelding a horse, or say, "Well, when I was on the ranch...." But her instincts are almost always right. Once she makes up her mind, and she knows she is right - and it takes a lot to change Rosalyn's mind. But it can be done.
Does Rosalyn have any romantic entanglements this season? -Sex and blood are really the two things that True Blood is all about. Well, we are in the middle of this very dire [Vampire Authority] situation. So far, there have been no romantic entanglements for Rosalyn. I will say that she has a secret crush, but I think that is all I can say. She has a secret crush that I don't even think the writers know about! [Laughs.]
Well, like you said, when you are working with Alex and Stephen, how can you not?-
Right! But yeah, she has a secret crush, which I think is highly unusual for a vampire. Vampires can act on anything, but Rosalyn is playing this one close to the vest.
Is Rosalyn for assimilation?- Very much so. She understands the wisdom of it. In the time that Rosalyn has been alive, we have put a man on the moon; we have conquered oceans; we have this synthetic blood. What else can [humans] do that can be of benefit to vampire-kind? That is what really interests Rosalyn, and the only way vampires can reap the benefits of these discoveries is if they act in concert with human beings.

4/03-Ausiello- Question: OK, I'm dying here. Can I please have some True Blood scoop! —Mariamne
Ausiello:

Ever wonder what an eight-pack looks like on a teenager? There's a good chance you'll find out in this season's ninth episode, titled "Everybody Wants to Rule the World," which introduces us to an "innocent-faced" 14-year-old Alcide. That flashback sequence also features a young Debbie, so my guess is we'll probably see how that toxic relationship of theirs took shape. Speaking of

TB

, the show is also casting

a Marilyn Manson-esque vampire who was once powerful and heroic but is now a sad old man.
Bon Temps' newest magical resident tells HollywoodLife.com that season five will teach viewers 'more about what it means to be a fairy.'
The brand-new trailer for the fifth season of True Blood promises plenty of vampire, werewolf and shifter action — but what about Bon Temps' fruit-filled population? Don't you worry; not only will fairies play a major part in the new season this June, but HollywoodLife.com has learned "they're not like they were in any previous season." "It's so incredible," newbie fairy Camilla Luddington tells me. "I remember getting to set and being really blown away by what they've done this season, especially with the fairies. … I'm excited for people to see the re-vamped version of the fairies."
Tommy Lightfoot Garrett has some info on the new fae cuz Claudette,

Last season we watched 1,000-year-old Eric Northman, the local Viking vampire Sheriff of Bon Temps tackle and devour Sookie's fairy godmother Claudine.Well, coming up, we'll meet Claudette, played by actress Carmilla Luddington, who is Claudine's sister. Claudette is less frightening than Queen Mab, that's for sure, and she will not only help Sookie, but also will help Jason, who from the clip of the season teaser "True Blood" released last week before the premiere of "Game of Thrones," we know he's going to need help to survive the season as well. Claudette's mission is to help Sookie become a better fairy! She will be tested this season, and her fairy god-aunt will be there by her side.
Also, this season our "True Blood" set-side source says, "We've seen different types of vampires. We've seen those like Bill, who still have some semblance of humanity left in them, we've seen uncaring bitches like Pam and Eric, not that Eric's anyone's bitch. Just that they seem to be very narcissistic and their mission is self-gratification. We've seen powerful ancient demonic-like vampires like Russell Edgington, King of Mississippi, and drama queens like the late Queen Sophie-Anne of Louisiana. But this season (5), you will see a new vampire emerge. So far, it's just been one upcoming episode, but it seems to be really fascinating to Alan and the other writers, this one, quite powerful, dangerous, but not in the same ways that the current or previous vampires have been." When pressed, if this vampire will have some sort of superpowers, the source said, "I'm not losing my head to King Alan (Ball). You'll just have to wait.'
TVGuide has the article William Keck was tweeting to look for 4/30-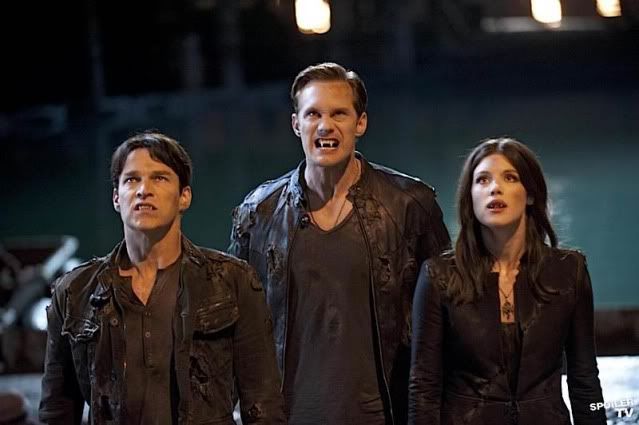 When
True Blood
premieres June 10, we'll get a taste of Eric Northman's bloodsucking, Godric-made vampire sister, Nora (
Lucy Griffiths
). "She's an irreverent British lady who we think was turned during Elizabethan or Victorian times," Lucy reveals. "It's been years since she's seen Eric, and she is very excited. She looks up to him, but they've had a fiery love/hate relationship in the way that brothers and sisters do."
Nora is also part of the Vampire Authority ruling council, which will play a big part in the new season. In this exclusive photo from the premiere, Nora, Eric (
Alexander Skarsgård
) and Bill (
Stephen Moyer
) are on the attack. "It occurs just after I've met them, and it's a reaction to being taken by surprise by some threatening characters," teases the beautiful Brit, best known for playing Marian in the 2006-09
Robin Hood
series.
Eight episodes into filming, there's no great Bon Temps romance for Nora, but Lucy has her eye on another new series regular: Italian actress
Valentina Cervi
, who plays ancient vampire seductress Salome: "They're very close."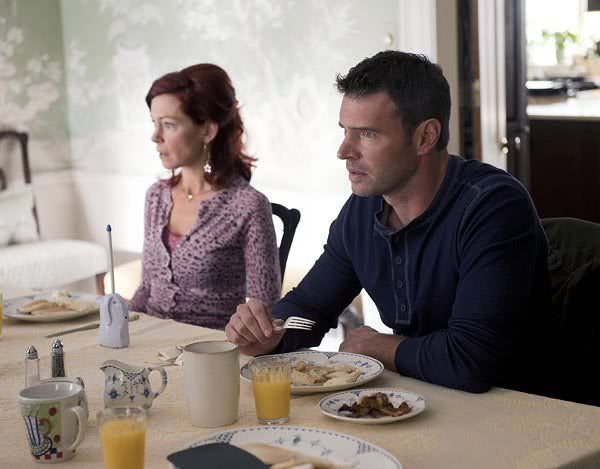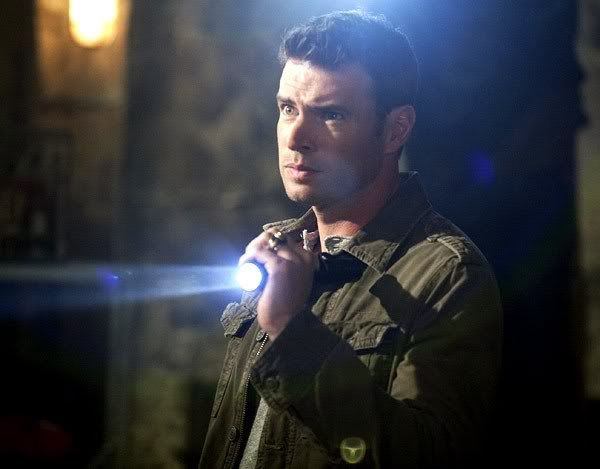 Scott Foley dished to Ausiello! 5/3-
Scott Foley completely naked and having mad passionate sex — those are two things you won't be witnessing during True Blood's upcoming fifth season.
"It's so disappointing because I went on a diet, I got into great shape, I lost weight… and nothing," the Felicity/Unit/Grey's vet mock-rages about his role of Patrick, Terry's (Todd Lowe) former commander officer in Iraq who turned up without warning in the Season 4 finale. "Todd and I are the only ones who don't 'nude up' on the show!"
Part of the reason for that, Foley points out, is because Patrick is one of the few True Blood characters that is 100 percent (gulp) human. "People ask me, 'Oh my God, you're on True Blood — what are you?!" And I have to keep saying, "Umm… nothing! I'm just a guy!'" he recounts with a laugh. "I'm not a vampire, I'm not a werewolf, I'm not a werepanther, I'm not a fairy, I'm not a shapeshifter. I'm just a guy coming into town trying to finish something he started back in Iraq."
Speaking of which, what exactly is the nature of his unfinished business with Terry? "Something happened between the two of them in Iraq that needs to be dealt with," Foley teases. "I can't say what it is. It has nothing to do with vampires or werelwolves. But there is a mission that they need to complete."
Thanks to Rhoswen7 AGAIN, synopses of the first 3 episodes. Big SPOILER for Tara coming up-
Here are brief episode summaries for June!:
-- Episode #49: "Turn! Turn! Turn!": Sookie and Lafayette clean up the Tara and Debbie Pelt mess; Bill and Eric are visited by the Vampire Authority; Sam and Alcide deal with an angry werewolf pack. (Written by Brian Buckner; directed by Daniel Minahan) (TV-MA) [AC, AL, V, N] ESP Playdates: 10, 13, 14 and 16
-- Episode #50: "Authority Always Wins": Tara resurfaces in Bon Temps; Pam recalls her human life and first encounter with Eric; Bill and Eric meet Salome at the Vampire Authority headquarters. (Written by Mark Hudis; directed by Michael Lehmann.) (TV-MA) [AC, AL, V, N] ESP Playdates: 17, 20, 21 and 23
-- Episode #51: "Whatever I Am, You Made Me": Bill and Eric barter for their lives with Roman, the head of the Authority; Jason reunites with his old high school teacher; Sookie searches for Tara. (Written by Raelle Tucker; directed by David Petrarca.) (TV-MA) [AC, AL, V, N] ESP Playdates: 24, 27, 28 and 30
From Ausiello-Question: Do you have any True Blood scoop? The wait is seriously killing me! —NishensAusiello: Terry will spend much of the season on the road with his ex-military buddy Patrick (Scott Foley). "Most of the time we are out in the greater 50 states tracking down other members of our platoon trying to get some closure to this event that happened over in Iraq," reveals Foley of the duo's hush-hush storyline, which required "a lot of running and fighting and jumping. There's a lot of physicality." Speaking of True Blood, have you seen these?!
From Kristin at Eonline-
Scott: Please anything on True Blood's new season!
Anything we tell you would only pale in comparison to the recently released season-five trailer. There are tons of spoilers and a good first look at Christopher Meloni being a badass vampire. "Chris is going to kill on that show. Chris is a magnificent actor. I saw him the other night and he said, 'You haven't lived until you've driven a stake through someone's heart!'" Meloni's former Law & Order: SVU costar Ice T tells us. So yes, Meloni is literally going to kill on True Blood. We. Can't. Wait
.
My peoples, the Nesters at Trueblood-News have scans from TVGUIDE's summer preview issue. Here's the synopsis of the article with some of my thoughts but go visit my friends at The Nest to see the piccies and the whole read.
Reveals: Roman is 500 years old, not old as far as other vamps we have met. He's not only authority head but leader of their religion. Isn't this a little late in the game to tell us they have a religion? The prayer recited during that promo of them all in cloaks kneeling and receiving his (or someone's) sacred blood is in Aramaic. His dream is the coming out of the coffin movement and he doesn't want to go back to the dark ages.
He stakes a vamp fundamentalist for going against him in what might be the first scene he appears in (maybe). In other late news, their Vampire White house (as Ball is quoted) is underground in New Orleans. Bill and Eric are on trial because they didn't kill Russell just buried him . As many of us have speculated they try to get a reprieve by saying they will hunt down the King and bring him in (those bastards). Then Moyer says that when he and Eric are on the road they start to care for each other, hahahaha. He says there is an unlikely laison at some point, oh noes, not THAT.
Under a pic of Tara Ball's quoted as
saying she'll be back and is not happy with Sookie, and will have a growing intimacy with the last person you would ever expect. THEN he says that Pam will have a new vampire in her life! He confirms the flashback of her turning, so looks like many of our hunches were on the money. Sam has trouble with Marcus' family and pack and even Luna, who finds out if Emma is wolf or shifter (which is so not from the books or shifter canon). Jason deals with his feelings for Jessica and what they say is "shocking" family history, so I guess his fairy comes out. Jessica parties while the anti vampers (the rednecks in Obama masks) target her.
Sounds like Alcide comes onto Sookie hot and heavy then something stops his come ons, so familiar. He tries to protect her but she doesn't need that from him she has fairyblasts to ward off vamps. Russell comes back with a new outlook, lol, but he hasn't forgotten his taste of fairy blood, and really who of us has? Fae Claude fills Sooks and Jason in on some family history (almost afraid to find out what more they could do to fuck this plotline up). O'Hare says there are games within games, seeming that you don't know who really is on whose side till further into the season. Hmm, thinking of those photos from the filming in New Orleans this weekend? A main character is going to go though a "profound transformation" in the finale. Have no clue who that is going to be, since Tara has to get turned soon during the premiere or she be deaddeaddead.
Spirits from the past will talk though Lafayette and that family demon of Jesus will be with him too. Terry's war story is told and has a supernatural element which some of us think is a ghost from Iraq. It sounds like Nora and Eric get it on, Salome gets it on with a few, even though she loves Roman. I can't knock a girl for that, look at that cast. I just wonder what Dieter and Kibwe are going to do as far as Eric and Bill.
More on the first 3 episodes of the season via Ausiello
Episode listings as of June 3.
SUNDAY, JUNE 10, E1, "Turn! Turn! Turn!"
Sookie (Anna Paquin) and Lafayette (Nelsan Ellis) struggle with the aftermath of Tara's (Rutina Wesley) shooting, while also cleaning up after Debbie Pelt. Meanwhile, Bill (Stephen Moyer) and Eric (Alexander Skarsgård), cleaning up a mess of their own, are visited by the Vampire Authority, one of whom is Nora (Lucy Griffiths), a woman from Eric's past. In search of the missing Marcus, Alcide's (Joe Manganiello) werewolf pack comes after Sam (Sam Trammell). With Bill away, Jessica (Deborah Ann Woll) enjoys her new freedom by partying with local college kids; Jason (Ryan Kwanten) is visited by the recently turned Rev. Steve Newlin (Michael McMillian); Terry's (Todd Lowe) PTSD is reignited by Patrick Devins (Scott Foley), an old Iraq War buddy; and Alcide turns up at Sookie's to warn her about the recently resurfaced Russell Edgington (Denis O'Hare).
SUNDAY, JUNE 17, E2, "Authority Always Wins"
At the Vampire Authority headquarters in New Orleans, Bill and Eric meet Salome (Valentina Cervi) and become acquainted with the Authority's interrogation techniques. Pam (Kristin Bauer van Straten) recalls her human life as the madam of the Comstock Brothel in San Francisco, and her first encounter with Eric. Werewolves J.D. (Louis Herthum) and Rikki (Kelly Overton) pay tribute to Marcus, but Alcide refuses to participate or take his rightful place as the new packmaster. Martha Bozeman (Dale Dickey) shows up wanting to see her granddaughter, causing conflict for Sam and Luna (Janina Gavankar). Fearing Russell's return, Sookie procures a home-protection system; Arlene (Carrie Preston) tries to get to the bottom of Terry's erratic behavior; Steve Newlin stops by with an offer for Jessica; and Jason feels the brunt of his womanizing ways.
SUNDAY, JUNE 24, E3, "Whatever I Am, You Made Me"
Bill and Eric barter for their lives with the Authority Chancellors and their leader, Roman (Christopher Meloni). Salome and Roman enlist a new ally in the face of Russell's return. Sookie goes to Fangtasia to ask for help from Pam, who is still caught up in her memories of Eric and the strange murders at the Comstock Brothel. Andy's dalliance with Holly (Lauren Bowles) comes back to bite him in the butt; later, he's visited by Gordon (Steve Rankin) and Barbara Pelt (Linda Purl), who are searching for Debbie. Jason bumps into an old high school teacher, but their reunion brings up conflicting feelings.
SUNDAY JULY 1, E4
"We'll Meet Again"
SUNDAY JULY 8, E5, "Boot N Rally Ally"
SUNDAY JULY 15, E6, "Hopeless"
SUNDAY JULY 22, E7, "In The Beginning"
E8 "Somebody That I Used to Know"
E9 "Everybody Wants to Rule the World"
E10 "Gone, Gone, Gone"
E11 "Finally"
E12, "Save Yourself"
From IMDB, Rhoswen7 and TV.com

From TVLine's Ausiello-
Question: Wait… you get to seeTrue Blood episodes before they premiere!? —Kevin
Ausiello: Um, yeah. That's kind of how this whole thing works. I've actually already screened the first four episodes of True Blood's new season and, based on what I'm seeing so far, I feel very comfortable declaring Season 5 the year of the Pam. Between the origin stuff with Eric and her present-day storyline with [SPOILER], Kristin Bauer van Straten's vamp is practically in every other scene — and the show is the better for it. I'm starting the 2013 Emmy campaign for KBvS now. The woman is a national treasure! (The folks at Walmart will probably beg to differ after they watch Sunday's premiere, but whatevs.)
Question: Anything else you can share on Tina Majorino? Love her. —Tim
Ausiello: Her first scene is with Eric and Bill. A shirtless Eric and a shirtless Bill.
Question: Can't wait for True Blood this Sunday! Is it safe to say Russell is back to exact revenge on Bill and Eric? —Yvette
Ausiello: "Russell doesn't forget anything, but he's also smart enough to know when to let bygones be bygones — for tactical and political reasons," the king's portrayer, Denis O'Hare, tells TVLine. "There may be a greater good."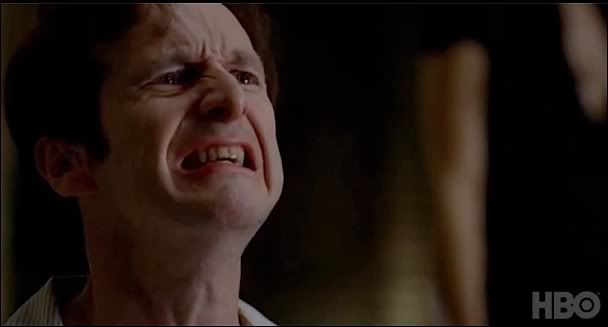 From Eonline's Kristin
-
Janea in Placentia, Calif.: I was absolutely devastated for Lafayette last year when Jesus died. I don't think he can handle losing both Tara and Jesus!
Come on, y'all, this is
True Blood
! Just because someone "dies" doesn't mean they're gone for good, right? We caught up with the sexy nurse himself,
Kevin Alejandro
, and he tells us audiences could be seeing this
brujo
again. "My character definitely has a role in this season, but I can't tell you how." Alejandro teased. "I'll tell you this, the death of Jesus really has affected Lafayette (
Nelsan Ellis
) in a very dramatic way, so you can expect to see how he deals with that and how it affects the other people around him. There's a lot more depth to Lafayette that audience is in store for, hope you're ready for it!" Please, we've been ready for months!
Kandice in Austin: Can I try to glamour you into giving us some True Blood scoop?!
Well you could try, but we were going to give it up anyways! We've seen vampires, witches, werewolves and fairies, but now there's a new kind of mythical being in Bon Temps. At the end of last season, we met Patrick
, Terry's commanding officer in Iraq, who will be heavily involved in this season's drama. Foley explains, "We're going to see a lot of Terry figuring out who he is and coming to grips with what he has done in is past, especially over in Iraq. And we're going to find out whether Terry and Arlene stay together." But what is it about Patrick that makes him so important? Foley teases, "I bring in a substantial supernatural element to the show that hasn't been seen yet." Start the speculation fangbangers!
So is the Iraqi Woman a ghost, Ereshkigal (Mesopotamian queen of the dead) a demon, an avenging spirit, Pazuzu ?
From Megabuzz-
I can't wait to see Russell Edgington again on True Blood. Got any scoop on his return?— Mark
NATALIE:
The former King of Mississippi will be getting a new love interest this season, and it's someone we've already met! Here are a few clues straight from
Denis O'Hare
: "He's taller than I am, but he's not as good a dresser," he says. "On hair terms, we're on par, neck and neck because I wear a wig, of course, but his hair is pretty rockin'. I think I still win on the hair thing." Could Russell's new lover be the same person who dug him up from his concrete grave? "No, I have many fans, many people working for Russell," O'Hare adds coyly. Oh it is really sounding like NEWLIN to me!
PeachyTine: So excited about season 5 of True Blood. Any scoop on any possible Alcide/Sookie romance?
It's definitely possible. Assuming of course that Alcide could get over that whole "you killed my ex-wife" thing. Alcide's confession last season to Sookie and his desire to protect her is very much present in the season premiere, but like all things in Bon Temps, romance is on the back burner until the bodies are buried. Oh what? Yep, multiple bodies need to be disposed of. Don't worry, there is a terribly sexy growl from Alcide in there too.
Elly: Forget about Eric and Sookie and tell me about my favorite pair on True Blood: Eric and Pam!
Eric still has plenty of love for Pam. And
Kristin Bauer van Straten
promises that Pam is on a mission to get back in Eric's good graces. "Pam will go to any length to be reunited with her maker. Any length," she tells us forebodingly. "And we're going to see it. Pam has an amazing arc because we get to see her backstory and how she was made. It explains why Pam is the way she is and also why Eric is her one person that she can't live without." We've seen the first four episodes of
True Blood
's fifth season, and trust us when we say that Pam will more than likely be your favorite
T.B.
character this year.
Big Giftee from HBO for 100,000 #Makersday, script pages for the Newlin Jason scene, pretty cool.
From True Blood's Facebook.
True Blood - Ep. #501 Jason/Steve Scene I: 6/1/12 1.
INT. JASON'S HOUSE - NIGHT (N0)
A naked JASON stands OPPOSITE a FANGS-OUT STEVE NEWLIN in
the doorway, knowing better than to look him in the eye.
STEVE:Jason, I swear it to you and I swear it to God: I am not here to hurt you. All I want is to talk.
JASON:See, you say that, but I seen your fangs. And I have been 'round the block enough times to know that fangs are basically like twin hardons. Hard-ons for trouble, or for feedin' on somebody. But never just
BLOOD TEARS start forming in the corners of Steve's eyes.
STEVE:Please...? I'm scared. And I've got no one else to turn to.
JASON:What about your followers? You got thousands of 'em out there lookin'for you.
STEVE:And what do you think will happen when they find out about this? These are people I trained to kill folks like me.
ON JASON, softening a little, as he realizes Steve's in quite the pickle.
ON STEVE, his FANGS RETRACT. He seems pleasantly surprised by this fact. Ah! There went the fangs! Look...
JASON:No way -- I ain't lookin' at you.
JASON:Because you'll fuckin' glamour me!
STEVE:Jason, a vampire has to be taught how to glamour. And nobody taught me anything.
JASON:Bullshit. What about your, um...
STEVE:(a disdainful laugh) My "Maker"?
STEVE:My being turned was a punishment. I'm not saying I didn't deserve it, but... I woke up in a hole in the ground with a strange woman who wouldn't tell me anything. Didn't even give me her name. She just...
ON JASON, Steve's story touching a soft spot in his armored resolve:
JASON:Seriously...? (forgetting, looking into Steve's eyes) She abandoned you?
ON STEVE, he's got Jason. GLAMOUR SCORE kicks in.
JASON:(under his influence) Hey.
STEVE:Invite me in, Jason.
JASON:'Course. Come on in, Reverend... OFF STEVE, entering..INT. JASON'S HOUSE - NIGHT
Jason sits under a blanket on his barcalounger, still under Steve's influence. Steve applies the last piece of
ELECTRICAL TAPE to Jason's mouth.
STEVE: I want you to hear what I'm about to say with a clear and open mind, so in a minute, I'm going to
release you from my influence. When I do, all you're going to remember is that you invited me in, and you
asked me to put this tape over your mouth, okay? Jason nods "okay". Steve takes a seat on the couch. Only now does he release Jason from his influence. Hello, Jason. Thank you so much for inviting me into your home.
JASON: (through tape,muffled) Yrrrr wlcm, Rvrrnd Ewnln.
STEVE: There's something I've been gathering up the courage to tell you ever since the day I found out
you were sleeping with my wife. You, You see...(deep breath, here goes nothin') I didn't care so much that you slept with Sarah. What hurt was that she got to sleep with you...
ON JASON, his eyes saying what his mouth can't: "Where exactly are you goin' with this, Reverend Newlin?"
STEVE: But even before that -- the whole time you were at camp -- all these feelings were... building up inside me. And I couldn't admit it, not even to myself. I think that's why I started acting the way I did, all
murderous and whatnot. But now that I've been blessed with immortality, I've finally got the strength to say it: (vulnerable) I am a gay Vampire-American, and I love you, Jason Stackhouse. And now I'm going to let you speak...
Steve gently REMOVES THE TAPE from Jason's mouth. Sorry if this hurts...
JASON: Well, I asked for it, so...
STEVE: (expectant) So...?
JASON: First off... I'm flattered. 'Cause that was without a doubt the nicest "I love you" I've ever gotten from anybody, male, female, or otherwise. Second: I forgive you, for actin' all "murderous and whatnot". But I gotta be honest with you, Reverend -- (pointing to himself) -- this dog don't bark that way.
ON STEVE, crushed, angry, and embarrassed, all at once.
Unable to control himself, Steve DROPS FANGS once again.
JASON: I ain't pityin' you!
JASON: It ain't the way love works! You can't make yourself love somebod--
But Steve has already VAMP SPED across the room, and is holding him in a half-Nelson, one of his hands covering Jason's mouth. Jason's eyes register a 10 on the-freaked the-fuck-out-register, as Steve whispers into his ear: (seductive, scary) My dead heart beats for you. The least you could do is try.
Acting on impulse alone, Steve SLIDES THE TIPS OF HIS FANGS ALONG JASON'S NECK, savoring him, collecting memories and smells of this moment. Jason struggles, but to no avail -- Steve's too strong.