Photos from HBO
EW talked to the lovely and talented True Blood
costumer Audrey Fishe
r- The Pam and Eric show continued as the duo traveled to Dallas in search of Sarah Newlin at a Ted Cruz fundraiser hosted at the Bush Library. We spoke to True Blood's costume designer, Audrey Fisher, about their memorable formal wear. And because we're still obsessed with those flashbacks to 1986, 1996, and 2006, we got the backstory on those looks as well.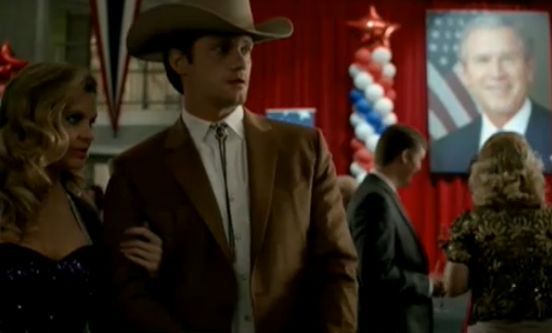 Seeing as how Eric (Alexander Skarsgard) would dress Pam (Kristin Bauer van Straten) in a purple sequin gown that Pam would joke makes her look like a "republic-nt," and Pam would get even more joy out of dressing Eric up as the perfect Texan businessman, Fisher had one focus: "Try to get costumes that definitely were a big wink, but that weren't too comical," she says.
For Eric, she custom-made a traditional Western-style suit: "I had to make at least doubles of it, maybe even triples. I sketched it up. We found a great fabric that we could get enough of, because he's a tall man—it's a lot of yardage, more than just the average suit. And a wonderful tailor in Koreatown whipped up these beautiful suits that fit like a glove and have really beautiful Western detailing. We topped it off with not a 10-gallon hat—that would be too comical—but a really beautiful Western hat." Read it all here and enjoy some Pam outfits through the seasons, I could keep on posting them all day.
Ugh, I hope this is bull, I wouldnt want this creature to be on our show, ever.The pageant grifter trying to act like a feminist is nauseating.