The NYPost has a list of what the cast is up to after True Blood, most we know but it's still fun. When the Moyers are back in Cali (they might be by now) Stephen will be on The Queen Latifah Show 7/29.
From Monday, 7/21 Today Show.
Part of a Nelsan interview from Vulture-
Lafayette's been lonely for a really long time ...
I think this season for Lafayette is about redemption and taking command of his own happiness. He's not happy in the first half of the season, but he becomes happy the second half of the season. And I can't say why he's not happy in the first half of the season. Wait — yes, I can! That [episode] already aired. [Laughs] Tara died.
It's completely understandable that he's been in mourning and unhappy for so long, because Jesús died, and then Tara died. But we've been rooting for him to get some for a while. A lot of people have — as long as it's love this time.
It is. It is. It's love. I'm a very lucky actor, because this is my second love interest. We deal with certain fans of that, and we have good chemistry, and we throw everything into it. I can't say enough about Nathan. Both of my love interests are great guys, great actors, both Kevin Alejandro and Nathan Parsons, and I love them onscreen. Every moment with them. You know what? I kind of fall in love with both of them! I guess I'm supposed to. MORE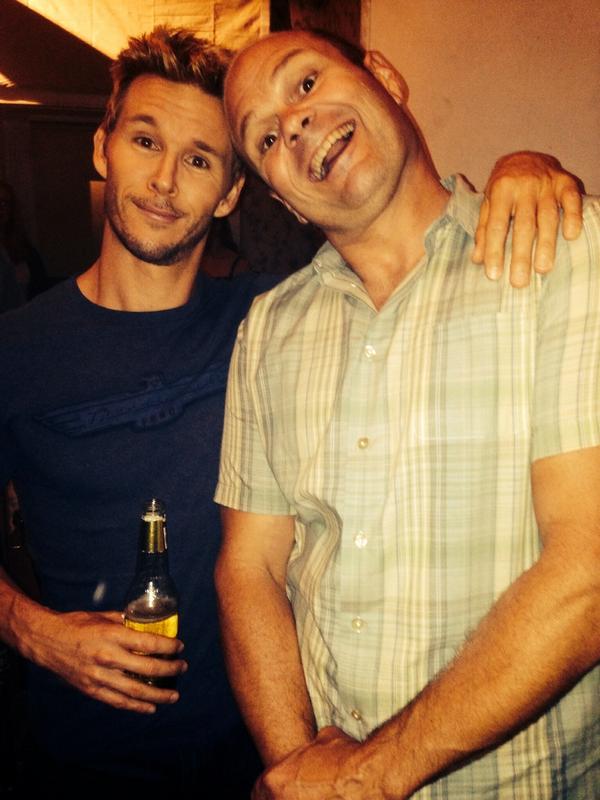 Who: The panel will include series stars Anna Paquin (Sookie Stackhouse), Stephen Moyer (Bill Compton), Kristin Bauer van Straten (Pam Swynford de Beaufort), Sam Trammell (Sam Merlotte), Deborah Ann Woll (Jessica Hamby), Nelsan Ellis (Lafayette Reynolds), Rutina Wesley (Tara Thornton), Chris Bauer (Andy Bellefleur), Anna Camp (Sarah Newlin), Nathan Parsons (James Kent), Carrie Preston (Arlene Fowler) and executive producer Brian Buckner.
What: The panel discussion will be moderated by Tim Stack of 'Entertainment Weekly.'
When: Saturday July 26, 2014 5:00pm - 6:15pm.
Where: Ballroom 20.
Bonus: Pre-panel, get autographs signed at the WB booth at 2:00 p.m.MORE
New The Giver featurette.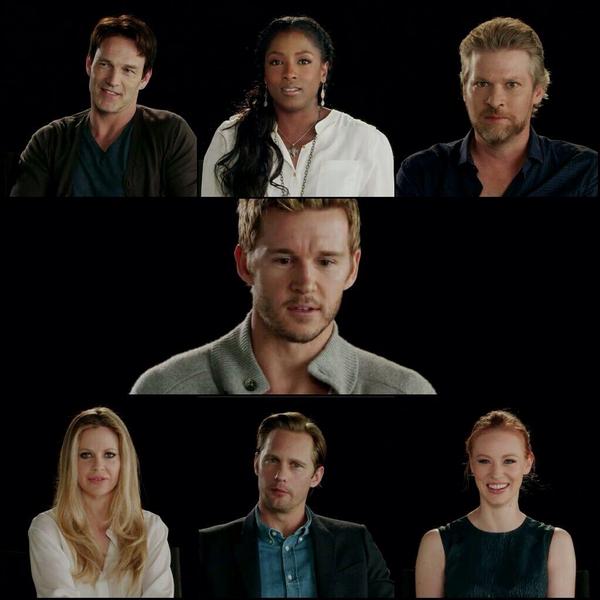 You would make an excellent Emma Peele, like Diana Rigg on the Avengers, ever think about writing your own script for tv or movies?
Yes, I've been thinking about that a lot lately. Now that I am thinking about what role I would like to play next, it's inspired my hidden writer inside me. I've come up with a few ideas. So if i get the time and I'm any good at it, maybe we'll see them on-screen in a year or two.
You know, what you as viewers are about to see, I felt was perfect. Perfect for an actress to play, and to experience. And what I imagined as the last season for Pam was not as creative or multidimensional as what the writers came up with.
What is the best thing you got to take home from the True Blood set?
My fangs! I hope I never wear them in public. I just wanted to have them. They are custom made, they won't fit anybody else.
Since I am a fan of the graphic novel (Watchmen being one of my favorites) and cartoons (Justice League being one of my favorites), it's incredibly rewarding in almost a childlike way to get to be on the "other side of the camera" on shows that i also love and admire. They actually feel sometimes MORE rewarding - like a true yardstick of accomplishment - because they were things that I, as a kid, watched. Or as an adult, read.
7 months later I see McMillz answered my question from his AMA, lol, I asked about his comic Lucid- from MichaelMcMillian via /r/IAmA/ sent 7 months ago
I'm not sure what the im
mediate future holds for LUCID, but I'm confident it will return some day. If people haven't already checked it out, it's published by Archaia Entertainment and is available on comixology as well as Amazon and B&N.com. It's an indy book, so getting new readers will really go along way to green lighting a Vol. 2. I have a few things in the works, including a new series that I can't talk about yet. But yes, I will be doing more comics in the near future!
Interview with Riley Smith from the Star
Keith is described as a smouldering vampire. What sets him apart from so many others on TV right now?
Who doesn't want another smouldering vampire?! It's an easy explanation, but I think we all have our own things that separate us as characters and vamps.
Your character is also a rock 'n' roll drummer. Can you play drums for real?
I never had to play the drums on camera. I wanted to! I play guitar in real life so I wanted a good excuse to learn the drums. But Keith and his band is kind of a backstory, it's never really seen, unfortunately.
Is it true that you learned to play the guitar on a film set?
I was doing a movie in Vancouver, Canada and a few kids on set played. It was fun sitting around on set singing along.
It brought people together and put smiles on faces. I wanted to be able to do that, so I picked up a vintage guitar and had them teach me a few chords. I took that and just ran with it.
What was it like to be a newcomer on a set like True Blood where everybody knows everybody?
I've been doing this a long time, so I wasn't too intimidated, but with a group this tight-knit, how can you not be a little nervous?
It was the new-kid-at-the-popular-lunch-table type feeling. But they are all such great people that it was easy to fit in. Just a really humble down-to-earth group.
Were you already a fan of the show?
I've had a lot of friends on the show, so I would watch it for them. But I lost track of a couple of seasons. So once I got the job, I went back and caught up on the episodes I had missed.
OK, be honest: Team Bill or Team Eric?
I'm team BOTH. How can I pick between two friends. (Stephen Moyer plays Bill Compton, while Alexander Skarsgard portrays Eric Northam). I have some good scenes with both characters this season and had a blast working with both of them.
Your biography says you were into horse riding in your younger days. Are you still an active rider?
I don't get to ride as much as I would like because my schedule has just been too busy. But I do get to ride in my new show Deliverance Creek, because it's a western set in the 1800s. It's always fun when my past experiences help in the roles I get.
I see tweets today with news we had weeks ago, oh well. Urno is a trendsetter, lol.
This is such good news for Daredevil Comic fans and DAW fans too, now this cast is off the hook
-
Marvel and Netflix's Daredevil has cast its leading lady: True Blood breakout Deborah Ann Woll.
Sources confirm to The Hollywood Reporter that Woll will play Karen Page, the blind lawyer by day and crime-fighting hero by night and Matt Murdock's (Boardwalk Empire's Charlie Cox) love interest in the 13-episode drama.
Page is the longest-running love interest for Daredevil. The character was created by Stan Lee and first appeared in the very first issue of Daredevil in April 1964. She's the secretary at the law firm of Nelson & Murdock who eventually learns of his secret life as a superhero.
For her part, Woll rocketed to stardom with her role as Bill's prodigy, Jessica, on the Anna Paquin-Stephen Moyer series, which ends its seven-season run in August. The fan favorite is also a regular at Comic-Con, which she has been known to attend in costume.
The CAA-repped Woll's credits include Highland Park, Ruby Sparks and Mother's Day.She becomes the latest True Blood star to book a follow-up role, with Sam Trammell booking the Amazon pilot Cocked.
Woll joins Elden Henson, who is set to play Franklin "Foggy" Nelson, Matt Murdock's friend and legal partner; Rosario Dawson in a mysterious role; and Vincent D'Onofrio (my love!)as "The Kingpin."
Netflix picked up the 13-episode Daredevil — along with Jessica Jones, Iron Fist and Luke Cage, as well as miniseries The Defenders — in a massive pact with Marvel. Daredevil is the first series out of the pack, debuting in 2015. It is produced by Marvel Television and ABC Studios.
Posted some bits from this interview previously but now here's the video with Riley Smith.
Do y'all think one of the almost final episodes will be a big funeral episode? Jim Parrack sure seems to be coming back and Robert Patrick perhaps as well, though The Herveauxs are from Shreveport.