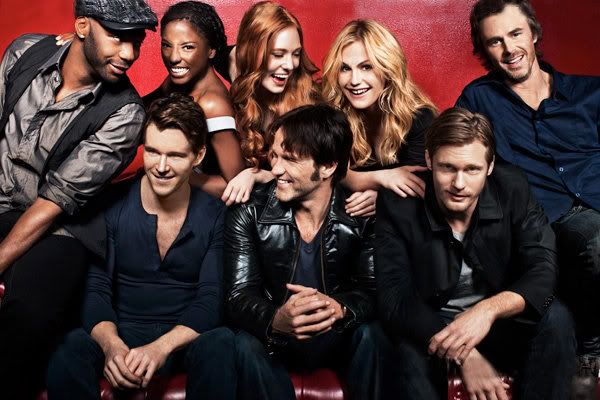 HBO
Ep. 75: Preview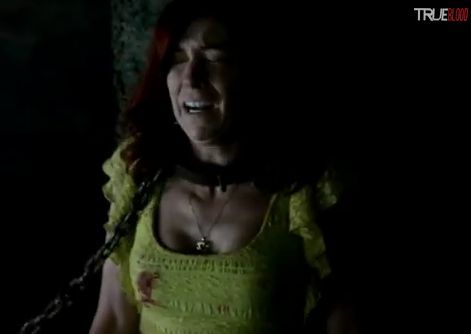 EW interview with Carrie-
We asked Carrie Preston to relive Arlene's rescue. And good news: Whether or not she makes it to the Aug. 24 series finale of the show, it's not the last you'll see of her on HBO. She's set to guest star in a season 2 episode of Getting On, playing Denya Thorp, a cancer patient staying at the Billy Barnes Extended Care Facility who's ready for a quick exit.
What excited you most about Arlene's (near) death scene when you read the script?
I was most surprised and excited about Terry coming back, because obviously I love Todd [Lowe]. We've kept up, but it's not the same as having him on set. I also thought the episode does a great job of giving Arlene this major obstacle: What makes her want to come back? Because Arlene dies, we definitely decided that—it wasn't like she was on the brink of death, she actually goes. It's Terry who encourages her to go back.
The makeup in the scene was phenomenal.
My makeup artist Cyndilee Rice has been with us a long time, and she's just extremely talented. We had to get the stages of it, you know, because I've obviously been in the basement, and I've had vampires explode on me, and we had leftover residual of that. We had to add bite marks, and those take a while to go on. They have to keep the blood fresh. They had to keep adding white to my face— like grey white circles under my eyes as I got closer and closer to death.
And the tears pooled in your eyes as you laid there in Sookie's arms.
Well, there was no problem accessing the emotion for me that day, having Todd there, and Anna [Paquin], who's a brilliant actress who has an enviable access to a well of emotions that she can tap into and mine on a moment's notice all day long. We're all in awe of Anna, and she is such an anchor to any scene that she's in. Having her hold me while she's looking into my face saying, "Don't die! Don't die!" and then Terry coming—it was definitely not a problem to cry. But I also wanted to play with the actual relief and joy of seeing Terry—he made her able to face her death without fear because she sees him and he's calling her. I wanted to play the positive of that, so the tears are actually joy more than anything. She's in her own world, you know. She sees Terry, and he looks great. She's relieved to be done with all the suffering.
At this point in the season, after having Tara and Alcide ripped away from us, fans needed that moment of comfort, to know things are okay in the afterlife. It's like the end of Ghost when Patrick Swayze's character says, "The love inside, you take it with you."
Exactly, and also to have a moment of closure between Arlene and Terry, because when he died, it was so quick and sudden and tragic that it was really nice to have a little coda between them.
A new vampire, Keith [played by Riley Smith], fed Arlene his blood to save her. Fans are excited about the possibility of Arlene having a sex dream about a vampire. What was your reaction to that twist?
I thought, "Okay, you don't introduce an entire new vampire without having some kind of follow-up." I was curious what that was going to be, and I hope that the fans will remain curious. Riley is sweet, and he jumped right in.
So you don't want to tease what their vibe will be?
I will say that I'm very pleased at the journey that Arlene has taken since the beginning, when you consider how narrow-minded she was when you first met her, intolerant of anything different, certainly vampires. I'm very pleased with her growth as a character.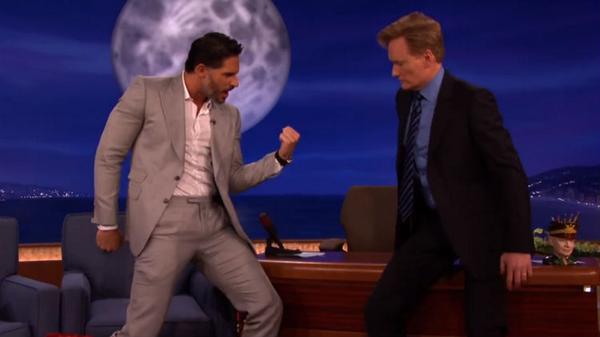 Review of Chris Bauer's new show from the NYTimes.
On the premiere of The Divide the death row inmate that do-good, pro bono lawyers seek to save is Jared Bankowski (Chris Bauer), a white man who was convicted of brutally slaughtering almost all the members of an African-American family in their home.
Nobody wants this infamous monster released, not the young woman who is the sole survivor of the killing spree and certainly not Adam Page (Damon Gupton), the ambitious African-American district attorney who put his career on the map with the case.
The setting is Philadelphia, and anything to do with that fictional multiple homicide, known in the tabloids as Killadelphia, is explosive. Jared's conviction has become a cornerstone of the city's efforts to restore racial harmony, so there are plenty of reasons to want the execution to stay on track, besides the prosecutor's and the public's certainty that Jared is guilty.
I went to the Apple Store Tuesday July 15 to see Anna and Stephen, my photos are horrible. I'll try to clean them up tomorrow but the camera is DUN. They are both doing lots of media and I'll make a post with all the events. Thankfully Itunes will have the Q&A with Tim Stack up soon
.
The Divide, WE TV, Wednesday night at 9, Eastern and Pacific times; 8, Central time. The Divide site.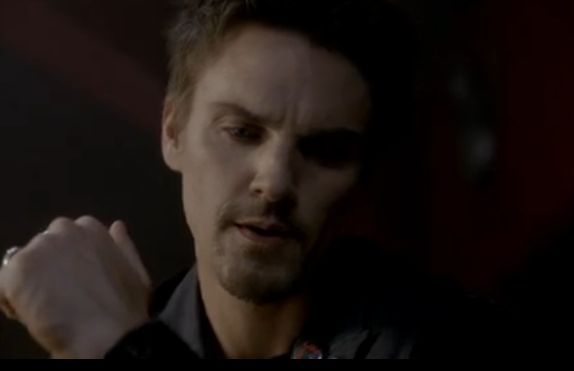 Riley Smith is doing a lot of interv iews the last week, read it all @Celebuzz-
Celebuzz: What can you tell us about your character on True Blood?
Riley Smith: His name is Keith, he's the new vampire that they've enlisted to help fight the H-vamps. Then he creates this chemistry with Arlene and as you'll see in the future, there's going to be maybe a little bit of an attraction with those two.
CB: You came in and saved the day, so she has you to thank.
RS: She has my blood now so she's going to be dreaming about me.
CB: Yeah! So, is it intimidating coming on a show that's already so successful and already has a well-known cast?
RS: You know, I like that situation always because number one you're always going to be working with great actors. I mean they wouldn't be on a show for seven years if they weren't great and the show wasn't good. So that's a plus, and number two, usually at that point you've got a really great core audience for the show. So as long as the character's written well and you go in and do a good job, usually the fans are very supportive, so it's a win-win for the most part. The only thing you have to do is not get overwhelmed or be intimidated. As long as you can do those things, everything else is already laid out for you. I was excited to start the show I wouldn't say I was nervous but definitely it's one of those iconic shows where you know these people so well, but yet you don't know them. So when I first got on set with them it was kind of that feeling for awhile. Now I actually know them well so it's great.
CB: Was the cast very welcoming or was there a little bit of hazing for the new guy?
RS: They were so welcoming right off the bat! Everyone was so cool and treated me like one of them. Anna Paquin and Stephen Moyer are two of the best leads the show could ever have. I want to say it starts at the top, if the leads are cool then everyone else follows in line. They were all so helpful, you know there are so many intricate things about being a vampire that you don't really know or realize until you're in the moment. Then these questions come up on the spot and it's like, "Hey can I do this? Can I do that?" A lot of the times you don't know, but Anna would always be the first one to come up to me and be like, "You can't do this, you can do this." She was very helpful.
CB: Are there others who you've become close with on set?
RS: Arlene, Carrie Preston, and I have mostly everything together and she's a gem. Her and I have become really close. Nathan Parsons, who plays James, Nathan's my boy now. But everybody really! Amelia Rose Blaire, who plays Willa, everybody on the show, we've just gotten so close. It's been great.
The Calgary Sun talked to Jim Parrack, Hoyt.-

"Do I know you?"
Those simple, sad words said so much in last weekend's episode of True Blood, the seventh and final season of which is airing on HBO Canada. The question was asked by Hoyt Fortenberry, played by Jim Parrack, who hadn't been seen on the show in two years.
Jason Stackhouse, played by Ryan Kwanten, called Hoyt on the phone to tell him his mother had been killed. Ryan and Hoyt grew up as best friends. But Hoyt doesn't remember Jason any more.
Late in season five of True Blood in 2012, Hoyt left his vampire-plagued home town of Bon Temps, La., for the clear air of Alaska. But before he departed, Hoyt asked his vampire ex-girlfriend Jessica, played by Deborah Ann Woll, to "glamour" away his memories of both Jason and Jessica.
"The only two things they erased were the memory of Jason and the memory of Jessica," Parrack explained. "And Hoyt has no memory of the experiences that were shared with those people."
Luckily Parrack suffered no real-life memory loss between the time he left True Blood and his return this season for a multi-episode arc. But that doesn't mean it was an automatic "yes" when he was approached about coming back.
"I liked the arc I had where, in the first season Hoyt was very much like a child, and by the end of it he made a man's decision to strike out on his own," Parrack said. "So I couldn't have been happier with it. I liked the way it ended. I felt like I had done everything I could with that character without starting to repeat some things.
"Also, I'm creatively satisfied, I have other things going on (movies, Broadway). But the thing that made me want to come back was just my friends on the show, really. We took big cuts on the money, the schedule was crazy, but there are a couple dozen people on the show that I consider to be my friends.MORE
Carrie tweeted this, look at Sam, he is hypnotizing us.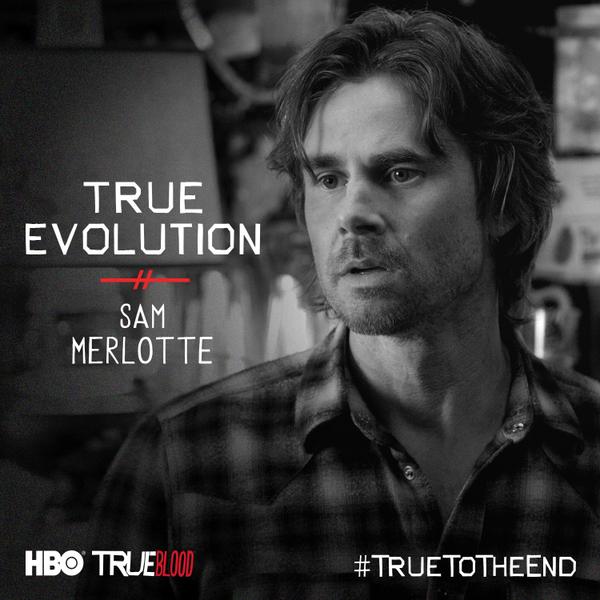 TARZAN SWINGS INTO ACTION AS FILMING BEGINS ON THE NEW 3D ACTION ADVENTURE
Alexander Skarsgård, Samuel L. Jackson, Margot Robbie, and Christoph Waltz
are starring in the Jerry Weintraub production under the direction of David Yates.
Principal photography is underway on Warner Bros. Pictures' and Village Roadshow Pictures' new Tarzan 3D action adventure, starring Alexander Skarsgård as the legendary character created by Edgar Rice Burroughs.
David Yates, is directing. Jerry Weintraub is producing the film, together with David Barron.
The feature also stars Oscar nominee Samuel L. Jackson ("Pulp Fiction," the "Captain America" films), Margot Robbie ("The Wolf of Wall Street"), Oscar nominee Djimon Hounsou ("Blood Diamond," "Gladiator"), Oscar nominee John Hurt ("The Elephant Man," the "Harry Potter" films), and two-time Academy Award winner Christoph Waltz ("Inglourious Basterds," "Django Unchained").
It has been years since the man once known as Tarzan (Skarsgård) left the jungles of Africa behind for a gentrified life as John Clayton III, Lord Greystoke, with his beloved wife, Jane (Robbie) at his side. Now, he has been invited back to the Congo to serve as a trade emissary of Parliament, unaware that he is a pawn in a deadly convergence of greed and revenge, masterminded by the Belgian, Captain Leon Rom (Waltz). But those behind the murderous plot have no idea what they are about to unleash.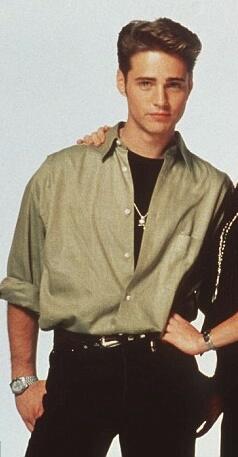 Is there a 3 way in the future for Jess, Lala, James or with Jason, Violet? I love that crazy fierce bitch.
Fans finally got to learn Ginger's origins. How'd you react to her backstory?
When I got the script for this episode ["Death is Not the End"] I was like, "This is the backstory I imagined Ginger would have." I don't know if we [Buck and the writers] just picked up each other's wavelengths or what! I guess it's just part of working together for six seasons.
I love that she was once this bright college student.
She's smart, yeah! And really enthusiastic! That's the through-line -- it's not two completely different characters. Even though she's changed in so many ways, the passion and enthusiasm she had that first day where she met Pam and Eric is still there. She's always been an über-vampire fan.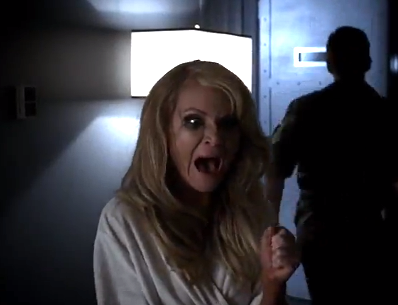 Where do you think Ginger's life would have gone if she hadn't asked for that video store application?
I don't know. I believe in destiny, so I don't think there was any other possible outcome. Even early on, before I read the episode, I thought of Ginger as a vampire groupie, somebody that falls in love with the lead singer of some rock band and ends up putting her life on hold to be with the band in every city across the country and sleeping in shitty motels. I think she could have taken that enthusiasm anywhere she went, but it she fell into that special trance of falling in love for the first time.
Now that the show is ending, is there anything you'd like to take from the set, or anything that you've taken already?
I haven't taken anything already, but there are a few things from Ginger's house that I'd like.
That was such a great set. I wish we'd seen more of it!
Oh my gosh, it was amazing. Every nook and cranny of that set contained vampire paraphernalia of some kind. There was a picture of Bela Lugosi signed to Ginger -- Ginger had clearly gone to some fan show and gotten the actor to sign it. She also had two sets of salt and pepper shakers in her kitchen -- one was a vampire kissing a coffin and the other was a pair of male and female vampire magnets and one was sucking on the other's neck. I'd definitely go in and steal a couple of things from that set.
Do you have anything in common with Ginger in real life, or are you total opposites?
There is absolutely a part of me that relates to her. I feel that Ginger is the point of view of a lot of fans watching the show, and I relate to that because I watch the show all the time. I love all the other characters and I geek out over all the different storylines. Kristin Bauer van Straten and Alexander Skarsgard are wonderfully cool and fun -- who wouldn't want to hang out with them all the time? [Laughs.] I don't scream a lot, of course, but I do relate to her passion. Unfortunately, she didn't know what she was in for when she signed up to work for vampires. It's really taken a toll on her life. [Laughs.]
She's been glamoured senseless -- there's not an ounce of the original Ginger left.
Totally! Again, I think of that groupie or roadie that's like,strung out from years of a hard life. It's a little bit of a pirate's life. A lot of great stories, but you get fried.
I've been asking other cast members what kind of supe they'd be if such a thing were possible.
Absolutely a vampire.
Tell me why.
Well, because! [Laughs.] I know everything about them now! I know everything about their history and their cinema lore. I know everything about the iconic dynamic between humans and vampires, the mythology and the romance behind living forever, and also how lonely and sad that would be. I love it. There's something really exciting about being a vampire.
I think I hear a little 1990s Ginger coming out.
Uh huh! Just a little. [Laughs.] I actually went and rented all of those movies Ginger's looking for at Pam and Eric's video store. I have to tell you -- they are really terrible for the most part. Guillermo del Toro's 'Cronos' is really fun, but the others are hilarious because they're so, so bad. I do love that it's all the same characters repeated over and over again in all the different stories, though.
So do you think there will be more vampires in your future?
I hope so! There will always be a really soft spot in my heart for vampires.
Christian Pitre the actress who played the Anubis stewardess posted this pic on her IG. She was listed a while on IMDB as Victoria so I assumed it was a bigger role, but it's a job.
There was a lot of Reality Bites. And we tried a few wigs on, so there was actually the option of a blonde wig that was long and straight and nerdy. But we all loved the dark hair, so it was like every choice she made after that scene was for Eric, this idea of what she thought Eric wanted. You look at the vampire genre, and there's this archetype of the woman who's screaming, and who needs to be protected and taken care of, or she's the innocent victim who's this blonde bombshell-y type. I think Ginger was like, "I have to be that for Eric." So in her way, she tried to create that.
That leads us to the 2006 flashback, when we learn Ginger actually had the idea to turn the video store into Fangtasia and told Pam all about it—then Pam glamoured her so she could tell Eric she'd thought of it herself.
That [look] is Ginger doing her version of what she believes is Goth. Again, it's like Ginger is trying to be the ultimate employee. [Laughs] She wants to help them, and she wants to be important, and she wants to be an asset to the company, so she comes up with all these ideas. So many times, the questions fans ask is, "Why on earth do they keep Ginger around? Ginger is a liability to Fangtasia. She's always messing up. Why is she there?" So to me, I was like, "Oh this is why." They owe her, in a way.
That monologue you have when Ginger explains to Pam that sex sells, and "Eric Northman is nothing if he is not pure f–king sex on a throne," had to be fun to shoot.
I love Kristin [Bauer van Straten]. She's a dear human being, and a great friend, and an amazing actress to work with. So we just had a great time and were laughing, exploring, and doing all kinds of different things. But my favorite part of that scene was when we first started, Gregg comes in and says, "You know, Tara, I think we're going to expand this monologue. I think you should say this and this…" I was like, "Okay, great." So in between our rehearsal and when we start shooting, Daniel [Kenneth, the episode's writer] goes and actually writes that whole other scene and brings the pages back, and is like, "Okay, here you go, Tara." It's like, "Ohmygod, okay." I went over it with him, and then I just went off on this diatribe of all kinds of different things. By the end of the day, I didn't even know what I was saying anymore. Most of it was what Daniel wrote, but there is some ad-libbing along the way as well, just embellishing Ginger's ideas of what they can do to create this amazing Fangtasia.