The Eonline interview is up on youtube so I'm posting it again, Marshall takes on the persona of Scrappy Doo for this interview, unless the character is this much like him. I've been a fan since he was LJ on Prisonbreak and was surprised he wasn't a teen, he sure looks younger than he is.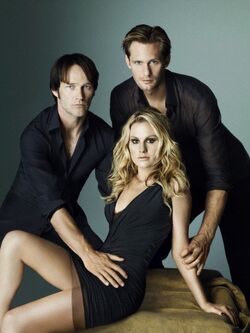 Earlier this week, I inquired on Twitter if anyone had specific True Blood questions that I could answer. (Following me has its perks!) So thanks to those who submitted questions. After my sneak peek at the first three episodes, here's what I can tell you:
Will there finally be a steamy sex scene(s) between Eric and Sookie? – @StephanieSnow1
Sworn to secrecy, but know that it's a key plot point in Charlaine Harris' fourth installment of the book series.
It would be fang-tastic if you could tell me how long I have to wait to see Eric/Sookie heat! Thanks, Ellyn — @mindonlost
Honey, there's always heat. And there's a lot more to that "It's not a dream" scene that you saw in the HBO-released promo where Eric caught Sookie wearing nothing more than a pink towel.
#forgetyoubill Eric & Sookie please! Alcide & Sookie maybe? I love Allan Hyde, so will we get more Eric/Godric flashbacks? #TB Oh, and I would love some Jessica & Hoyt if possible. Thank you! #tbwithdrawal — @bronzia88
That's a mouthful! I'll take Jessica & Hoyt. Actually, I'm glad you asked about them, because they have a prominently featured arc this season, that begins in episode 1 with a HUGE —–.
Don't miss out on the action Truebies. Submit questions to spoilerroom@ew.com