The sucking is almost over.
True Blood stardom for SA singer
By Sameer Naik
Just five months after releasing her first album, Izwi Lami, South African singer and actress Nondumiso Tembe is preparing for yet another debut – this time in big-time American TV.
The Durban beauty, 25, landed a role in the fourth season of popular American series True Blood, which will be screened on US television next weekend. Tembe, who plays a French-speaking supernatural, has signed up to appear in several more episodes of the hit drama.
The fourth season of True Blood starts next Sunday on entertainment broadcaster HBO and Tembe can't wait for her fans to get a glimpse of her debut.
On Twitter, Tembe told her followers: "Wow! Am overwhelmed by all the support and well wishes. Having an amazing time on set so far, and can't wait for you all to see season four."
Tembe was full of praise for HBO and said she had thoroughly enjoyed her night shoots on the set of True Blood.
"Shooting on location tonight, my first night shoot. Big up to HBO for the dopest trailer ever," she tweeted.
She added: "When I said 'shooting all night', I had no idea we would wrap up at 6.30am. I have a new respect for film acting. Very humbling experience."
True Blood, created and produced by award-winning Alan Ball, is based on the Southern Vampire Mysteries series of novels by Charlaine Harris, and details the co-existence of vampires and humans in Bon Temps, a fictional town in Louisiana.
Tembe joins a star-studded cast, including Anna Paquin and Stephen Moyer, and the series has garnered Golden Globes and Emmys.
Source
Yet another new HBOGO Promo, thanks to Jenpero's youtube page-
First time I have used this scanner, took me a while to get it turned on, I must have deleted the program so downloaded it again. Then saved it to a folder, the folder wouldnt open, then wouldn't allow me to save it, on and on, so I am sorry if it isn't clear enough but I'm wiped out right now. I think I have the settings wrong, of course, but for now this is all I got. It's from an Entertainment Weekly I had for 2 weeks and didn't know this was in it till I opened it last night. Print is dead to me.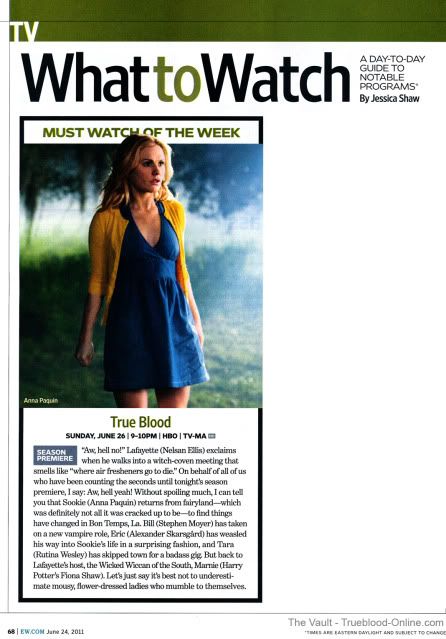 This is a scan from
The Vault
, look how nice it is compared to mine, lulz. Damn, I better get out my old scanner and forget this all in one thing from HP.