All this needs is Mads! Hitfix
"True Blood's" Alexander Skarsgard will star in a Viking epic tentatively titled "The Vanguard" for Warner Bros., according to Variety.
The film will center on two Viking brothers who are banished to the previously-unexplored North America and decide to attempt the harrowing journey back to their Swedish homeland.
Playwright Chris Boal ("Crazy For the Dog") will write the script, while Charles Roven and Richard Suckle will produce for Atlas Entertainment.
Skarsgard will also make his producing debut on the film.
Skarsgard has a busy schedule these days; he's in the middle of his fourth season playing Eric on "True Blood," and he'll soon be seen in Universal's "Battleship," Screen Gems' "Straw Dogs" remake and Lars von Trier's "Melancholia."
This is from Mishmashmag's youtube, they were at the wrap party.
July 10, 2011 - The stars of HBO's TRUE BLOOD signed autographs and talked with fans at the show's season 4 cast and crew wrap party in Los Angeles. Cast members in the video include the very awesome Sam Trammell, Joe Manganiello, Deborah Ann Woll, Tara Buck, Lauren Bowles, Todd Lowe, Kevin Alejandro, newcomer Aaron Perilo, and writer/director Alan Ball. As usual, Rutina Wesley ignored everyone and actually ducked down in her car as it drove away. (Plus we got an unexpected treat when Stevie Wonder walked out of the hotel behind us!) Check out www.MishMashMagazine.com for tons more True Blood videos, photos and articles!
I meant to post these yesterday, the pics from the TV Guide article that are all over the internetz.
If this is daylight, then we were right about the effects from draining Claudine.
The latest video on the creatures of TB is about the popo Hot Shotters or Shot Outters as I like to say.
TVFanatic
goes over the EW interview w/Ball and Harris.
True Blood Spoilers: An Unexpected Romance
by Matt Richenthal
In one sense - one
VERY hot sense
-
True Blood
will remain true to the Charlaine Harris novels on which it's based this season.
In another, though, the series veered away from its source material
last Sunday
when Eric chowed down on Sookie's fairy godmother. The character of Claudine sticks around for awhile in Harris' world. Why did creator Alan Ball go in this direction?
"After everything that was going on with the fairies in the first episode, I think we wanted to sort of put a pin in that, but obviously it's not over,"
Ball told
EW
. "I felt it would have more impact if it was someone we knew as opposed to just a random fairy."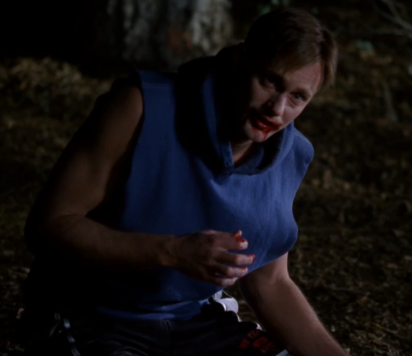 What other craziness is ahead on season four? Ball touched on a number of topics with just one quote. Prepare to be spoiled/teased below.
"It gets ugly between the vampires and the witches. There's more than one fight coming up. There's also a very unexpected romantic attachment which you'll start to see the beginnings of I believe in next week's episode. We're gonna find out a lot about Jesus' magic that's in his family. We're gonna get to the bottom of what's going on with Arlene's baby."
Read more:
http://www.tvfanatic.com/2011/07/true-blood-spoilers-an-unexpected-romance/#ixzz1S0Nti6jg