Tonight's Episode, "Me And The Devil"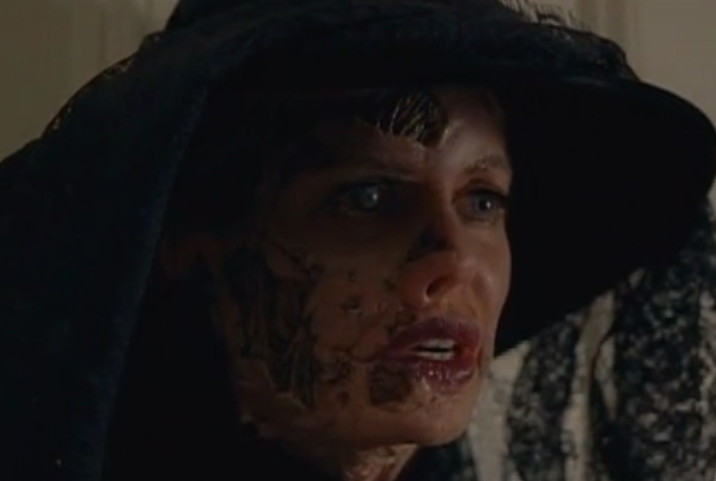 Episode Synopsis:
True Blood "Me and the Devil" Season 4 Episode 5 -Sookie nurtures Eric; Bill gets involved personally in the necromancy crisis; Pam takes the veil; Sam becomes Tommy's accomplice; Arlene and Terry look to religion to solve their problem; Jesus and Lafayette head to Mexico to harness a shaman's power; Jason convalesces.
more spoilery description from TVFanatic
On this episode of True Blood...
- Tommy kills his mother and Joe Lee in (mostly) self-defense. He then turns to Sam for help in disposing with the bodies. As he does so, Sam opens up to Tommy and tells him he's killed before.
- Alcide gets a visit from the Shreveport pack master who is VERY upset that he hasn't registered his presence in the area yet.
- Jason starts to have fantasies about Jessica. Awkward!
- Arlene and Terry hire a pastor to come over and work some religious magic to cure their home and their baby of any curse Renee may have left behind.
- Tara learns Eric is staying with Sookie and tells them both to fuck off. She lists all of Eric's bad deeds as she does so, which later makes him despondent. He tries to leave, but Sookie asks him to stay and THEY KISS!
- Bill convenes his sheriffs and we learn that a witch was burned by vampire priests in the 16th century. She's the one now taking over Marlene, but what can they do about it? If a vampire hurts a human, he or she will suffer the "true death." Pam, desperate to fix her rotting face, then accidentally lets Bill in on a secret: Eric has been staying with Sookie.
Gil Scott Heron's cover of the Robert Johnson classic blues song
Interview with Kristin from
THR's Jethro Nededog,
she talks about the make-up and face peeling.
Ryan' s Knights of Badassdom trailer from the Comic-com panel
Becrias' Tumblr
has pics she took at SDCC too
Becrias has more vids up
This is a cross from the Inside True Blood blog of about a month ago, remember Trubies?
By Steve Marzolf
Ever since Bon Temps fangbangers started winding up dead in Season 1 of 'True Blood,' the story has been rocketed forward by a string of mysteries. So naturally when the cast appeared with exec-producer Alan Ball at a Comic-Con panel Friday evening, the moderator, Entertainment Weekly's senior writer Tim Stack, came looking for answers. The panel members did their best to oblige.
The Case of Eric's Warm-Ups
No one was complaining when Eric Northman showed up on the roadside shirtless and childlike. But Alexander Skarsgard did raise one nagging question: How did Eric find a sweat suit at Sookie's house that could fit a Viking vampire? Sookie's brother Jason is many things, but 6'4" is not one of them. "It might be Hoyt's," Skarsgard ventured. "Something he'd forgotten at Sookie's house. That's kind of what we figured." Alan Ball, however, decided this was one burning query he could put to rest.
"I believe that if you took the Latin of the spell that was cast on Eric and were to translate it," Ball explained, "there would be a part that said, 'And by the way, you will lose your shirt, and then you will find a really dorky outfit that you will wear for several episodes in a row … and still be insanely hot in.'"
The Magic of Pam's Facial Peel
The actors on this show are no strangers to wild visual effects. But when the witch Marnie cast a spell that left Kristin Bauer van Straten ripping off a hunk of her own face, it definitely set a high-water mark for cringe-inducing gore.
"We worked really hard to make you squeamish," she said. "But doing it is a very technical many-hour experience. It starts with being encased in plaster and making a cast of my head. Then a nine-hour makeup test. There was a little hole with tapioca pudding and coffee grounds that I had to find. The direction I had was: 'Kristin, find the hole and push up.' And I thought, 'Only on "True Blood" is that going to be the only direction I get in a scene.' I'm happy to hear that it was very gross."
Clues to a Shower Scene
A growing subset of book-reading fans – the same people who casually toss around terms like "Sooric" – have been dying to know whether a certain famous shower scene will make its way into Season 4. In typical form, Alan Ball addressed the issue by providing a half-answer that raises even more questions. "There will be a moment in the show when Sookie and Eric are together in a shower," he said. "It may not exactly be what happens in the books. It may be weirder … and dirtier. Maybe."
By Steve Marzolf
The world hasn't heard this many screams from ladies wearing Merlotte's T-shirts since Sookie introduced Rene Lenier to the business end of a shovel in the Bon Temps cemetery. The crowds at Comic-Con went berserk when the 'True Blood' gang appeared anywhere, and when the fans got their chance to stand at the microphone, they weren't shy about making a few requests – some were touching, others funny, and then there was the straight-up weird. A few highlights:
"First things first," a young woman began to ask Nelsan Ellis, "Can you call me 'hooker' real quick?" The actor granted her request, and though this may seem like an odd wish, it apparently happens all the time. Later in the evening, Ellis explained, "A girl at a panel yesterday asked me the same thing. I guess everybody loves to be called 'hooker.'"
A man stood up, recording video, and asked the group to send a video message to his friend serving in Afghanistan as an Air Force sergeant. Alan Ball jumped in, speaking to the camera, "Lisa, please come home safe. Keep your eyes and ears peeled for vampires … and get home safe."
Another girl aimed her camera directly at Alexander Skarsgard, explaining simply, "I need Alex on video." She went on to ask him why Eric's voice has gotten higher since Season 1 – was it because he was becoming more human? "Wait, are you filming me now?" the actor asked, gamely producing a rakish grin for her. So the fan got her video, but Skarsgard admitted to being stumped on the question. "I don't know. But I like your interpretation, so I'm gonna go with that," he said. "I was more of a robot in the beginning, and now I'm getting more human."
Another guy asked Ball to please stop killing every attractive waitress who gets hired at Merlotte's. "Are we ever going to get a hot waitress with some staying power," he asked, "for the male fans?" The exec-producer gestured to Anna Paquin, incredulous, and asked, "What about Sookie? She takes her clothes off all the time! Though I do think that working at Merlotte's as a waitress is probably the most dangerous job in the world. So, there's a lot of turnover, so you'll definitely get to see some new waitresses. Whether they survive – or get naked – I guess we'll have to see.
From
WireImage
via Jenpero