The Panel will be starting soon according to Cinemablend-
.
I'm sitting in Ballroom 20 waiting with thousands for the
True Blood
panel to finally start. I spent over 4 hours in line here this morning, thus proving that Comic-Con is no longer about comics. And it's now no longer about movies and TV, the real San Diego experience is waiting in line for hours. But it's worth it for these fans to get a glimpse of their favorite characters and actors.
I'll be updating this as fast as the slow wifi will allow. I've already seen Nelson Ellis (Lafayette) and Krisin Bauer (Pam), and my fellow
TB
fans are anticipating more vampire action. The show is so popular here that fans were on line at 5 am just to get a good seat. Even if those in charge of Comic Con can't figure out that placing
Torchwood
,
Walking Dead
and
True Blood
in the same room on the same day is a logistical nightmare, the fans get it. They get it so much they're willing to wait on concrete outdoors.
5:18
True Blood
starts in about 10 min. It's a madhouse as hundreds try to get seats in first few rows.
5:30 Here we go. Stage is set, and it's a big panel. Final preparations are being made, half my row is sitting on the edge of their seat.
5:36 Um…a little more waiting is fine. Right? I'm not in crotchety lineaggedon anger mode.
5:42 Tim Stack, from EW, out to moderate. Talking about various vampire shows and stories. TB has sex. "They're probably having sex right now."

5:46 Story so far clips, Eric gets huge reaction. Wow. Marnie means serious business. Floating around. Stoping vamps with her mind powers.

5:47 Sookie and Eric in bed together. Clip ends with Sookie lying on the ground bleeding.
5:48 Cast is coming out. Lots of "Wows" to the trailer shown for the rest of the season. Entire cast is getting enormous reactions. Anna in a bright red dress. I think Alan Ball got the biggest reaction...well, ok Eric did.

5:50 Anna talking about Sookie's two sides. "And there's the side where she's having dirty vampire sex."

5:52 Alexander Skarsgard asked about whether Eric forgets his shirts all the time too. Saying the outfit Sookie finds for him at her/his house was maybe Hoyts.

5:53 Alan Ball on the outfit: "You'll wear dorky outfits for several episodes, and still be insanely hot."
5:54 Stephen Moyer says Bill and Portia will see each other again. But it's not a big thing on Bill's mind with the witchy goings on.
5:56 Rutina Wesley asked about Tara's new kickassness. Says she loves UFC. "Tara was kinda sideswiped, kinda overwhelmed, and kinda fell in love."
5:58 Ryan Kwanten said he thought his ritualized rape would last another half ep. Says he loves drawing back the phsyical nature of Jason. "I think he actually likes being called Ghost Daddy."
5:58"Face Off" joke by moderator with Kristen Bauer gets a groan. They're happy to hear how gross fans thought her face deformation was.

6:00 Alan Ball asked about whether Eric will remember this time. "Yes, no, maybe."

6:01 Is Arlene's baby evil. And we will find out what's up with the doll according to Ball.
6:01 "There will be a moment where Sookie and Eric are in the shower together." May be weirder and dirtier than what's in the book Alan Ball says.

6:04 Anna talking about being so short being an obstacle with the naked men scenes. Especially turning around to Alcide while Eric was in the water and trying to not have a direct look at his bidness.
6:07 Ryan asked about his character growing up. "This is his chance for the young boy to become a man." A new sense of responsibility is good for Jason, and Ryan enjoys the acting challenge.

6:08 Alexander Skarsgard asked about why Erics voice was so low in season one, but has gotten higher. He agrees with the fan that maybe Eric's becoming more human.
6:10 We will definitely see how Eric made Pam in season 5. But not this year
6:11 Kristen Bauer gives props to a Starbuck costume. Alexander talking about how Eric and Pam are uncomfortable showing emotion and vulnerability. "She's only vulnerable about her maker, Eric, and now losing her face."

6:13 Random Zoolander 2 question to Alexander. He says it's up to Ben Stiller, but he'd enjoy doing it.
6:15 Alan Ball asked about Eric's memory return and how it happens, affects the political climate. Won't reveal any details. "I think the vampires are going to stick together because they're fighting a common enemy. And that enemy is Michelle Bachman."
6:16 Panel asked whether Claudia's death will heighten or diminish Sookie's powers. Alan Ball says that those who've read the books know fairies are born in litters, and are identical. Very cryptic, especially with how free the show is with the source material. 6:18 Sookie can still read minds, we just don't hear about it.
6:20 Nelsan asked about his appearance yesterday on the TV Guide panel. Why he was wearing a hat and sitting back. "I was nervous to hear what people was going to say to me when I came out."
6:23 "Unless the writing is good, you can't do it." Stephen talking about how all the money in the world doesn't matter without good writing. So damn true.
6:25 There will be a Hooligans type place with male and female strippers in season 5.

6:26 Ghost like things will make an appearance on the show. Demons will play a larger part later this season. Alan Ball says they're looking at adding more supernatural beings in season 5
.
6:28 Alex talking about the flashbacks and how great they are. Loved them too. Reminded me a bit of the Boxer Rebellion stuff in Buffy and Angel.
6:30 Alan Ball talking about how great it is to work on True Blood. He loved Six Feet Under. "We have fun." The same depressing stuff is just more fun on TB

6:32 Kristen asked about how Eric would react if Pam were the one with her memory wiped. Alex: "He's willing to meet the true death for his progeny." Audience gave a big "Awwww" to that. Pam without her memory would love children, wear bad clothes, and bake cookies.
6:33 "I like you a lot...baby steps, baby steps. But there's potential." Alex telling a fan he may grow to love her, but it'll take time. Amazingly charming.
6:35 Alan Ball likes deviating from the books because it keeps all fans on their toes. "We try to remain true to the spirit and world of the books."
6:38 Actors talking about how they auditioned for the show. Alex sent in a tape. Nelsan thrusted his crotch at Alan. "Something you want to remember if you want to be an actress," Ball quips to a groan.

6:41 Deborah Ann Woll speaking for the first time. Fans love her. She had to do her death and vampire rebirth scene. Ryan Kwanten was part of the first round of auditions.
6:43 Rutina Wesley talking about getting on the show, and fans are yelling out they love her. I think they've begun to redeem Tara in the fan's eyes this season. There's a great shot of Tara with a shotgun in the teaser trailer that got an enormous pop.
6:45 Stephen Moyer had been burglarized. After he got his kid to sleep with his teddy, Stephen got the call. He flew to LA the next day and met Anna for the first time.

6:47 Anna Paquin went through numerous readings. "I stalked Alan until he gave in." Anna thankful that Alan was able to see beyond what's on the page in the book and who she is.

6:50 And we're done with True Blood at Comic Con 2011! Enjoy your evening, I certainly plan to.
Hit Fix's play by play by Daniel Feinberg
5:40 p.m. This panel is running 10 minutes late... I blame moderator Tim Stack. It's not actually his fault at all. But still... Let's get this V-party started.
5:42 p.m. Stack says that there are lots of other vampire/werewolf shows on TV, but "True Blood" is different, because they have lots and lots of sex.
5:46 p.m. Here comes our panel, starting with Kristin Bauer van Straten. Alexander Skarsgard is next and he missed last year's Comic-Con, so the crowd is especially pleased to see him. They'd be happy to see him anyway. He's followed by Kevin Alejandro, Nelsan Ellis and the lovely, lovely Deborah Ann Woll. Ryan Kwanten and Rutina Wesley are next. Stephen Moyer gets maybe half the applause given to Skarsgard. Lady in Red Anna Paquin gets a warm reception and some people clap for Alan Ball as well.
5:44 p.m. Extended clip package featuring scenes from the rest of the season. It looks a lot like "True Blood," though if you think you've seen Fiona Shaw over-acting so far, you haven't see anything yet. We also have a shot of Sookie. In a red nightie. With Eric. The crowd was pleased.
5:49 p.m. "If you could live in Bon Temps, wouldn't you?" Adam Ball responds to the question of why so many people stick around in such a dangerous town.
5:49 p.m. Earlier this season, Eric said there were two Sookies. Does Paquin agree? "I think there's part of her that's still this sweet, innocent girl and then there's the part of her that has dirty vampire sex on a regular basis, possibly with multiple vampires."
5:50 p.m. Skarsgard has, indeed, enjoyed playing funny Eric. But why is Eric always topless? Skarsgard has a reasonable explanation. It has something to do with his wearing hand-me-downs mostly. "That's kinda the mystery of this season: Where did this outfit come from?"
5:52 p.m. "If Bill had done a little genealogy, gone to the library, Bill could have worked out who she was," Moyer explains of his recent, unfortunately incestuous romantic entanglement.
5:53 p.m. Is there darkness with Jesus? "I think there's a little darkness in everybody. You'll just have to watch it and find out. But there's some good, good s*** coming," Kevin Alejandro says.
5:53 p.m. What was up with Tara's transformation this season? "I secretly love the UFC," Wesley says. "I personally don't like labels. I think Tara kinda was sideswiped, kinda fell in love and didn't know what happened. I think it's awesome that she's happy."
5:55 p.m. So far, half of the moderator's questions have involved toplessness.
5:56 p.m. "Oh, you're too young to watch our show," Woll says to a fan in the crowd. Woll hints that there is, indeed, some chemistry developing between Jessica and Jason.
5:57 p.m. Baurer Van Straten said that her only direction for the last scene was "Find the hole and push in." The contents of her face apparently were coffee grounds and tapioca pudding.
5:58 p.m. "That moment, if it comes, if you know it's coming won't be as good," Ball says, regarding whether or not Eric will remember his current interactions with Sookie when his memory returns.
5:59 p.m. Will Bill and Sookie have a romantic reconciliation in the cards? "There's obviously so many telepathic waitresses down South. Just move on to the next one," Moyer says, joking.
6:00 p.m. Will we find out what's happening with Arlene's baby and that freaky doll? "We will find out what it is about that doll that makes it creepy, but it's something creepy," Ball says.
6:01 p.m
. "There will be a moment in the show where Sookie and Eric are together in a shower. It may not exactly be what happens in the books, it may be weirder and dirtier. Maybe," Ball teases.
6:03 p.m.
Favorite moments of this season? "I personally enjoyed the ritualistic rape of Jason Stackhouse," Ball says. Kwanten agrees, calling it, "A bizarre sense of therapy." Wesley's favorite moment was cage-fighting. "I really enjoyed swimming in the sun," Skarsgard says. Woll enjoyed the egg scene.
6:03 p.m. Anna Paquin is asked about her recent scene with a topless Joe Manganiello. She points out that because Manganiello is a foot taller than she is, that produces problematic eye-lines. "From a professional standpoint, that's very awkward. If you're trying to keep your eyes in the appropriate place, that's a little weird. There's a lot of neck-craning."
6:04 p.m. If you're curious, Joe Manganiello is shooting a movie in Atlanta and Sam Trammell's wife is about to have twins.
6:05 p.m. Stack wants a Pam/Tara romance. Will it happen? "I'm going to write that down and send myself an e-mail," Ball says.
6:05 p.m. Stack has run out of toplessness questions, so he opens the floor to fans.
6:06 p.m. "I've always said that he started so low on the evolutionary totem pole that he can only go up," Kwanten says of Jason, who he says "loses some of his boyish charm" but gains in responsibilities.
6:07 p.m. Is Eric's voice getting higher as the seasons progress and does it relate to his increased humanity? Skarsgard is stymied: "I don't know. But I like that interpretation. I was more of a robot in the beginning and now I'm becoming more and more human."
6:08 p.m. We won't see how Eric made Pam this season, but Ball says "You will definitely see it in Season 5." Skarsgard and Bauer Van Straten do baby-talk.
6:10 p.m. Would Lafayette rather date Eric, Jason or Bill? "I'm happy with the squeeze I've got. I'd rather be with Jesus. But I'd do all four," Ellis says. Ball chirps in with, "That's Season 6."
6:11 p.m.
Janina Gavankar -- "Shiva!" -- takes the mic to tell the panel that they're all going to hell. That's what they get for not letting her be on the panel.
6:12 p.m. "She's only been vulnerable about her maker, Eric, and now losing her face," Bauer Van Straten says. of Pam.
6:13 p.m. Will Alexander Skarsgard be returning for a "Zoolander" sequel? "I think that's a question for Ben Stiller, but I like the idea."
6:14 p.m. Another question about what will happen when Eric gets his memory back. "That's a big question and I would be giving away too much if I told how his memory returning to him would affect him if his memory does return to him," Ball says.
6:14 p.m. Ball makes a joke about how the vampire community is fighting a common enemy. "And that enemy is Michelle Bachman," says Ball. One or two people find that funny.
6:15 p.m. Skarsgard is comparing American TV to Swedish movies. Previously, Kwanten was asked to compare American TV to Australian TV.
6:16 p.m. What will the death of Sookie's fairy godmother do to her ability to control her power? "Those of you who read the books know that fairies are born in litters and they're identical. That really didn't answer anything, but I was trying to be mysterious," Ball says.
6:16 p.m. Is the Sam/Tara storyline done? "Nothing is ever done," Ball says.
6:18 p.m. What would they like to say to their Turkish fans? "Thank you," Paquin says. Ball adds, "I think people all over the world like crazy, messed up weirdness."
6:19 p.m. Ball suggests that as they progress, the series may cease to operate on a book-per-season basis. He's looking forward to having to come up with an explanation in the writers' room for why the vampires are aging.
6:20 p.m. Ellis is asked about how reserved he was at the first "True Blood" panel. He recalls, "I was scared. I was scared. I didn't know how the public would receive a character that was so outlandish and bold and who he was. I didn't know if he as going to be offensive or if I got him right, so I was nervous about what people were going to say to me when I came out. Plus, it was my first Comic-Con and it was overwhelming. I was like, 'Damn, this is a lot of people.' But I'm a lot more confident now."
6:24 p.m. The actors are asked about how they play these characters as both super-powerful, but also as normal people. "The things that she's going through are incredibly real," Paquin says. "Unless the writing's good, you can't do it," Moyer says.
6:25 p.m. A girl in the audience begs Nelsan to call her "Hooker." He's not pleased, but he does it. There's no question.
6:25 p.m. When will we see Hooligans? "It may not have the same name, but thee may be a business venture that involves people of both sexes taking their clothes off," Ball says, adding that it will be in Season 5.
6:26 p.m. We've got "spirits without bodies" coming. We've got Brujo-based creatures coming. And Ball says that they're breaking stories for Season 5, but he won't say which "supernatural creatures that we may not have seen before" are on tap.
6:27 p.m. Will Eric be shirtless more this season? "Yes," Skarsgard says. He adds that he enjoyed flying and wants to do more of that. And he enjoyed shooting his flashbacks in Swedish.
6:30 p.m. "True Blood"? Less depressing than "Six Feet Under" for Alan Ball. OK.
6:31 p.m. Would Eric fight as hard for Pam as Pam is fighting for Eric? "I like to think he would do everything to save Pam. Is that just me?" Bauer Van Straten says. "It's a very special relationship. She means a lot to him," Skarsgard says. "And who would Pam be without her memory? Would she be a horrible dresser?" she muses, adding, "She'd be some homemaker? Loves children? Horrible. Let's hope we never see it."
6:33 p.m. A fan tells Skarsgard that she loves him. "I like you a lot," Skarsgard responds. "'I love you' is a little strong. Baby steps. Baby steps. But there is potential." The fan giggles.
6:34 p.m. Why has the TV show diverged from the books? Well, a big part of it is to get other characters involved, while the books are all from Sookie's point of view. Ball adds, "There would be no surprises, because everybody could go out and get the books and read the books and know what's going to happen."
6:35 p.m. A fan asks the panelists to record a message to an air force sergeant shipping out to Afghanistan. Ball tells her to come back safe and watch out for vampires.
6:36 p.m. A fan asks if the show is going to provide more naked waitresses for eye candy. Ball points at a giggling Paquin and says, "She takes her clothes off all the time. Just wait for this season, my God."
6:38 p.m. Time for this panel's obligatory reading of the placards saying the audience will include people under 18. "Oh s***," Skarsgard says.
6:40 p.m. Audition stories. Nelsan thrust his crotch at Ball by accident. Skarsgard was in Mozambique for "Generation Kill." Kevin Alejandro jumped through a lot of hoops. Figurative hoops? Deborah did Jessica's death scene and her waking-up-as-a-vampire scene. Kwanten remembers where he was when he got the role. Wesley almost got in an accident leaving a Starbucks when she got her call. Moyer remembers auditioning on tape and then having his apartment burgled. Moyer also remembers walking into Ball's office and meeting Paquin for the first time. "I stalked Alan until he said yes," Paquin jokes, but the reality is that they actually made her read a number of times.
That's all, folks...
JBomb11:

"If you know what's coming, it won't be as good." - creator Alan Ball keeping zipped about spoilers#SDCC #TrueBlood [via Twitter]
5:58

JBomb11:

Little girl shouts from audience: "I love you, Deborah!" / "Oh, you're too young to watch our show!" - Deborah Ann Woll #SDCC #TrueBlood [via Twitter]
JBomb11:

Creator Alan Ball, Anna Paquin, and Stephen Moyer. #sdcc #trueblood

JBomb11:

"There will be a moment where Sookie & Eric are together in a shower. It may be weirder and dirtier (than the book)." #SDCC #TrueBlood [via Twitter]




JBomb11:

The oh-so-hot Ryan Kwanten talking about Jason being on hard times. #TrueBlood #SDCC




I haven't even got my butt in gear to post all that went on CC related yet but
Barbara
found me a
planking
Eric still from the last ep, I had faith she would get it. I have no doubt that Alexander didn't do it on purpose, he has the sense of humor for sure.
A bit from the Daily Beast's interview with Kristin, which is for anyone who is a fan.
On Sunday's episode, Pam—dressed in black lace with a heavy veil covering her ruined face ("Even when her face is putrefying, she comes up with an outfit for putrefying," said Bauer van Straten)—betrayed Eric to Bill Compton (Stephen Moyer), inadvertently revealing that Eric's memory had been erased and that he's hiding out under the watchful eye of Sookie Stackhouse (Anna Paquin). Oops.
"That was a hard moment for me," said Bauer van Straten, "because we've seen her willing to die for him. I tried to play it that she probably hasn't slept and is so stressed that she literally makes a mistake and is crushed by it. It's a true mistake."
I saw a tweet yesterday that Sam's GF is expecting twins any moment and he is staying by her side, we could have had a comic-con baby!
From Dread Central's Comic-Con coverage, more at the link.
Our own Woman in Black is sitting in on the TV Guide: Fan Favorites Panel at the San Diego Comic-Con ... Ready for some more tidbits regarding "True Blood" and "The River"? Read on for details!
Kristin Bauer van Straten and Nelsan Ellis (pictured below) - "True Blood" - New clip: Pam (Bauer van Straten) is asking Bill (Stephen Moyer) for help with her face. He suggests a "cosmetic solution" like makeup and such. In response she peels off a nice piece of her rotting skin. He says, "Well, the veil then."
Kristin says things will get worse for Pam before they get better. Also, her face falling off doesn't make her crumble; instead it just brings out her mean streak.
Nelsan says Lafayette is on a tumultuous journey but has found a "sexy squeeze" in Jesus (Kevin Alejandro) to help make things better. He's having fun playing a witch - it's a clever way for Alan Ball to have Lafayette do even crazier, wild stuff.
From the Summit Entertainment Comic-Con party, more at Just Jared
Janina, Luna, did a phenomenal job of tweeting pics and info yesterday at Comic-Con. She's my go to for info on the Comic Con smorgasbord. http://twitter.com/#!/Janina follow her, especially for the TB panel tonight. Here she is with a fan in Eric costume.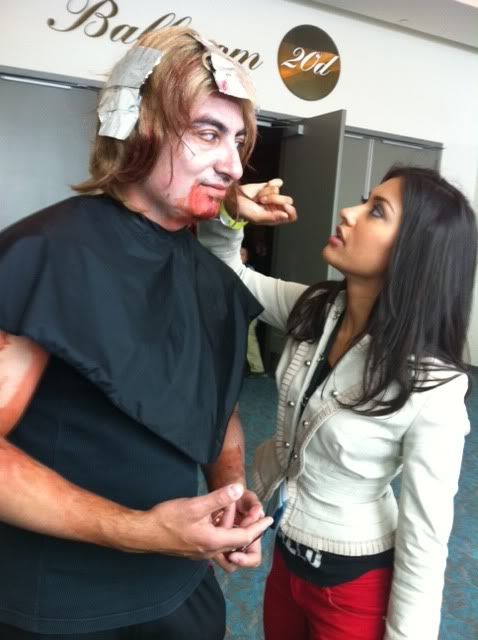 Ryan is there for a few things so she ran into him today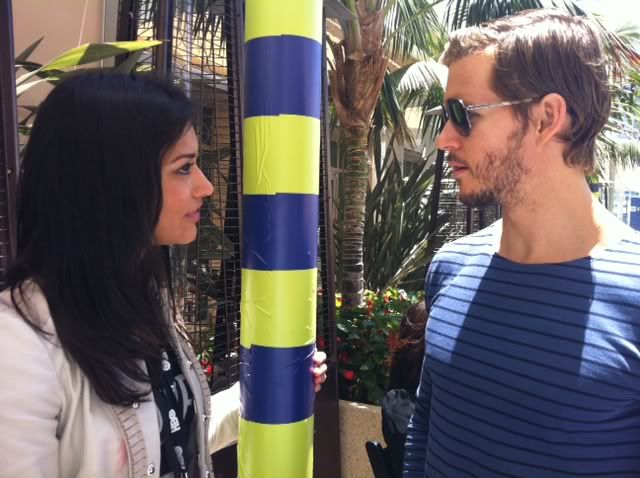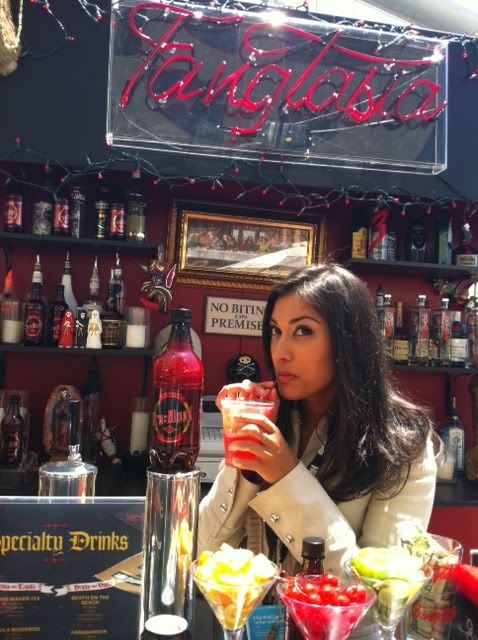 Steve Newlin found at Comic-Con!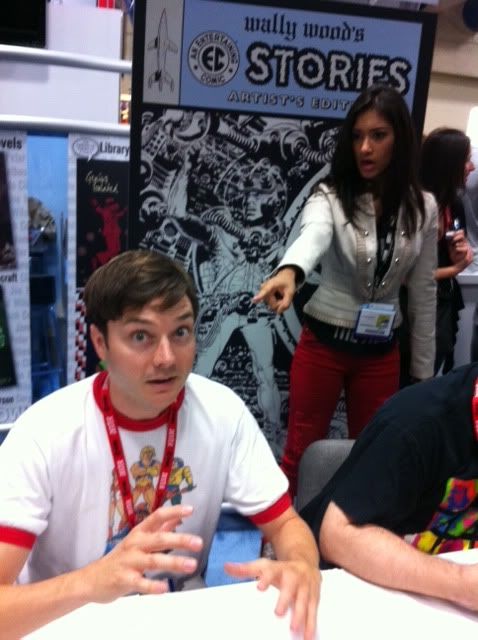 Ausiello
has an interview with KB, the video is at his link.
"Sundress." Don't forget — you heard it here first. What does it mean? Damned if I know. But, according to True Blood fanger Kristin Bauer van Straten, it's key to an upcoming Pam zinger that she hopes (and I expect) we'll all be talking about after we see the episode it's in.