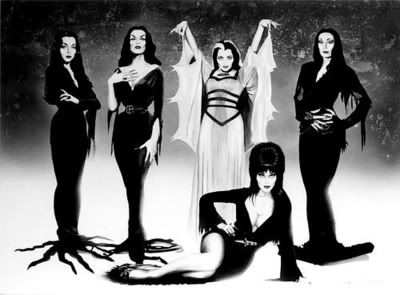 I wish I could photoshop Pam into this painting, she'd fit right in with the ladies.
Now that people are have gotten their hands on Deadlocked they are writing up their opinions and reviews. You can read part of Deadlocked at Charlaine Harris's site
This is from Skarsgardfans, of course only posting snippets here, so read it all at the links.
Vampire Pam sends a message to Sookie in the beginning of the book "Tell Sookie that this is the hard time that will show what she is made of." This message is not just for Sookie but also for fans of this series. This book is filled with angst and yes many obstacles for Sookie and the vampire she truly loves. Many times in the book they both say the I love you's. Still some fans will question that love. Real love is not simple, easy or wrapped in a bow. This is not a fairy tale (even though there are fairies in the book).
Like Dead Reckoning before it, the focus of Deadlocked from Sookie's perspective seems less about the specific machinations of those around her, and more about her losing the idealistic blinders that have dictated so many of her actions and responses in the past. The world doesn't always work the way you think it should, and you have to respond to it – not the other way around. "I-filed-that-away-to-think-about-later" Sookie is well and truly gone now, having evolved into someone who is far more assertive and aggressive about finding out what she needs to know ahead of time, if at all possible. Her confidence about asserting her needs continues to grow, and this is particularly evident in her dealings with her fairy family, and with Eric. "An ounce of prevention is worth a pound of cure" is her new motto, and I'll take that over the Ostrich Method any day of the week.
The preview chapters revealed that Sookie has increased responsibilities at Merlotte's, and by the end of the book the exact nature of her new role is clarified. I've always envisaged Sookie as having a comfortable foot in each of the human and vampire worlds by series end, so some necessary permanence in her role at Merlotte's and recognition for her hard work and loyalty are welcome as her story draws to a close. Besides, her promotion is not without perks – at least the locals aren't calling her Crazy Sookie anymore.
The Sookie of yesterdays has been slowly evolving over time into a much more mature Sookie, and this has never been more evident than in Deadlocked. She knows what she wants and what has to be done to obtain everything she desires. The only problem with this is that Sookie, along with her Vampire husband Eric, is stubborn and too prideful for her own good. In my opinion, this is the major obstacle in the progression of their relationship but 'she loves him' and that's why 'she goes with him'. Sookie makes this very clear and says it several times in fact. All of this is what leads to the angst you feel, both from Sookie and Eric. They have a lot of issues that they have to deal with and the major thing to take away from this is that they need to work together, instead of testing each other and trying to do it all on their own. There are a couple of particular passages where Sookie is reflecting on things from the past that spoke volumes to me on where she is headed in the final book.
True-Blood.net has their review in a audio podcast at the link.
Well lookie here, Mr. Moyer and Lois Smith in this video,
Thanks to The Nesters for this Anna Paquin article from Zooey Magazine-
An enigmatic actress? I didn't know they still existed. We had Marlene Dietrich in the 1930's, the ultra private Jodie Foster in the 80's/ 90's and all those other elusive starlets in between. But now? In an era where reality TV, Twitter, and TMZ have excessively fed our addiction for knowing all there is to know about stars? Any mystery has seemingly faded. At least I thought it had until I sat down for a sunny March afternoon lunch at Santa Monica's M Kitchen with Anna Paquin and the orange peach smoothie she ordered. Successfully concealing a baby bump under layers of charcoal wool along with those Raisinette eyes hiding behind turquoise shades, I realized that she just might be our contemporary mysterious starlet.
Read the rest at the link, she really doesnt seem to open up at all.
Continuing the around the world Battleship promotion with Askars in Colombia (no hookers were involved). The pics are on a few sites but our friends at Skarsgardfans has put them all in one place for our playsure. Check out the link for more.
Another Battleship promo, this has Skarsgard looking pretty banged up
Skarsgardfans has the screencaps up from this promo.
Hollywoodcrush has this to say about the last promo with Eric and Pam-
The latest clip features Eric and Pam, and no sign whatsoever of the gentle, hoodie-wearing amnesiac who stole Sookie's heart last season. Instead, we find ourselves in the empty bar at Fangtasia, where Eric has Pam on a table...and not in a fun, sexy way, either.
"You're f---ing lying!" he growls, looming over his weeping progeny as she sobs and protests her innocence.
"I'm not lying!" Pam cries. "I swear I don't know where Russell is!"
Whoa, whoa, whooooooa. Hey now! Eric Northman on an angry power trip, Pam in tears,and a hint of the longed-for comeback of one Russell Edgington? It's official: This clip is the creme de la creme, the prize lightfruit in our faerie garden, the Alcide to our wolfpack... and that goes double when Pam indignantly demands to know what could compel her maker to accuse her of such an outrageous crime, and Eric unhinges his fanged uppers and informs her that he trusts no one (and neither should she).
Hooray for the apparent return of Mean Angry Eric! Hooray for the possible return of Russell Edgington! And hooray for the inevitable return of "True Blood" this summer, because seriously, we're dying over here.
Jim Parrack tweeted this earlier-
oh my my. Today is gonna be a thriller....
#
atwork
#
yallaintgonnabelievethis
New Carolyn Hennesy interview, read it all at the link. TVequals-
You must be really excited to be in 'True Blood.' Congratulations.
Carolyn Hennesy: Yes. Thank you. I have to weight myself down to keep from floating away I'm so excited. I have to tell you, it's really fun, really fun.
How did you get involved with the series?
Carolyn Hennesy: I just auditioned for it. I was just called for an audition. They had one particular audition. There wasn't even a callback and I guess that Alan Ball said, 'We'll go with her.' He must've seen something that he thought would fit in well.
Your character is Rosalyn Harris. What can you say about her?
Carolyn Hennesy: Rosalyn Harris has been a member of The Authority for centuries. She now hails from Texas, but she's incredibly old as vampires go. So, where she came from before that remains to be seen, but Rosalyn is Texas through and through. She's one of those women who just hopes to settle the old west and expand the country. She believes in everything Texas including big hair and a shot of whiskey and good cigar.
How do you like playing a vampire?
Carolyn Hennesy: It's wonderful, are you kidding? My first fang fitting and I thought, 'Well, I've arrived. I've simply arrived.'
Was it uncomfortable wearing the fangs?
Carolyn Hennesy: Well, clearly my mouth is rather large which nobody knew because my features are terribly delicate, you see, but apparently inside my mouth is just like the Carlsbad Caverns. So, they had to do it several times.
Did they?
Carolyn Hennesy: They did. My fang fitting, it was grueling, but still you're having a fang fitting for 'True Blood.' Truly, how bad can it be?
Reminder, Kristin is going to be on Once Upon A Time's Finale on Sunday May 13th.