Interview from Gold Derby, it would be wonderful for her to get the Emmy nomination and better to get the Emmy (to match her hubs, the great Michael Emerson)-To stand out in such a crowded field of contenders is no easy feat, but Preston has made an indelible mark on the show in just a few appearances. This season she was singled out by Ken Tucker
(
EW
) who raved that, "Preston was playing, as she has here in the past, what could have been a stock figure - the crafty person who masks the craft in eccentric hesitation ... [but] she imbued the role with a quirky rhythm all her own." She is also prominently featured in the show's Emmy campaign as one of only four guest actors put forward by CBS for consideration (the others are Fox, Perry and Rita Wilson
).
New Season 4 DVD ad from HBO
News from yesterday's Deadline- True Blood
co-executive producer Mark Hudis will take the reins of the hit HBO
vampire drama if it gets renewed for a sixth season. With
True Blood
creator/executive producer Alan Ball stepping down as showrunner
at the end of the upcoming fifth season, Hudis would be upped to executive producer/showrunner for Season 6 as part of an overall deal he has signed with HBO. The two-year pact also includes a development component.
Hudis has been on
True Blood
for the past two seasons — last year's Season 4 and Season 5, which premieres June 10.
Let's do some vamp history, I posted it before but I like it, a lot.
Tonight on Craig Ferguson!

. On Wednesday, Craig welcomes actress

Jennifer Love Hewitt

and actress

Rutina Wesley

.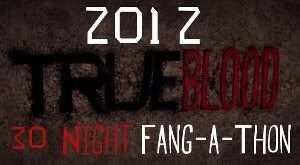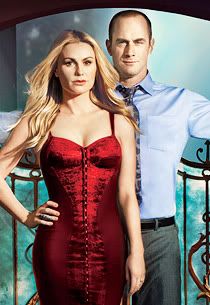 TVGuide's True Blood blurb-
Got any scoop on True Blood? — Tyler
NATALIE:
It's going to be a fairly military-themed season. The war against the vampires is imminent, Terry's buddy from the trenches (Scott Foley's
Patrick Devins) is back and the show is casting a tough-as-nails general who is being compared to Stormin' Norman Schwarzkopf
. Y'all better be at attention, y'hear?
They also posted the summer preview article (the one paraphrased a few days ago on this blog.)-
On the Set: True Blood Raises the Stakes For Its Most Intense Season Yet.
Chris Meloni's face is splattered with blood. He's just shot his first staking scene for HBO's megahit True Blood — and he's seriously amped up.
"When that blood hit me in the face, I went, 'This looks awesome!'" Meloni says gleefully. It's nearly 11pm and it took two hours to set up the shot — called a "goo drop." A bucket of stage blood (with some latex blobs mixed in for guts) is suspended from a scaffold. Just below it hangs an empty suit of clothes matching what the actor playing the doomed vamp is wearing. As the stake goes in, the bucket empties through the garments, and the bloodsucker is no more. There's only one chance to get it right. And Meloni nailed it.
The actor's excitement is matched only by the seriousness of the character he plays: Roman, the 500-year-old head of the Vampire Authority with the weight of the world on his pinstripe-suited shoulders. He's chief executive not only of the vampire government but of their religion, too. "My first day on set, I recited a prayer in Aramaic," says Meloni. No separation of church and state here.
"Roman is a politician who has a dream," explains executive producer Alan Ball. "He was behind the coming-out-of-the-coffin [movement], something that's been in the works for at least a hundred years. But there are factions in the vampire community who want to go back to the Dark Ages and feed on humans. The biggest arc in Season 5 is the future of peaceful coexistence." Adds Meloni, "Roman's determined. He wants peace, but others have been trying to stomp out his path. Think Obama with very long incisors."
Tonight's stakee is one of these fundamentalists, a traitor to the Authority who meets the "true death" in the sleekly furnished conference room of an underground New Orleans compound Ball has nicknamed "the Vampire White House," where Roman and six chancellors govern the fractious vampire community.
Says Meloni, "Elliot was free-form. Roman's more thoughtful — yet unafraid to pull the trigger. He's a man of action. Get the facts; get it done. But they both have a certainty of their view. They both think they're right."
A major obstacle to Roman's political agenda has arisen, literally, thanks to two bloodsuckers fans know and love: King of Louisiana Bill Compton and Sheriff Eric Northman . At the end of Season 3, the two buried crazed former vampire King of Mississippi Russell Edgington in cement instead of killing him as ordered. Now he has escaped, and Bill and Eric are dragged before Roman for judgment. (It doesn't help that they also killed the Authority's Nan Flanagan last season.) They bargain for their survival by offering to track Russell down and bring him in.
When the duo hit the road, "bromance" blooms. "They end up caring for one another," says Moyer, who will go behind the scenes to direct Episode 8 this season. "Me and Alex are mates, and it's been really enjoyable actually getting to stuff where we're not just bitch-slapping each other." Read more at the link above.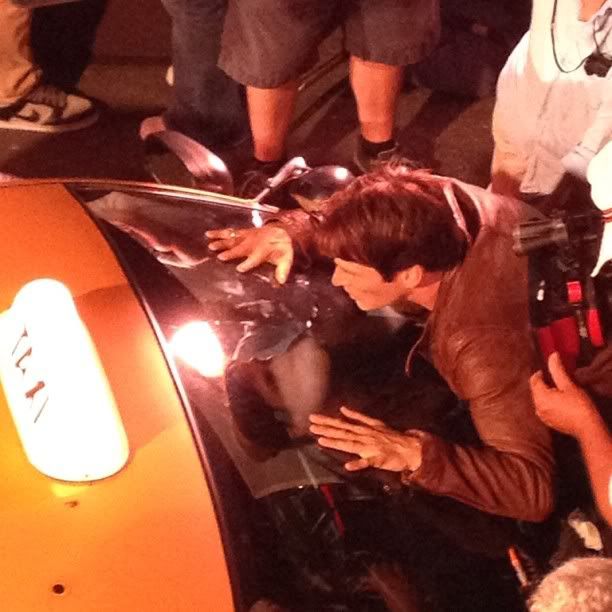 Nice recap of the shooting in New Orleans and fan pics from Eonline's Malkin.
He linked to this article (below) from the Times Picayune too, he should do a TB blog.
Set in Louisiana and mostly shot in the Los Angeles area, the HBO vampire drama "True Blood
" came to New Orleans on Friday (May 18) to shoot street scenes. Present were actors Alexander Skarsgard (who plays Eric Northman on the show), Stephen Moyer (Bill Compton), Denis O'Hare (Russell Edgington) and Lucy Griffiths (who is joining the cast for its fifth season).
Also a cast of thousands. The street was Bourbon. Various ad hoc correspondents reported on the shoot – which apparently included one scene in which Moyer jumps atop a moving taxi – for social media.
Among other "True Blood" actors to appear in the scenes, according to an HBO spokeswoman, were Michael McMillian (Steve Newlin) and Valentina Cervi (Salome).

Shooting covered just one long night, according to HBO, and it's not known if the show will return for any more New Orleans filming.

The show last came to Louisiana for location shooting in July 2009, as Clinton, La.

, acted as stand-in for Bon Temps.

The series also shot in the Shreveport area

during its first season.

Some location photos here

.

More here. MORE