The new promo is using the don't cry theme, watching it made me miss not only Russell but Franklin. I liked previous seasons when the posters were witty and plentiful.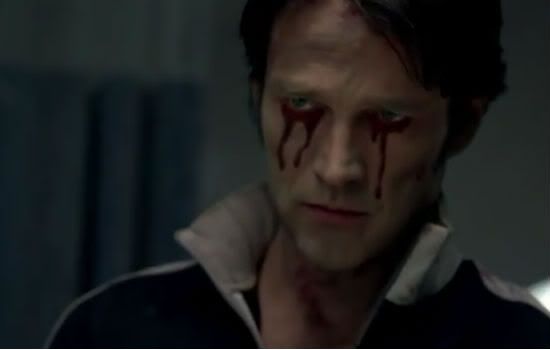 My peoples, the Nesters at Trueblood-News have scans from TVGUIDE's summer preview issue. Here's the synopsis of the article with some of my thoughts but go visit my friends at The Nest to see the piccies and the whole read.
Reveals: Roman is 500 years old, not old as far as other vamps we have met. He's not only authority head but leader of their religion. Isn't this a little late in the game to tell us they have a religion? The prayer recited during that promo of them all in cloaks kneeling and receiving his (or someone's) sacred blood is in Aramaic. His dream is the coming out of the coffin movement and he doesn't want to go back to the dark ages.
He stakes a vamp fundamentalist for going against him in what might be the first scene he appears in (maybe). In other late news, their Vampire White house (as Ball is quoted) is underground in New Orleans. Bill and Eric are on trial because they didn't kill Russell just buried him . As many of us have speculated they try to get a reprieve by saying they will hunt down the King and bring him in (those bastards). Then Moyer says that when he and Eric are on the road they start to care for each other, hahahaha. He says there is an unlikely laison at some point, oh noes, not THAT.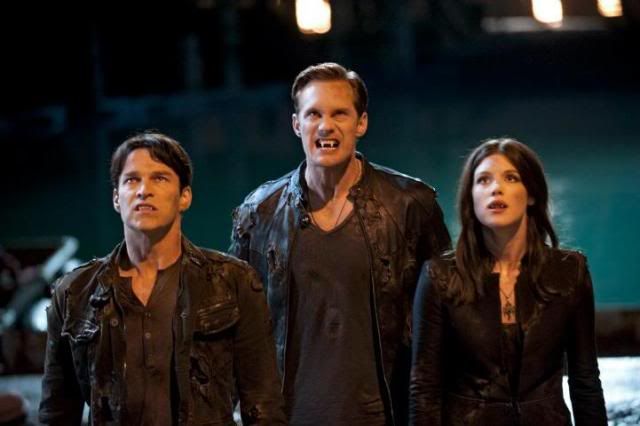 Under a pic of Tara Ball's quoted as
saying she'll be back and is not happy with Sookie, and will have a growing intimacy with the last person you would ever expect. THEN he says that Pam will have a new vampire in her life! He confirms the flashback of her turning, so looks like many of our hunches were on the money. Sam has trouble with Marcus' family and pack and even Luna, who finds out if Emma is wolf or shifter (which is so not from the books or shifter canon). Jason deals with his feelings for Jessica and what they say is "shocking" family history, so I guess his fairy comes out. Jessica parties while the anti vampers (the rednecks in Obama masks) target her.
Sounds like Alcide comes onto Sookie hot and heavy then something stops his come ons, so familiar. He tries to protect her but she doesn't need that from him she has fairyblasts to ward off vamps. Russell comes back with a new outlook, lol, but he hasn't forgotten his taste of fairy blood, and really who of us has? Fae Claude fills Sooks and Jason in on some family history (almost afraid to find out what more they could do to fuck this plotline up). O'Hare says there are games within games, seeming that you don't know who really is on whose side till further into the season. Hmm, thinking of those photos from the filming in New Orleans this weekend? A main character is going to go through a "profound transformation" in the finale. Have no clue who that is going to be, since Tara has to get turned soon during the premiere or she be deaddeaddead.
Spirits from the past will talk through Lafayette and that family demon of Jesus will be with him too. Terry's war story is told and has a supernatural element which some of us think is a ghost from Iraq. It sounds like Nora and Eric get it on, Salome gets it on with a few, even though she loves Roman. I can't knock a girl for that, look at that cast. I just wonder what Dieter and Kibwe are going to do as far as Eric and Bill. BTW, Heyerdahl's "Sanctuary" was just cancelled today, I like that show.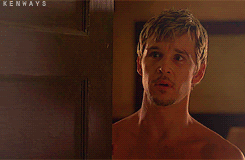 Skarsgardfans has all the S5 images that HBO released on one page, here's the latest.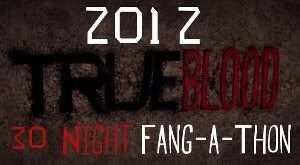 20 nights to go.
More on "The Barrens" HERE.
EW has a story about Joe Manganiello and his time as Captain Morgan, yes that Captain
- In case you haven't heard yet, Magic Mike
was inspired by star Channing Tatum's old career as a stripper. So when EW got Tatum. Matthew McConaughey, Joe Manganiello, and Matt Bomer together for
this week's cover story
, we asked if anybody else had a pre-fame job that might make a good Steven Soderbergh movie.
Everyone shared their best odd jobs, but it was True Blood star Manganiello who had the entire table engrossed with his showstopping story about his craziest before-he-was-famous gig.
"When I was 16 years old, a friend called me up in a panic. She used to book these promotional jobs, and she said, "We had a guy cancel last minute. Can you please step in?" And I said, "Okay, sure. What do you want me to do?" She goes, "Well, we'll pay you $25 an hour," — when you're 16, I mean s–t — "And when you get here, if anyone asks how old you are, just say you're 21."
So I had my mom drive me down because I didn't have a license. She drops me off, and I go in, and there's this group of adults, and this guy turns to me and goes, "You're the guy?" And I go, "Oh, yeah." And he goes, "How old are you?" And I go, "21." So he says, "Put this on." And he hands me this pirate suit: the wig, the eyepatch, the beard, the ruffles, the sword, the cape. And I'm gonna go be Captain Morgan at a couple of bars. And he goes, "These are your two wenches." And it's these hot college girls. And they gave me this tank, this backpack that they strapped on, and they filled it with rum, and it had a tap on it, and they were like, 'Go get everybody drunk.'
I'm 16, so I'm a little timid. I'm just worried about going to jail. So at the first bar, I was kind of scared. But then the girls were like, "Come over here!" And we all started drinking off the tap. By the time [we got to] the second or the third bar, one of the bars had those cowboy doors. And by then I was f–king lit, and I was feeling it. So I kick those cowboy doors in and I go, "AAARRRGH!" And the whole bar full of adults turns and goes, "AAARRRGH!" And it was on. I'm leaning on the bar, squirting [the rum] in their mouths, squirting it in mine. I was singing Marilyn Manson covers with the band by the end. The problem was that Seagrams called the next day. And I thought, "We're all dead. We're all going to jail." But they said they didn't want to do the promotion unless I was Captain Morgan. They loved me. So I got this guy's ID who was 10 years older than me, and I was Captain Morgan in Pittsburgh from 16 to 21.
From DAW's Facebook wall
Janina and her place setter at a table read, also from Facebook