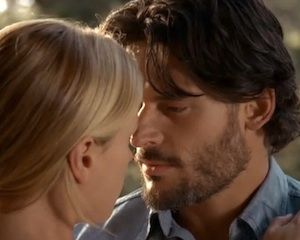 The San Diego Comic Con is at hand and I know you all are as excited as I am. Nervousing that there will be so much news and not enough time to get it all up here. Here's an article on how HBO is using social media to promote their shows at Comic Con.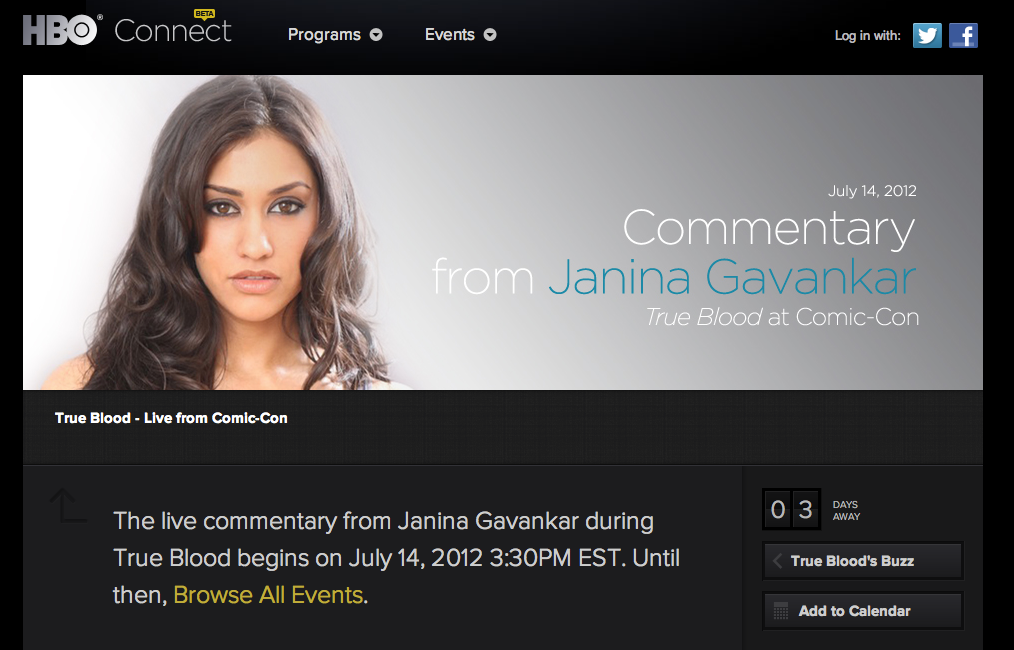 HBO's Connect platform has continued to grow as an important part of the strategy. They've used the platform recently for Game of Thrones, True Blood and more. For Comic-Con Sabrina Caluori and her team are going even further to bring all of the fans closer to the Comic-Con action: talent from their shows will act as social media correspondents throughout the event. Here are all the details on how the premium cable channel is going to be using social for the biggest appearance of TV at Comic-Con yet.
Sabrina Caluori: We've created some really cool ways for fans to go behind the scenes at Comic-Con this year through our social TV site, HBO Connect. We wanted to give everyone, even those not attending "the Con," a way to get in on the HBO activities there and share in the fun.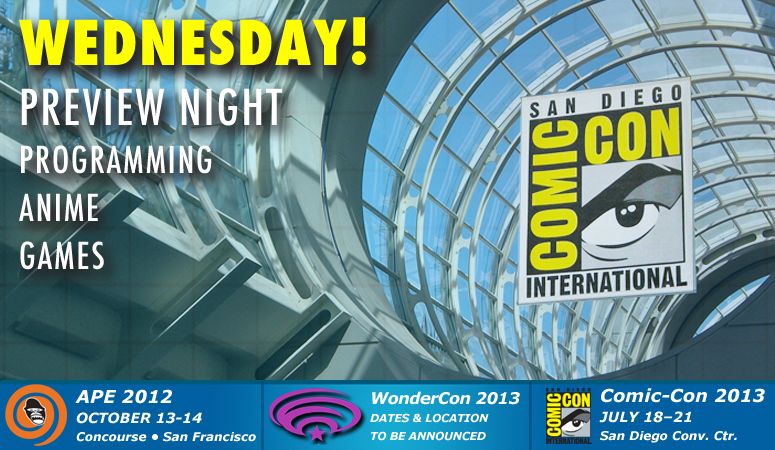 On Friday, July 13 HBO Connect will kick off our Comic-Con activities with the launch of an exclusive sweepstakes for the chance to win a limited edition Game of Thrones branded Xbox 360, not sold in stores. Fans can visit
HBO Connect
and follow
#sdccgotfan
to enter.
We also have celebrity correspondents from Game of Thrones and True Blood walking the floor at Comic-Con, tweeting about their interactions with the fans, taking photos and doing giveaways. For Game of Thrones,
Kristian Nairn
who plays "Hodor," will tweet from the floor on Friday, July 13
here
. For True Blood,
Janina Gavankar
who plays "Luna" will tweet from the floor on Saturday
here
. (remember Janina did this last SDCC too, she was great)
HBO will live-tweet throughout the Game of Thrones and True Blood panels at @GameofThronesand @TrueBloodhbo respectively, providing a play by play for fans following on HBO Connect. Also on Saturday, July 14, HBO Connect will give True Blood fans the opportunity to "flock to unlock" the exclusive Comic-Con trailer. If fans tweet #sdcctruebie 150,000 times, HBO will unlock the trailer on HBO Connect.
The response to True Blood at Comic-Con has always been phenomenal and we're psyched to return for our fifth year with a panel that includes Alan Ball (creator and executive producer), Kristin Bauer van Straten ("Pam Swynford de Beaufort"), Nelsan Ellis ("LafayetteReynolds"), Ryan Kwanten ("Jason Stackhouse"), Joe Manganiello ("Alcide Herveaux"), Christopher Meloni ("Roman Zimojic"), StephenMoyer ("Bill Compton"), Anna Paquin ("Sookie Stackhouse"), Alexander Skarsgard ("Eric Northman"), Sam Trammell ("Sam Merlotte"),Rutina Wesley ("Tara Thornton") and Deborah Ann Woll ("Jessica Hamby"). This year's True Blood panel will be held in Ballroom 20 andwill once again be moderated by Tim Stack of Entertainment Weekly.


I was checking all day/night for this- They Shoot Shifters Don't they?
Okay, so that title would have been more appropriate LAST week, when the horsies got killed. But like Sookie, we were too blitzed on schnapps to notice! Yes, Brian and Andy from CampBlood.org are back to dig through the entrails of the latest "True Blood" and try to make sense of all the ifrits, He-Man jammies, and dead gay heads found therein. Enjoy!
The Advocate Interviews Stephen, much longer interview at the link
The Advocate: The LGBT community has embraced True Blood from the start. Are you conscious of your own gay fans?
Stephen Moyer: I feel very at home in
that world, so I'm very pleased about it, but I may come in fourth behind Joe Manganiello, Alex Skarsgård, and Ryan Kwanten, if I'm really honest. I'm a little upset. Once upon a time I was doing very well in that area, but after Alex and Joe joined the show, I naturally went down in the pecking order.
Were you aware of that audience prior to True Blood?
I got quite a good response when I did the miniseries
The Starter Wife
and played a big bum with his top off most of the time. I worked hard to please everybody on that one.
You've said that women occasionally ask you to bite them. Do men ever ask for a bite?
I've been asked to bite in West Hollywood. If the person looks clean and wholesome, I might oblige.
There has been criticism that True Blood has alienated some viewers because it's become "too gay." What's your response?
Is there such a thing as too gay? We live in a very different world than we grew up in, so if people can't embrace that aspect of our show, then that's a shame. I certainly don't think it's specifically gay, but our show ticks a lot of boxes for a lot of people. We have an incredibly broad audience, one of the widest demographics in terms of sexuality and age groups, so obviously we're doing something right.
You've gotten in on the action with a fantasy sequence involving you and Sam Trammell. Was that a challenging scene?
Not at all. We had an awful lot of fun that day, and I happen to think Sam's a very good-looking man. We also had a lot of fun lighting the scene with our shirtless stand-ins, Nate and Lenny. [
Laughs
] Not that that particular scene was a challenge, but anything that seems like it could be a challenge in the script is just meat for an actor. So I looked at that scene like,
Oh, my God, that's fantastic. I can't wait to do that!
Sam's sex dream and your imminent kiss were cut short by Sam's phone ringing. Like many home viewers, do you secretly wish it had gone off just a little later than it did?
[
Laughs
] I think we've all had times where the alarm's gone off or the phone's rung earlier than you wanted it to.
Speaking of sexual tension, when will Bill and his adversary Eric just get it over with already and have angry vampire sex?
I've been asking myself that question for a long time. Alex and I would absolutely embrace that. Last year, when Sookie had her fantasy about the two of them with her, we even suggested it. Of course, Bill and Eric together isn't necessarily Sookie's fantasy.
Are you excited to see your costar Joe Manganiello in Magic Mike?
We've been privy to most of Joe's performance in
Magic Mike
just from being on set with him. Joe is not somebody who's afraid to take his top off or hump desks. If you went up to Joe and said, "I hear you're playing a stripper," he would do the dance for you then and there. He would probably do it for my dog Banjo. He has no shame. MORE
Poor Alcide. After seasons of waiting for Sookie to come around to his absurd abs and lupine charm--not to mention instantly forgiving her for killing his ex-girlfriend--his magic moment was ruined by too much peach schnapps. His loyal
Twitter
supporters
and the
Daily News' recapper
were equally disappointed.
Not disappointing? Jason's He-Man footie pajamas, which were called out by
io9
and
Grantland
. You might be wondering where the adult-sized childhood relics came from. Well, wonder no more.
On HBO GO's Interactive Viewing Experience
, costume designer Audrey Fisher describes the process of putting them together:
"One of our colleagues brought in some adorable pictures of himself in He-Man pajamas, which confirmed the palette and style. My Key Costumer found vintage He-Man sheets and I found adult flannel onesies in bright colors with feet and butt flaps. We washed down the onesies, strategically placing the He-Man logo. The final touch was distressing the PJs: wear on the knees and a hole in the toe, just like an active toddler might have. And voila!"
Unfortunately, you're not likely to find Jason's pajamas for sale at the HBO store. Nor will you find, as @AndySwift suggests, adorable Emma wolfpups, or for that matter, big liquor-sized bottles of TruBlood. One thing you can own, though, is the song played over the episode's closing credits, "Let's Boot and Rally"--written by 'True Blood' music supervisor and KCRW DJ Gary Calamar with James Combs, and recorded by Iggy Pop and Bethany Cosentino of Best Coast.
Other significant moments from this week:
The
ifrit
that's been haunting Terry and his fellow vets sent
Vulture's recapper
on a wild-IMDB chase. And as Todd Lowe (who plays Terry) shares in the HBO GO Interactive Viewing Experience, she's not the only one who struggled how to pronounce it.
"New York City smells like pee and the people are rude." – Eric Northman.
Tara is coming into her own as a vampire, as writer Angela Robinson points out in the
Inside the Episode video
. But she still doesn't mind some friendly advice from Jessica, who quickly takes to the roll of vampire big sister in the latest installment of her vlog.
L
astly, this week is San Diego Comic Con and the 'True Blood' cast and crew will be out in force. Can't be at the convention? You can still unlock the second half of Season 5. On Saturday, tweeting
#SDCCTruebie 150,000 times gets you first dibs at the True Blood Comic-Con trailer.
You can read about all the action here on the Inside True Blood blog, and follow along live with HBO Connect.
Wonder why they blanked out the He-Man on Jason's PJ's? These new Inside True Blood Blogs are just not like Gianna Sobol's were, I miss her's. These have nothing insiderish.