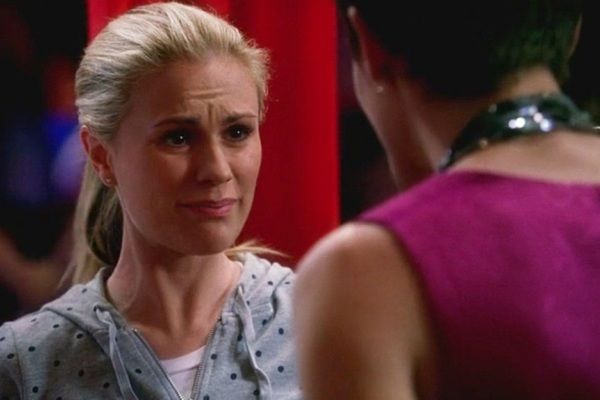 Now we add Sookie's WTF face to our gallery, and we know how she feels.
Promo day- Eric took some B12 in the form of Godric, straightened out.
From TVLine's Ausiello-
Question: Any scoop on True Blood's season finale? —SosoAusiello: It features a "big body count," confirms series creator Alan Ball. "Probably more than any other episode we've ever had. I'm not saying they're bodies we know, although some of them are. There's a lot of carnage." Bonus scoop: The final frame of the season will feature one of these three characters: Sookie, Bill or Eric.
We're late with this recap, sorry, from Vulture, read it all at the link it's lulz worthy-
Hi, guys. How are you? Recovered from watching that lady slowly remove Lafayette's lip stitches with a dull knife soaked in crazy grandpa blood? Me neither!
Everybody Loves Russell
Wow, we're suddenly all very cool with this guy just being there and hanging out. And you know what? I buy it, because I think I speak for all of us when I say, "Dennis O'Hare, please come to my house and be my friend." This guy is sincerely great. Put him on all the shows.
Alcide-San's Training Montage
I loved his little headband and board shorts combo. In my head, this is how Joe Manganiello works out. Kickboxing, flailing, and sex for cardio.
The Ifrit Laughs at Its Own Plotline
Hee hee hee. I KNOW, Ifrit, but, shhhhh Fourth Wall.
Arlene and Terry's Wedding Video
This was kind of adorable, no? Sure, a wedding video is a tired, clunky device, but it was nice to see everybody acting normal-ish: Hoyt and Jessica in love and unfettered by weird fetish gear, Andy single and shlubby, Jason seeking gleeful purchase in any available female cavity. Better times!
Sam Merlotte, K-9 Cop
He's just been really likable this season, and I think a lot of it is his police dog routine. More of this!
The Karaoke Bloodbath
Aside from the fact that nobody under the age of a million knows the lyrics to "You Light Up My Life," I think this is how we would all react in this situation.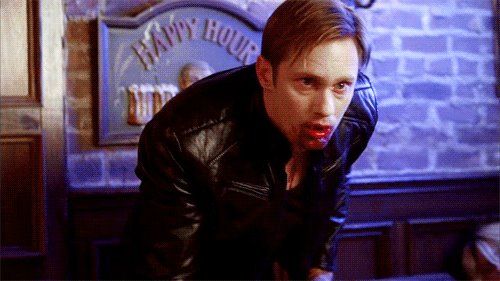 OOH Brian's recap is up at AE! Read it all at the link, as usual it's scrumptious
-
We catch up with Sookie (Anna Paquin), who is undergoing some kind of fairy reiki, or something - Claudeand one of his sisters (I think it's Clauderains) are passing light through her body like when you used to use a potato to run a digital clock in 3rd grade science. Jason (Ryan Kwanten) isn't keen on the procedure but he lets them - and when they seem disappointed in the results of her Fae E-Meter, he stammers, "But her head, it lit up real good!"
They wake Sookie and tell her that her energy is depleting - she will run out of magic if she keeps using it indiscriminately. They drive home the fact that if she runs out of magic she'll just be a boring old human again, and we see her face light up - apparently Sookie hasn't seen X-Men: The Last Stand, because Paquin's Rogue character went through THE EXACT SAME STORYLINE.
Who else is holding out for a Hugh Jackman cameo?
Over at The Stake House, Andy (Chris Bauer) is being questioned by Kevin, who seriously is the creepiest thing that a show with exploding vampires, baby-napping ghosts, and demon-fueled blood orgies has to offer. I kind of love it. Andy doesn't: "Jesus tits on Christ, this has gotta be the worst day of my life!" Speaking of blood orgies, Coroner Mike Redherring Spencer shows up - he was with a lady, and Kevin tells him "TMI." He goes to check out Junior's body.
We then meet up with Sam (Sam Trammell), who is leading Kenya on a search of the storeroom, where he sniffs out the Obama masks like the ones that the men who shot him. She asks exactly how he did that, but he's too busy rolling around on the ground like a puppy in a clover patch to give her much of an answer beyond "ADORABLE".
Speaking of murderous redneck bigots, Hoyt (Jim Parrack) is cooling his blood-spattered heels with the likes of Joe Bob and his Obama-lovin' pals. They convince Hoyt that their hate group is all about love, and he admits that he feels more love there than he ever felt "at church, or basketball, or whatever." Bless. They get a call from The Dragon, who tips them off that Junior has been shot by a supe. I think we're supposed to get at this point that The Dragon is Mike Spencer - maybe he's all anti-supe because vampires killed his former assistant, Artie from Glee, back in Season 1? Anyway, Hoyt also opens up about Jess, and the guys tell him, "We're here to hate her with ya." Bros before hos, yo! MORE
And they managed to vlog through the move to a new place, troopers!
Oh em gee, y'all – WHAT A WEEK we have had. I feel like I've been ridden hard and put away wet. LIKE A BICYCLE TAKEN TO THE LAUNDROMAT IN THE RAIN, you perverts…
Anyway, Andy and I are happily ensconced (sconces? now there's an idea!) in our new mansion home and we're back to discuss all the insane and/or inane goings-on in this week's karaoke-enhanced episode of True Blood.
This comic, based on Alan Ball's hit HBO series—the sizzling story of the lives and loves of vampires, mind readers, and other mythical creatures—is back as an ongoing series! With creative collaboration from TRUE BLOOD creator/writer/producer Ball, this series features writers Ann Nocenti (Daredevil, Green Arrow) and Michael McMillian, with art by Michael Gaydos (Alias).
32 pages
Co-Written by Michael McMillian, "Steve Newlin" from the show, with fan-favorite Ann Nocenti (Daredevil, Green Arrow)!
Series features covers by Tim Bradstreet (The Punisher)! Ready for shipment now at
HBO
The Fangover: Russell's Karaoke Moment; Safe-feeding 101 with Pam; and A Piggyback Ride to Remember (Inside True Blood Blog)
Russell Edgington lights up everyone's life. After he joined an unsuspecting bride-to-be for a duet of Debby Boone's 70s classic, fans gushed in admiration of the former Vampire King of Mississippi. "I am a giant fan of Russell Edgington," tweeted
@multiplexer
. "True Blood needs nothing but Russell scenes."
Vulture recapper
Julieanne Smolinski took it a step further when she wrote, " I think I speak for all of us when I say, 'Dennis O'Hare, please come to my house and be my friend.' This guy is sincerely great. Put him on all the shows." Even
Kristin Bauer Van Straten
, whose character has had her issues with Russell in the past, shared her appreciation.
Speaking of Pam, she brought her freshly-crimped coiffure to
Jessica's Vlog
, where she imparted sage words of wisdom to young vampires looking for advice on safe-feeding. "The main thing to watch out for is Hep-D, it can weaken you a lot."
(Remember when we heard about Hep D when Bill first got weird with Malcolm and Diane's nest? This is the first mention since season 1)
In the
Inside the Episode
video, show creator Alan Ball discusses how far vampires (and humans) will go in the name of religion. "I thought it was interesting that the vampires were using scripture to justify what is basically unjustifiable," he says. "The religious aspect absolves them of any responsibility." Episode director Michael Ruscio talks about parading nine vampires through the thousands of extras and onlookers on Bourbon Street in New Orleans. He neglects to mention the piggyback ride Eric was seen giving Bill in the background.
Despite stiff competition, the most popular detail from this week's episode was Alcide -- or at least his abs. Here's a sample of what the Twitterverse was saying during his shirtless training session with Rikki:
@peoplemag
: RT if you think Eric and Alcide should be shirtless for the entire episode of True Blood tonight!
@AndySwift
: These shirtless training scenes with Alcide and that she-wolf are giving me major Step Up vibes.
@PiloteXYZ
: On the upside lots of shirtless Alcide, #TrueBlood suddenly discovered it has a huge draw with his awesome body. LOL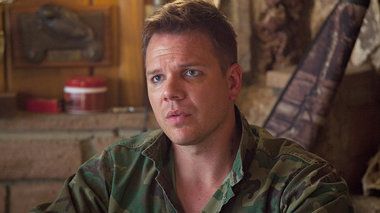 Eonline's new set up really sucks, Kristin is getting the shaft as far as having her articles featured like they were previously. Here's the recap-
WHAT WE LEARNED
Fae Free: It looks like there is a get-out-of-fairy-life-free card, Sookie's powers aren't never-ending. But that's a good thing. Her debilitating—yet sometimes helpful—powers could be depleted, and she is determined to help them along.
Bad Romance: Jessica and Jason sure know how to fight dirty. What started as a nice heart-to-heart, ended with fang marks and a bullet to the head. That was a little below-the-belt, Jason. But we think these crazy kids can work it out. Plus, Jessica might need Jason on her side if Hoyt has really joined the Merry Men and their supernatural killing squad.
Road Tripping: Partying in New Orleans with Russell Edgington (Denis O'Hare) sounds really awesome, until it isn't. After tripping on Lilith blood, the new vampire friends head to the Big Easy. Between a bloodbath and bodies, the often-talked-about Lillith comes out of a CGI blood puddle and roars. And then she compels them all to drink more. All hope looks lost until Godric (Allan Hyde)—our favorite maker and acting conscience for Eric —pushes Eric in the right direction. Just stay with us forever, Godric.
Heads Will Roll: Why Lafayette would ever go back to crazy Don Bartolo's (Del Zamora) house, we have no clue. We watch a lot of TV, and some very gory TV at that, but nothing could prepare us for a stitched-shut mouth. A massacre in a New Orleans bar is fine, but we have to draw the line at needlework. But all's well that ends well—and that young wife (who has been pregnant for about 30 months) killed Jesus' crazy grandfather. Good riddance.
Celebrity Cafe's Recap is HERE, Wetpaint wants your opinion on Smokie, oy.
True Blood won Sunday's cable ratings, again, TVbythenumbers.
Don't forget the episode info is posted HERE, always spoilerific, always up to the minute.
I love some Lucy and Anna, so all three together is so off the hook awesome.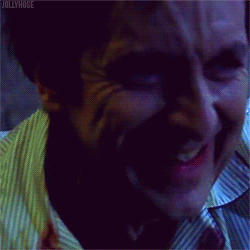 Hollywood.com talks to Denis O'Hare, who lights up MY life-
"He just kind of wants to be left alone," reasons O'Hare. He says his character isn't just a blanket villain — there's depth there. And as we witnessed last week, Russell isn't about to get involved in this vampire bi-partisan battle. He's just out for blood and lust - you know, the usual "funtime" activities. "Russell will stick around until he's not having fun, and then he'll split," O'Hare adds.
But while he's having fun, will he find time to mend his broken heart? Back in Season 3, Eric killed Russell's live-in boyfriend and lovable character Talbot (SADNESS), but it's been over a year, it's time for the oldest vampire around to let go and move on. And it truly is. "We shot a flirtation," says O'Hare. "By episode seven or eight you'll see. It's an affair, and we all know the character." Could it be the former reverend, current vampire PR wiz Steve Newlin that manages to tame Russell's wild heart in the wake of Jason's ?
He was a little more forthcoming regarding Russell's relationship with Eric. "He and Eric have always had an odd relationship," says O'Hare. And it seems their ideas are more in line than Eric might like to admit. During "Hopeless" Eric tells Roman he's not on his side or the side of the Sanguinistas, he's a "pacifist." Likewise, Russell tells Roman that he thinks both sides of the Mainstream/Sanguista divide are hypocrites - he just drinks blood because he loves it.
And while the potential thawing of Eric's icy view towards Russell is an interesting thought, the fate of Roman is a little more pressing. At the end of "Hopeless" Russell's iStake malfunctions and he overtakes Roman in order to shove a stake in his heart, but Roman doesn't explode the way every other staked vampire has in the history of this show - he simply turns grey.
Well, that's not so clear. "Roman was so ancient and so powerful," explains O'Hare. But we weren't the only ones confused upon first seeing the scene. "I remember reading it and going 'So what's the deal? Is he dead? I stake him?
From the Not Suitable for Children's Facebook page and Twitter, Ryan K and Ryan Corr, rockabilly baby!
Joe Manganiello flips the bird at photogs today via SocialiteLife, more pics at the site.
Stephen Moyer attends the Audi International Polo at Guards Polo Club on July 22, 2012 in Egham, England.
Tim Whitby/Getty Images Europe ZIMBIO