They sure got lots of beads on Bourbon Street, granted they killed for them but they scored like true tourists. Screencaps by Skarsgardfans and HBO unless noted.
I wonder how much longer Nora will go on before meeting the true death?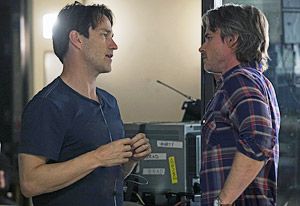 Sam Trammell talks to Ausiello about Somebody and the finale-
TVLINE | I wasn't sure you could top Sam rolling around on the floor like a dog last week — but you officially did it with this week's shift twist.
Oh my gosh, thanks. [Laughs] It was a very intense episode.
TVLINE | How did you feel about playing a character shifting into your character again — only this time as a woman?
The writers told me that they had this idea that somebody else would shift into me, and it was going to have to be Janina [Gavankar, who plays Luna]. The writers were so excited because they were going to have her walk around and run into me, so I was going to have to play both sides of the scene. I knew it was going to be really difficult and kind of demanding, but I was excited.
TVLINE | There was also more humor than we're used to where Sam is concerned.
When I read it, I really saw it as being kind of humorous, but we always wanted to play it straight. The stakes were pretty high for Sam and for Luna, so we tried to shy away from playing the humor… The whole situation is so insane that I'm sure it's pretty funny. [Laughs] There were definitely different peaks and valleys [in the episode]. The very end, sort of when Luna is dying, that was a serious scene. But then they added the thing where I almost kissed myself, so that was quirky. I think that's one of the things that the show does well; it kind of bridges different genres.
TVLINE | Did you approach this as playing a feminine version of Sam or as Luna as Sam?
It is kind of a mix. I always want to do it as the person, and Janina is obviously a woman so she has a certain kind of walk. I definitely tried to do a little bit of that. But the way she plays Luna is not overtly feminine… I tried to get the rhythm of her speech. She helped me out. I actually worked with her and watched her read scenes, which was really helpful. But it was really tricky. When I had scenes with myself, particularly in the scene where she comes in after Sam turned into a snake, we shot so many different angles and I kept switching from me to her and then her to me… It was back and forth for 10 hours! I had to go back and forth in the scene and know how each person would play it and also react to that person saying those things… Also, just getting into character — being Sam Merlotte and then being Janina in my body — was really exhausting! [Laughs]
TVLINE | We're also hearing a very bloody finale awaits us. Care to add anything to that?
I think we have one of the best season finales we've ever had. For sure. There's definitely going to be a ton of blood spilled and a lot of people die. The very end [of the episode], people are going to be like, "Holy s–t!" It's a major, major cliffhanger. Read it all at the link, I don't think he realized he said the phrase "Luna is dying"
Eonline's Recap in full at the link but ONE-LINERS are needed here-
"They say my blood tastes like a goddamn milkshake. You don't even need no straw." —Fake Fangbanger
"I need a baby. Lilith wants me to eat a baby." —Sanguinista
"I want names, I want addresses, and if I don't get 'em, my Taser's gonna ask your nuts to the big dance." —Andy Bellefleur
"Hooker, I ain't in the helpin' business no more. I am in the f--k-off-while-I-smoke-a-blunt business, and business is about to pick way the f--k up." —Lafayette
"You don't know me that well. My mad face and my happy face are the same." —Pam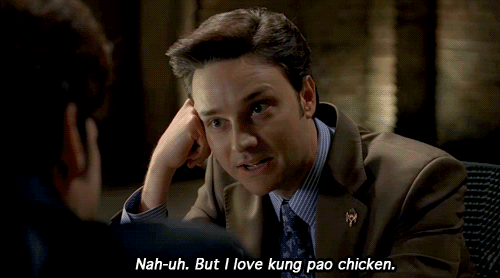 GIFs of Russteve via Film Fatale, fantastique!

I still miss the elegance that was Talbot.
MTV's recap bitsie-
Wolves, witches, and... Warlow?
After weeks of perfunctory nods, the wolfpack plotline took a big step forward. Alcide's training for the packmaster rumble has come to an end... and speaking of ends, we got an awfully nice look at Joe Manganiello's in one of this season's better sex scenes. But not even those rippling muscles could compete with the murderous, V-addled J.D.; after dashing into the woods to save the packmaster's human prey, Alcide comes out the loser in the ensuing struggle. It's only a last-minute intervention by Granny Bozeman that keeps his head un-bashed-in.
Meanwhile, Arlene and Holly are on the Ifrit case, convincing Lafayette to use his witchy powers of persuasion and trick Terry into believing that he's no longer cursed. There's just one teensy problem with having a real witch conduct a fake seance: the ghost actually shows up. But she agrees to lift the curse, and all she asks in return is that Terry kill... Patrick? Patrick! Where ya going, buddy?
And elsewhere, Sookie's attempt to drain herself of Fae-ness is interrupted by Jason, who waxes poetic about parental legacy and the power of love. Also, they might need her faerie powers when they find the vamp who killed her parents, so maybe don't do that just yet? Sook
agrees, and soon thereafter, she and the rest of the Faeriefolk meet at the bridge where her parents died, where Sookie can (apparently) tap into the lingering echo of her mother's final thoughts. And it works... a little too well, as she finds herself inside the murderous vampire's head. But at least she gets the killer's (stupid) name: WARLOW.
This now looks like a completely different actor as waldowarlowwarlordwarhol.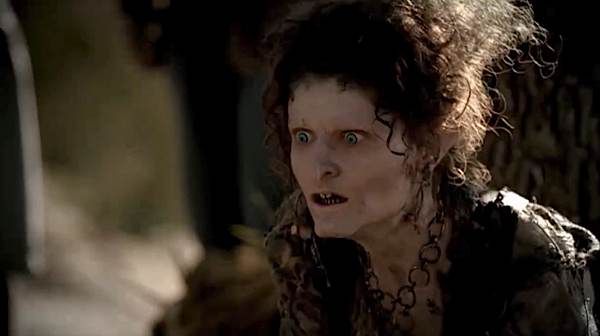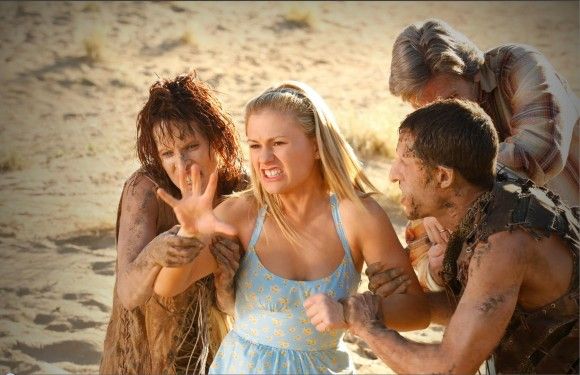 the return of the gnarly toof fairies?
All rightey now, I watched and wasn't taking notes or distracted, it's Worlow (sp), and it seems like it could be someone of the bad fae persuasion judging by Claudine's knowing them enough to address by name and admonish them to leave. Also Sookie and Claude both say that she shouldn't have been able to see through a vamps eyes. Claude would be terrified they tracked him down too, and he seemed way scared.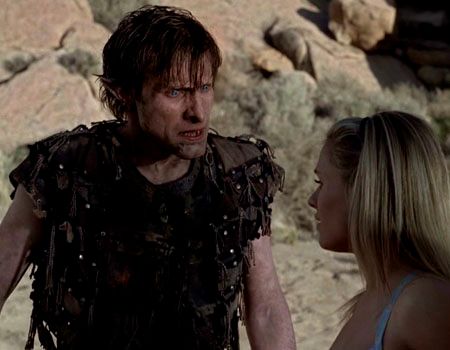 Joe stopped by Access Hollywood on Monday, pics at the link-
Sunday's "True Blood" had plenty of the show's usual steamy sex scenes, but when it came time to film Joe Manganiello's latest – some high-flying Hollywood magic was needed.
The hunky actor stopped by Access Hollywood Live on Monday, where he talked shooting his sex scene with series newcomer Kelly Overton, who plays fellow werewolf Rikki.
"To my understanding, it's the first sex scene to eve
r involve Hong Kong action wires, like 'The Matrix,'" Joe told Kit Hoover and guest co-host Derek Hough, about the scene that shows Rikki being thrown across the room in the midst of their intimate moment.
And when it came to filming, the actors wore almost nothing.
"I was wearing what is referred to as 'the sock.' It has a drawstring and women wear 'the patch.'" He explained.
The actor, who is no stranger to dropping his pants on previous episodes of the HBO series, said he was also well-groomed in the art of dropping trou in front of his co-stars and crew due to his recent big screen hit.
"I was used to [being half naked on set] coming from 'Magic Mike,'" he added.
As far as the storyline for HBO's favorite werewolf, in addition to meeting Alcide's father (played by Robert Patrick) in future episodes, Joe said fans will get a glimpse of the werewolf as a teen.
"You're also going to see some flashbacks with Alcide at age 14, which will be interesting," he told Kit and Derek.
TVFanatic recap at link. Here's Buzzsugar's.
Are you even fucking real? Does it matter?
More HBOGo interactive vids from The Vault below