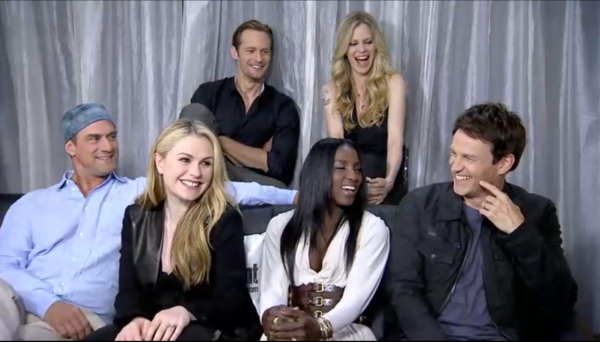 How many times have y'all watched this now? 20-30-100 times? True Blood News has screencaps! Jenpero has GIFs! Critics are referring to it as the second half of season 5 trailer.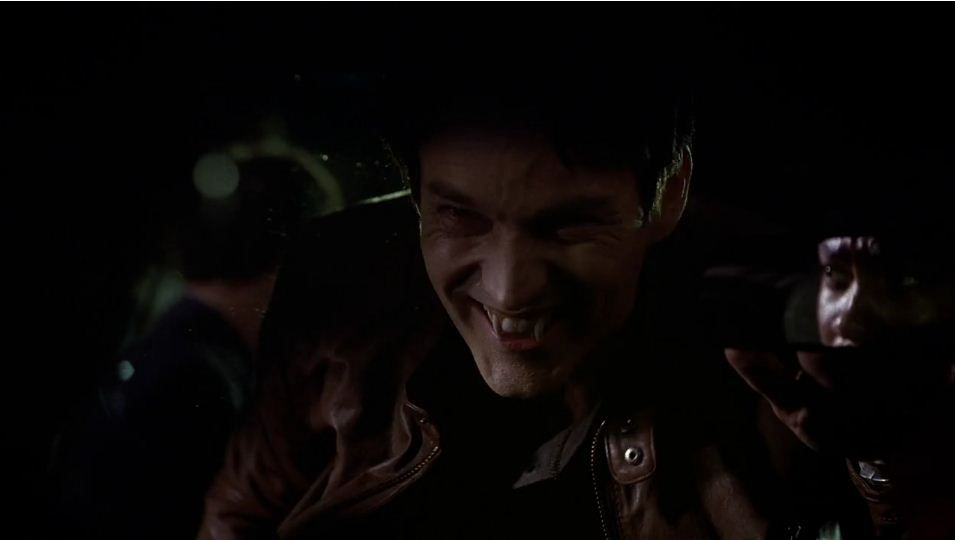 Vampire Bill needs an orthodontist, whahappened to his teefs? This is Mr. Fun Bill.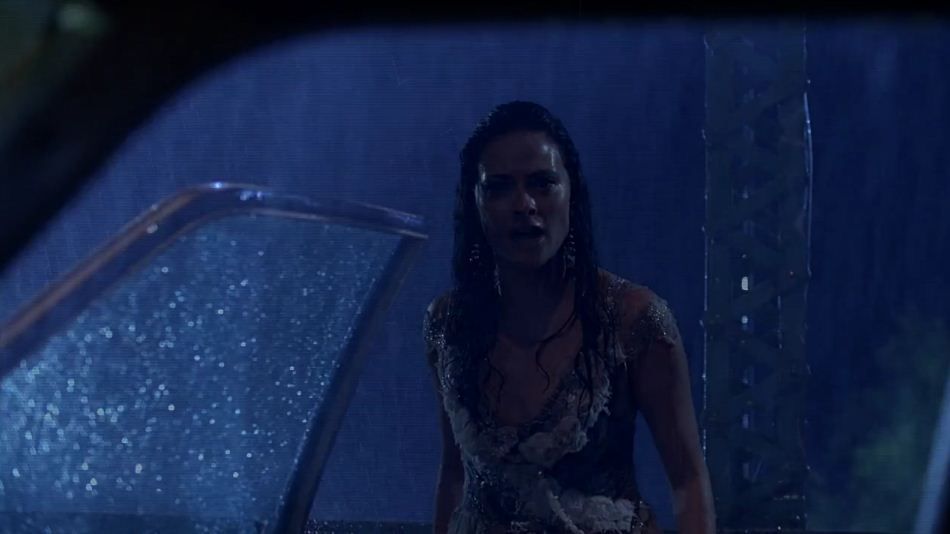 Looks like Claudine, hmm Lil, a victim, a Fae?
Big guy is finally getting some wolfie lovin' from Rikki (Kelly Overton) Awoooooooo!
PrePanel interview with Tim Stack on EW was good, with Chris Meloni, Rutina, Kristin, Anna, Stephen and Alexander. Kristin says it is so fun for them to be together, Rutina likes to meet the true diehard fans (she looks great too, the girls are out). Anna says it's an amazing collection of fans, she has a pillow of her EW cover, so cute. Chris Meloni is a CC virgin, they are all cracking jokes while he is trying to talk and Anna is rubbing his back. Alexander says something and we only hear Wisconsin to a cheesehead about Kristin's loss of virginity, Anna says TMI. Meloni says they couldn't have been a more welcoming cast. Alexander says he waited 5 years for the Pam and Eric flashback, it was amazing, Kristin agrees. He wanted it to last 5 episodes, Stephen is so funny, he says he did too and has it laminated on his wall. Tim says as much as Tara is discovering vampirism she is discovering cleavage, Rutina adds, and false eyelashes. They need a scene of Pam shopping vampspeed, she shops outside Bon Temps, of course. I have to say that Stephen's hair looks much better than on the show. They have some bromance talk, how much fun it was and Kristin says the bloopers are so funny. They love Denis O'Hare, that he is Meloni's bromance. Tim Stack says Meloni was like Donald Trump, Meloni says "you're staked" like Trump's you're fired and it is lulz worthy, wish he talked more. WE HAVE VIDEO NOW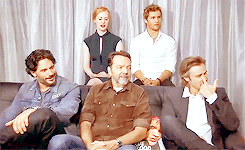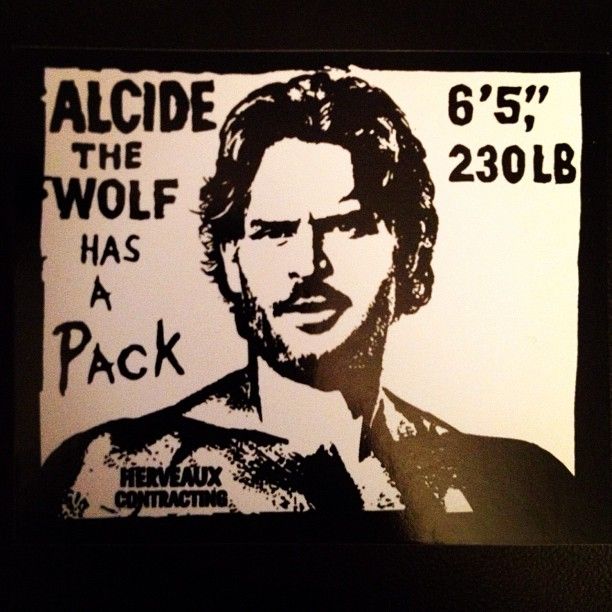 GIF of Part 2 from
Tumblr
Part 2 is much shorter, the panel is in 2 hours-This part has a very tired looking Alan Ball, Joe M, Sam T, Deborah and Ryan. Tim brings up Sam being naked a lot, then this segways into the
Jessica and Jason scene in the truck with her dressed as Red Riding Hood. A little bit of talk about blocking the sex scenes. Then Tim talks to Sam again and says they need an online dating service for him, for shifters like Jdate or xtian mingles. Alan says he'll think about it, and really who on the show has any luck in romance? Joe has stickers from artist Shepard Fairey and he will be giving them out to fans. It was over very quickly, this second part.
I could use a nice cocktail too.
3 hardcovers at the IDW table.
Tweeted by Carrie Preston-
Tomorrow at 4:30! The movie I directed "That's What She Said" is in LA. I'll be doing a Q&A afterwards. Please come!
http://www.outfest.org
From the EW panel of Powerful Women in Pop Culture on Friday more at ZIMBIO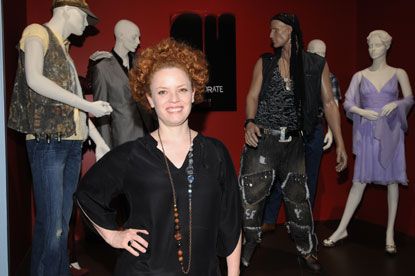 Mel live tweeted the Costume designer panel with True Blood Audrey Fisher. She will also have an interview up soon on true-blood.net.
In the costume designers panel with
Audrey Fisher
and other designers. Just saw reels & portfolios of everyone's work. Gorgeous!
Audrey is talking about color palettes. They assign a color to a character in a scene, then build other wardrobes around that. Most of the latex pieces come from Syren in L.A. Sookie started out in a Doris Day look. Now she's in sexier, more grown up clothes. Color palette is darker, too. Since season 5 is set in the Fall, we won't see Sookie in sundresses. Audrey shops for many of the human characters at JC Penney, Goodwill, etc. Places they would shop in small-town Louisiana. Imogene Chayse is an illustrator who works with Audrey when a special wardrobe is needed, like in the faery nightclub. They meet, look over boards with ideas & pieces Audrey wants to use, then Imogene draws a look integrating all of it
The designers have been going around con today giving awards for costumes. Cool!
They are going to the signing room next, and Audrey has a stunning illustration/photo set of

Deborah Ann Woll

to sign.
Aw, the King in the North looks so teeny here, Richard Madden and AS at SDCC. Source
The released trailer that we saw but now from HBO, I laugh, seriously, vimeo's is crisper.
Hitfix's Danile has his live blog up HERE Nat Abram's of TVGuide HERE EW's HERE
Live tweets from SDCC via True-Blood.net's twitter-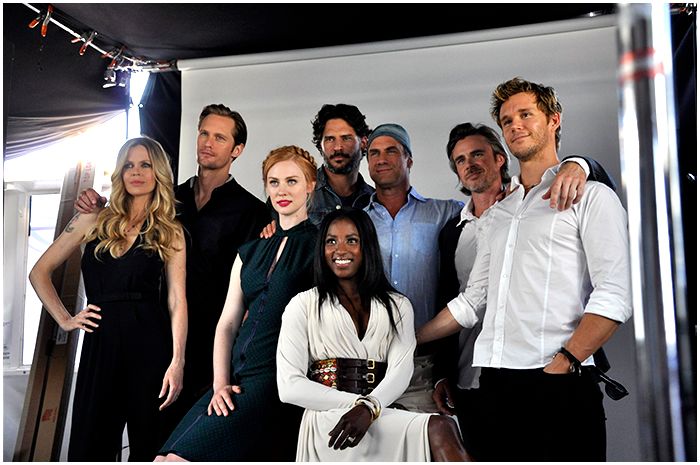 Before the panel, the cast took a moment with TV Guide Magazine
This is all Mel's tweets of the panel, she was my best source this year for so much, thank you to infinity and beyond True-Blood.Net, tons of photos of the panel!
Alan Ball just came out. He's almost lost his voice. Sneak peek trailer coming up! Not allowed to film it.
Ok, lots of Russell, Bill going dark, Hoyt putting a gun under his chin, Alcide accepts pack master, Sookie and faery powers, and lots more.Dang, Rutina looks amazing! Meloni is wearing a skull cap?
Very pregnant Anna rubs her tummy for us. Awww. Good heavens this is a gorgeous cast. Hi res pics coming later. Rutina is really enjoying working with

Kristin and Deborah

this season. Alex & Kristin are being really chummy. Cute. Alex says he and Steve have had a lot of fun working together. Steve posits that they had a friendship in the past. They had a hard time doing the trunk scene without laughing. Alan called them into his office about it. Ha! Steve says Alex is the better cuddler. Kristin is talking about the Walmart sweatsuit. 'Usually things are tailored to make me look better. This wasn't. Sam Trammell is still distracted by the memory of Kristin in the red sequined jumpsuit from season 2. Tara is exploring Pam's closet. Rutina likes getting to try something different this season. The preview showed Tara stripping. Did

Joe Manganiello

ive Rutina any tips? I think Joe is blushing. LOL .Rutina does a body roll, so Meloni asks Alan to body roll for him, and he does! Joe throws some cash at him!

#dying.
Is this the end of Sam & Luna? 'I can't tell you that!' says Sam. The fact that Emma turns into a wolf will have ramifications.
Did Ryan & Deb have to practice much for Rock Band? Ryan rehearsed the Mellencamp version of 'Cherry Bomb'. Oops. aww... Deb and Ryan love working together. They're being really cute.
How does TB compare to SVU? 'Figuring out the sex crimes is harder,' says Meloni.
Meloni loved that Roman staked the kid because it was so shocking.
'The kid didn't actually explode,' Meloni points out. 'Then you weren't doing it right,' says Kristin.
Anna is okay with Sookie's drunken escapade with Alcide. 'Worse things could happen when drinking peach schnapps.' ;)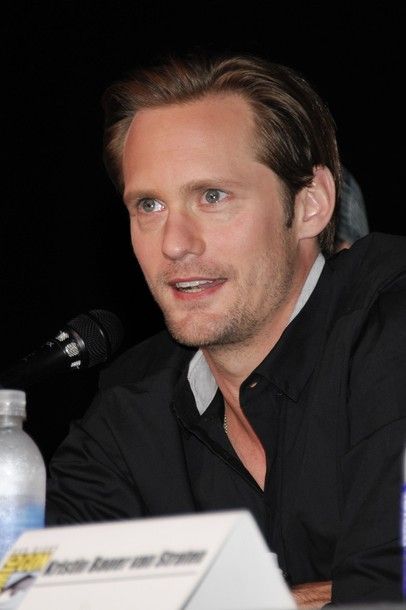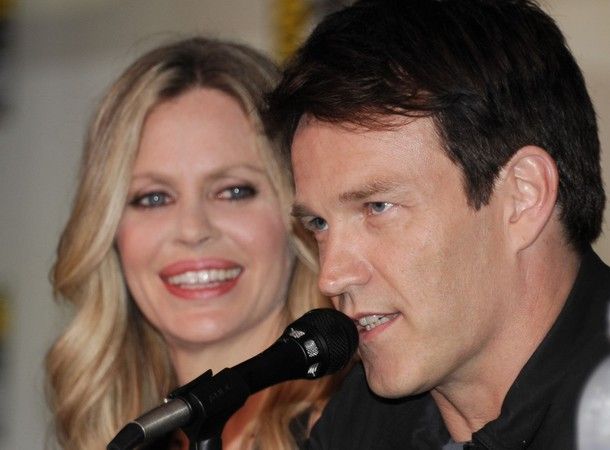 Photos by Denis Poroy/Invision/AP
Shame and guilt are unknown to faeries.
Is there a really crazy sex scene coming up? Alan says there are some hot ones and some wacky ones coming up.
Steve talking about directing 5.08. 'I got to see Joe naked...'. No one else is inspired to direct TB. 'It's too big,' says Anna. 'I couldn't do it.' Alex was 'blown away' by Steve as director.Kristin goes to Steve for advice on line delivery even when he isn't directing, so having him officially direct felt natural.Steve enjoyed seeing bits from his episode in the preview. Steve adores Sam Trammell. Sam has a very difficult job in 5.08 and Steve was so impressed with him.
Lots of love for Steve as director (and a person) from the cast.
Alan says Steve often had solutions to problems on set. Alex says that's why they work well together, cuz he creates problems.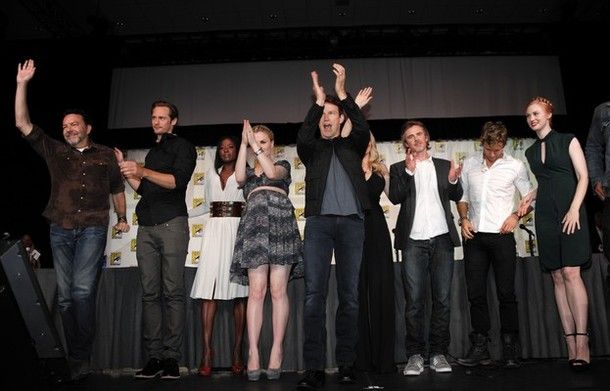 Photos by Denis Poroy/Invision/AP
Alex has not been approached about 50 Shades, hasn't seen a script, hasn't read the book. Alex & Kristin reminiscing about filming their flashback. Alex was really happy to finally be back working with his daughter. They're getting emotional talking about the scene when Eric releases Pam.
Rutina is stoked playing the new Tara. Having Pam as her Maker is showing her new side of Pam. Tara finally feels like some1 cares for her.
Sam was really disturbed seeing Steve in his burn makeup. 'Anna wouldn't even look at me,' he says. Kristin tells Anna that she still has pieces of Pam in her office. Anna is grossed out.
Will we see Quinn? Alan says there are no plans for him at this time. However, the new show runner may choose differently.
Someone asks Meloni if he'd go back for the SVU series finale. Grrr...
Someone asked for Alex's signed name card. He didn't have a pen, so kissed it instead. Oh, he did sign and kiss it. Meloni wanted Alex to sign his name card now. Alex pretends to sign his neck, and kiss him. Any new romantic groupings? Alan can think of at least 3, plus random sex partners.
Will we see the faery war? There's a chance in future seasons
Fan asks the guys to flex for the audience. Meloni gets out his camera. Alex says they aren't allowed to do that off the show. Ha!
Steve won't take his clothes off or flex near Joe or Ryan. Steve asks for a handstand from Ryan instead. He's doing it! And
Ryan Kwanten
just walked across the stage on his hands! Wow!
oe's fav moment was filming the lake scene in s4 with Alex. 'Just 2 naked men screaming
I will kill you! while a wolf walks around.'
Deb has a very memorable scene in ep 10 this season. Anna says the final scene of this season will blow our minds
Alex picks the Godric death scene as his most memorable. Kristin really enjoyed working with Steve in Bill's office last season, when she pulls off her rotting lip.
Round of applause to outgoing show runner Alan Ball ends the panel, at Steve's suggestion.
Ball, voice cracking, thanks everybody.
Head to
@IDWPublishing
Booth 2643 now for a
#TrueBlood
comic book signing w/
@McMillzz
. We hear other cast members may stop by.