Here's an article on how HBO is using social media to promote their shows at Comic Con.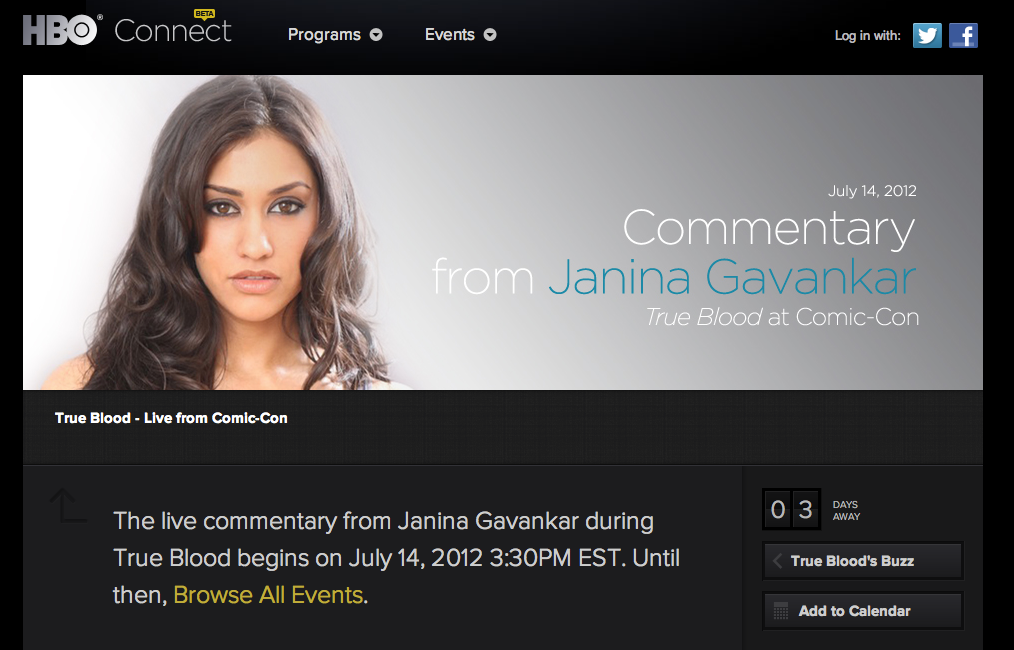 HBO's Connect platform has continued to grow as an important part of the strategy. They've used the platform recently for Game of Thrones, True Blood and more. For Comic-Con Sabrina Caluori and her team are going even further to bring all of the fans closer to the Comic-Con action: talent from their shows will act as social media correspondents throughout the event. Here are all the details on how the premium cable channel is going to be using social for the biggest appearance of TV at Comic-Con yet.
Sabrina Caluori: We've created some really cool ways for fans to go behind the scenes at Comic-Con this year through our social TV site, HBO Connect. We wanted to give everyone, even those not attending "the Con," a way to get in on the HBO activities there and share in the fun.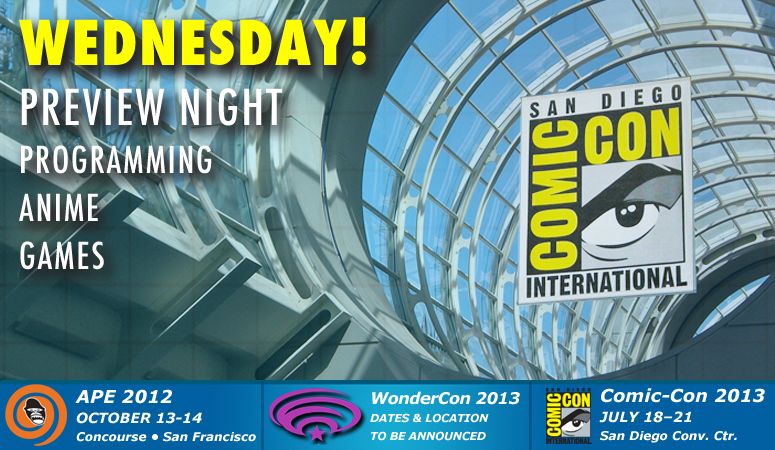 On Friday, July 13 HBO Connect will kick off our Comic-Con activities with the launch of an exclusive sweepstakes for the chance to win a limited edition Game of Thrones branded Xbox 360, not sold in stores. Fans can visit HBO Connect and follow #sdccgotfan to enter.
We also have celebrity correspondents from Game of Thrones and True Blood walking the floor at Comic-Con, tweeting about their interactions with the fans, taking photos and doing giveaways. For Game of Thrones, Kristian Nairn who plays "Hodor," will tweet from the floor on Friday, July 13here. For True Blood, Janina Gavankar who plays "Luna" will tweet from the floor on Saturday here. (remember Janina did this last SDCC too, she was great)
HBO will live-tweet throughout the Game of Thrones and True Blood panels at @GameofThronesand @TrueBloodhbo respectively, providing a play by play for fans following on HBO Connect. Also on Saturday, July 14, HBO Connect will give True Blood fans the opportunity to "flock to unlock" the exclusive Comic-Con trailer. If fans tweet #sdcctruebie 150,000 times, HBO will unlock the trailer on HBO Connect.
The response to True Blood at Comic-Con has always been phenomenal and we're psyched to return for our fifth year with a panel that includes Alan Ball (creator and executive producer), Kristin Bauer van Straten ("Pam Swynford de Beaufort"), Nelsan Ellis ("LafayetteReynolds"), Ryan Kwanten ("Jason Stackhouse"), Joe Manganiello ("Alcide Herveaux"), Christopher Meloni ("Roman Zimojic"), StephenMoyer ("Bill Compton"), Anna Paquin ("Sookie Stackhouse"), Alexander Skarsgard ("Eric Northman"), Sam Trammell ("Sam Merlotte"),Rutina Wesley ("Tara Thornton") and Deborah Ann Woll ("Jessica Hamby"). This year's True Blood panel will be held in Ballroom 20 andwill once again be moderated by Tim Stack of Entertainment Weekly.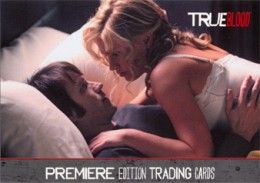 The 2012 San Diego Comic-Con is here. Amidst all the Hollywood panels and spandex costumes, card collectors have several things to track down. Whether you're on site or shopping from a safe distance, here are some of the 2012 San Diego Comic-Con trading card exclusives that have been announced and uncovered thus far.
Although Rittenhouse Archives won't be on-hand at the 2012 San Diego Comic-Con, they did make four exclusive promo cards for the event, one for each day of the show. Thursday: True Blood Premiere Edition P5. Via CardboardConnection
True Blood Comics-
I'm out here getting ready to hit the floor. I'm doing giveaway's all weekend if you happen to find me or TruebiesSDCC. I'm also going to be live tweeting the panel on Saturday! Today from 3:15 til 5:00 we are having a True Blood meet-up at The Hard Rock at Float. Please come by and see us.@truebloodcomics
@TrueBloodHBO Going to Comic Con this weekend! Come see my panel! Friday 6:30pm room 32AB! Excited!
Costume designers guild members

Chrisi Karvonides

(costume designer, American Horror Story, Carnivale),

Audrey Fisher

(costume designer, True Blood), and

Alexander Welker

(costume designer,Grimm) and costume illustrator

Imogene Chayes

(True Blood, American Horror Story) talk about creating all those great paranormal television characters we know and love.
Friday July 13, 2012 6:30pm - 7:30pm @ Room 32AB SDCC Schedule
What Joe Manganiello told EW about Comic Con-
''I'm a fanboy. I grew up reading comic books; I used to draw comic characters as a kid. I'm a huge sci-fi geek. I love seeing what everyone is wearing — the Aquamans and Blades and Japanimation characters. And there's such a level of energy and excitement there. Everyone's having so much fun that it's just really contagious — especially when you get into the panel and realize how much the fans really love the show. I love feeling that. Also, I love seeing the trailer for the second half of the season, which they always reveal. I'm a fan of the show. It was my favorite show before I was on it, so I love being a part of all things
True Blood
and all things comic book. Of course, the best party of the weekend is the EW party — every year! I'm not even just saying that. That's
the
party year after year. I love going in there and seeing who's there.'' —
Joe Manganiello
True Blood

Newsletter
7:30PM ET/ 4:30PM PT
® Connect.
3:30PM ET/ 12:30PM PT




Also live from Comic-Con, "Luna" will be providing you with her unique perspective on the convention center floor.




Tomorrow on HBO Connect




Starting tomorrow, gather your SDCC Truebies and flock to the new HBO Connect. 150,000 #SDCCTruebie tweets will unlock the exclusive True Blood Comic-Con trailer.




GetGlue




In celebration of Comic-Con, checking in to True Blood with GetGlue will earn you this exclusive sticker all weekend long.




HBO Shop®


Prepare the best bites of Bon Temps, even if you can't make it to San Diego. Order True Blood Comic-Con items now from the online HBO Shop.




UPDATES Episode info-
Sunday July 22, E7, "In The Beginning"
Salome reveals her true allegiances; Sookie embraces her human side; Sam sniffs out some perps; Alcide braces for a fight. (Written by Brian Buckner; directed by Michael Ruscio.)
Playdates: July 22, 25, 26 and 28
Episode #55: "In the Beginning"
Bill and Eric get a powerful taste of sacred blood. A revelation at Hot Wings causes Sookie to wonder what her life would be like without faerie powers. Meanwhile, Sam sniffs out several shifter shooters; Hoyt finds camaraderie in a new group of friends; Alcide prepares for the worst in his face-off with J.D.; Andy attempts to reconnect with Bud; Lafayette finds an unlikely ally searching for Jesus' body in Mexico; Lettie Mae (Adina Porter) pays Tara a visit; Arlene takes a sentimental journey as her concerns for Terry deepen.
Sunday July 29, E8 "Somebody That I Used to Know"
The Authority revels in a new direction; Sookie and Jason visit the site of their parents' deaths; Luna gets stuck on Sam. (Written by Mark Hudis; directed by Stephen Moyer.)
Playdates: July 29 and 31
Episode #56: "Somebody That I Used To Know"
At Authority headquarters, the Chancellors revel in the afterglow of recent events; Eric gets a message from Godric; Bill is shaken by a distant memory. Helped by Claude (Giles Matthey) and his sisters, Sookie and Jason visit the site of their parents' deaths, with shocking results. An emotional Luna tries to walk in Sam's shoes. Hoyt's new pals bring him a present; Lafayette leads a séance to purge a curse; J.D. ups the stakes of
Updates for E7 and E8 from HighlightHollywood
From Spoiler TV-
Sunday Aug. 5, Episode 5.09 - Everybody Wants to Rule the World- Vampires celebrate the start of the holy war; anti-supernatural zealots put Sookie in danger.

Sunday Aug. 12

Sunday Aug. 12, Episode 5.10- Gone, Gone, Gone
Bill puts a spin on the rising vampire violence; Jason uncovers a mysterious scroll.


Sunday Aug. 19, Episode 5.11 - Song of the Dead Faerie




Bill slips into religious fervor; Sookie seeks insight from the faerie Elder.




Sunday Aug. 26, Episode 5.12 - Save Yourself




In the Season 5 finale Eric embarks on a final, desperate mission to overthrow the Authority and save Bill from losing his humanity. Andy faces the consequences of a Light Pact he made and Alcide readies for a second showdown with J.D. Sam and Luna test their limits in trying to

escape the Authority.

Directed by Michael Lehman


From IMDB, TV.com, of course Rhoswhen7, my friends at,Showtime Australia
According to the schedule that HBO s
ent to media outlets in May, new True Blood episodes will air on all 5 Sundays in July. It makes sense, because the 4th is in the middle of the week, but it's good to have confirmation anyway. That means season 5 of True Blood should finish up on August 26.