When we meet again it will be minus an annoying little twerp, thankfully.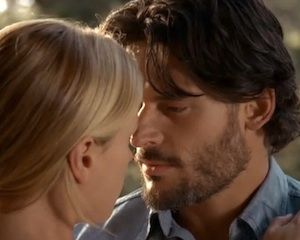 Didn't love Hadley being a Fae waitress or that vamps killed their parents, hope that is a lie she was fed. Oh continuity, True Blood never lets that get in the way of a new storyline. We did get to see Maurella again so that was one thing that I liked, a storyline being continued! Brianna Brown as a Fae was a surprise and a sneaky one at that, she might know (I hope) that the story Hadley was given is bull. Terry's war story was a dose of reality that maybe TB doesnt need. I don't know but it didn't flow right with how the show was going and just made me feel sad for the poor guy. Oh Sookie, you work in a bar, yet you'd mix all kinds of liquor like that? Too stupid to buy, she could have just drank her vodka and it wouldnt make her out to be the imbecile, again.
First time I can honestly say I saw Joe acting was in the scene with the Pelts, very happy to see emotion and no growling. Yet the Pam and Eric scenes are worth anything else you might have not been thrilled with. I'll rewatch tomorrow and maybe I'll look on things differently, this was not my best day, so I'm taking that into consideration.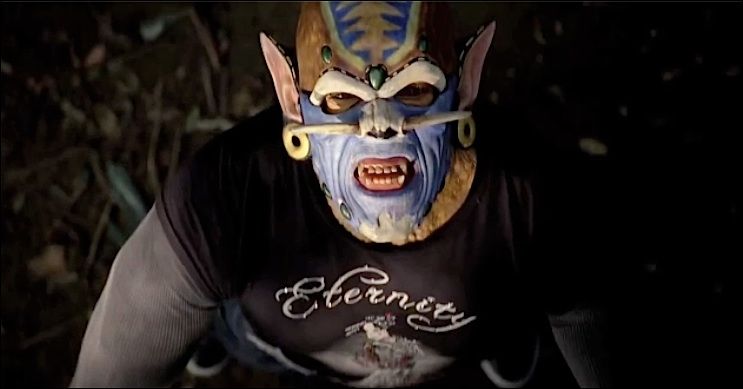 TVLine's partial review-DEATH BECOMES HER- When Sookie told Lafayette that she'd told Alcide that they'd bumped off Debbie — whew! — the glamtastic fry cook was so pissed that he went all brujo spooky-headed again. This time, not only did he key his gal pal's car with his bare hands — kids, don't try that at home… or anywhere! — he also magically tampered with her accelerator and brakes, almost making her fairy road kill. The day ended pretty well for the clairvoyant, however: She went home, got plastered and made out with Alcide to thank him for lying to Debbie's parents that Marcus was her killer.
CHILD'S PLAY-| Even when threatened with the true death, Nora refused to name names — that is, the names of her "fellow" Sanguinistas. But when Roman threatened her brother, then suddenly she was all [whisper, whisper]. It looked like, at the subsequent council meeting, the Guardian was going to stake Barb from Cougar Town. (Would she have sprayed pinot noir?) In the end, though, it turned out to be the pint-sized Justin Bieber that Nora had accused.
LOVE AND HUMAN REMAINS-| Sam reconnected with his old shifter support group buddies in one scene, and they were dead by the next. (Mayhaps Martha and the pack haven't really let him off the hook for Marcus' demise?) Bill and Eric got an eyeful of Sookie's aforementioned make-out session with Alcide when they showed up at her place to question her about Russell's unearthing. And, en route to Eller's bunker in South Dakota with Patrick, Terry suffered another flashback to Iraq, this one revealing just how violent and disturbed the suspected arsonist was. (And, judging from the welcome they receive from him at gunpoint, apparently still is.)
Matching outfits for Ike and Marcellus again, not as good as the bathrobes but still.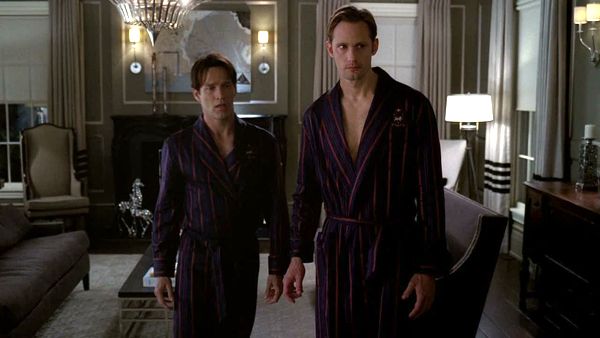 TVGuide Asks Kristin What's Next for Pam-How will she deal with her newfound freedom?
Bauer: I'm still figuring that out because [at least until Ep
isode 12] she's putting on a brave face. Just because he released her doesn't change the fact that he's her one person, so she's ballsy and brave, but it's very hard for Pam. I don't think that she ever pictured her life without him. That's the structure of her world. It's like any huge change, or divorce or a death. You don't really know how to start rebuilding. I feel like that's Pam's year, is trying to figure that out, and as we're shooting and I'm waiting for scripts I'm still trying to figure that out.
As usual go to the links to read the whole recap/review.
We saw a maternal side to Pam last season with Jessica and now we're seeing that more with Tara. What can you tell us about what's in store now that she has her own daughter?
Bauer: And was sort of forced into it, in a way! And spent all last year trying to kill her! [Laughs]These two chicks hate each other, but Pam does have so much integrity. She has her code of honor and her integrity and never breaks it. She's one of the most honest characters as well. She's going to be a bit of a tough-love mother and a bit more animalistic. She's not going to be über-caring, to say the least. It's been a really fascinating year to watch that battle between wanting to kill this girl, but now she's her prodigy. It's an interesting arc. And I'm waiting to see how they resolve it for the year, I don't know.
Will she still try to help Eric in trying to take down Russell despite being freed?
Bauer: Yeah. For eternity, if she has the option, she'll be trying to be with Eric and make sure he's okay. She can't help it. It's her dad. There's a very paternal connection, and the way that it was made felt, to me, like it really explains how he's saved her.
"You smell like mint and peaches." —Alcide
"And you smell like Aqua Velva." —Sookie
"The bar's open and it's fruity." —Sookie
"So I had a few friends over, OK? No one got eaten, no one got drained." —Jessica
"Seriously, three days old and she already has an eating disorder. Why me?" —Pam
"She's mine. I made her vampire while you were gone. Congratulations, you're a grandfather." —Pam
"Awkward time for a drop in, Bill." —Eric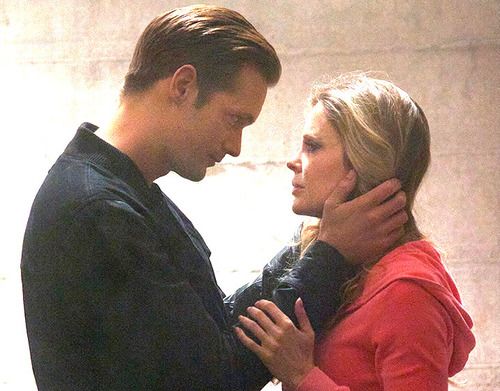 Rollingstone's-
There were no farewells in "We'll Meet Again" (the True Death of Authority Chancellor and "kid" vampire
Alexander Drew
notwithstanding), but the WWII-era song was an appropriate title for this week's episode because it centered around several characters letting go of one kind of life – and embracing a new version of it.
Pam
is now
Tara
's maker, rather than
Eric
's progeny, placing her in a position of power she never even fathomed in her first century as an immortal. Tara began to accept her thirst for blood, and her place in the Bon Temps vampire community, thus drawing her farther away from her human loved ones.
Pam's first order of business is to teach her progeny how to feed off of humans. She presents a very willing fang-banger named

Melanie

, but Tara, still grappling with her quickly dissipating humanity, resists until Pam commands that she take a bite. Once Tara's fangs have sunken into Melanie's succulent neck, Pam gently guides her through the process so she doesn't accidentally kill the girl – and speaks the words Tara has been longing to hear her entire life: "No human can hurt you any longer." Tara has been emotionally destroyed by her mother, a lunatic maenad, a psychopathic vampire and a tyrannical witch. She's never really recovered from losing

Eggs

, and of all the True Bloodcharacters, her deal always seemed the rawest. As Pam purrs, "This is who you are now, the top of the chain," it's like mother's milk to her. For once, Tara has a reason to live, to no longer be afraid.
Wall Street Journal's -The Authority showdown. We're still fascinated by this child, especially since he's been revealed to be the traitor. Way to work in real-life notes with that homage to a YouTube clip gone viral, True Blood. Even more interesting is Roman's resort to ruthless fear-mongering after he explodes the traitor. Roman and Crew are supposed to working toward an equitable, fair end for humans and vampires. The show forces us to ask how long a progressive society can tolerate regressive means to getting there. Roman is slowly turning into a tyrant — but one who wants rights for all. Does this seem troublesome to you, viewers? Or not easily reconciled?
The show's subtle irreverence is getting more and more enjoyable. "I know the guy who wrote it and he was high the whole time," one of the chancellors says about the vampire bible.
Baltimore Sun's Ever wonder what a fairy burlesque club looks like?
It's sort-of like Moulin Rouge. But with more men in top hats and twinkly noises. And revelations about what happened to Sookie's parents.
Yup, we're back in fairyland, but it's not quite the bizarro heaven-like fairy world where Sookie lived for a year last season. Instead, fairies have set up shop in an invisible club in the middle of a field (the same field where Jessica was drawn to that man who smelled good).
I mean, if you're escaping vampires, humans and everything else, why not throw in some burlesque? It's a lot more fun than one of those pesky refugee camps.
We're brought to fairyland by Andy and Jason, who are taken to a club as a reward from a corrupt judge whose son got a slap on a wrist for that speeding ticket Andy hid.
At first, things look normal — men and women dancing together! Women both interested in Andy and Jason! — but it gets weird quickly.
Jason runs into his cousin Hadley Hale, who's surprised to hear that Sookie is alive and vampires haven't eaten everyone (fairies have some inaccurate newsletters). "We've got to get to Sookie! They'll kill her, just like they did your parents," says Hadley.
Major slip, Hadley. It's always been noted that Sookie's parents died in a flood, but there's been an air of mystery to it. Don't know why vampires would kill the Stackhouses, but in a meandering episode like this one, you take any interesting surprise you can get.
Jason freaks out about the news, tears Andy away from his fairy loving (it's with that same fairy he randomly had sex with awhile back) and is kicked out by mean male fairies. They're pushed out into the field and the fairies shine their fairy hand lights at them.
Who's going to protect Sookie! Because someone (everyone!) has to! She's the golden supernatural child of Bon Temps or the world or something.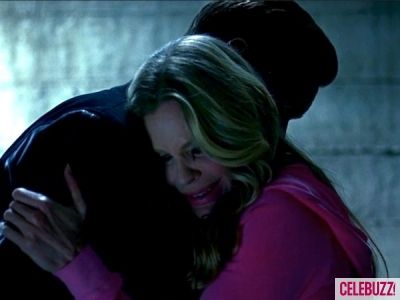 Buzz Moments From Jethro Nededog (he's back!)
OMG!: The scene in which Eric releases Pam was heartbreaking.
Thank you, TV gods: A drunken Sookie — who was singing Jimmy Buffett's "If You Like Pina Coladas" to the vampires in her life – mounts Alcide while Bill watches from outside through the window in jealousy.
Awk-ward: While trying to pull Tara from the tanning bed, Pam pulls off a chunk of burnt flesh from her progeny's arm.
Hotness: Christopher Meloni shirtless in bed with an Apple iBook — a treat for both the actor's fans… and Apple-philes.
Fab-u-lous: Who can resist "Faerie-tasia's" bubble gum décor and sexy, retro cabaret dancers? More, please.
Can. Not. Wait.: What does it mean that the vampires were responsible for Sookie and Jason's parents' deaths?
Celebuzz Meter (1-10): 8