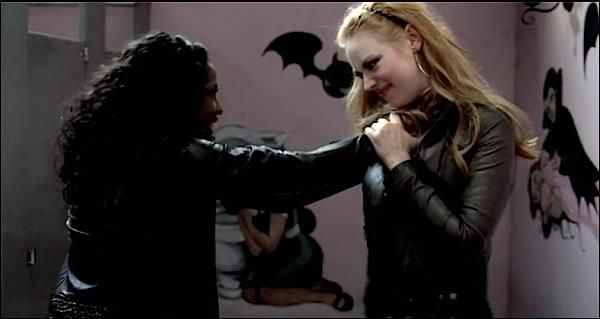 Time isn't on our dynamic duo's side, geek vamp is so matter of fact about it, bummer!
I'm thinking we'll get one more promo soon.
A video from Golden Globes Youtube,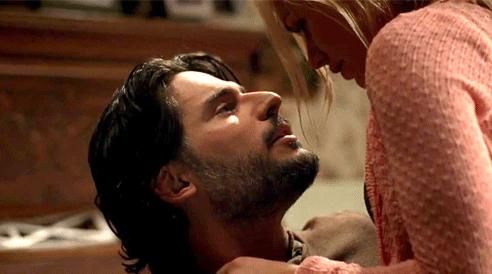 From TVGuide-True Blood's vampire civil war is about to kick off in a big way
. And even though Nora has been hooked up to the silver torture machine for the better part of this season so far, Eric's vampire sister will soon fight back — even against Roman. "Nora definitely comes off better," Griffiths says of Nora's feud with the Authority Guardian. Plus: The impending arrival of one very special vampire may also help with the upcoming war. To get the scoop, TVGuide.com grilled Griffiths on what's in store:
Nora is essentially fighting for her life to stay alive. Will she be able to get out of the Authority's clutches?
Lucy Griffiths: She is going to try, and I think Eric is going to help her, too.
How will the war between the Mainstreamers and the Sanguinistas ramp up?
Griffiths: The focus is the climax of the season, so it comes to a head, to say the least. It gets quite aggressive. It's not a calm takeover like you think it might be, or that you would probably know if you've seen any of the True Blood series before [laughs], but it gets quite aggressive.
Since Roman is itching to kill Nora, how will that feud come to a head?
Griffiths: Nora definitely comes off better.
Will Nora have any interaction with Russell this season?
Griffiths: Yes. It's funny. They are, to an extent, on the same team.
Will Nora and Eric ever have to go against each other this season?
Griffiths: They're not quite against each other and they never fight against each other, they fight between themselves.
How would Nora feel if she knew that Eric slept with Salome ?
Griffiths: They have a fraternal relationship completely, it just so happens that vampires are so sexual. I don't think there's a possession, like with Bill and Sookie. I'm not sure that she knows, or how she'd feel if she did know.
Nora was very close with Salome. Might Salome be sympathetic enough to help Nora out of the situation?
Griffiths: Probably, just because Salome is so fervent in her belief [that] this character called Lilith is the path to power and happiness, and Lilith is inextricably linked with the Authority, so I don't think Salome would ever condone anybody that she cared for or herself distancing themselves from the Authority for that reason.
I hear we get to meet Lilith this season. What can you tell us about her?
Griffiths: I can tell you she is bloody powerful.
Will her arrival be a turning point in the war between the vampires?
Griffiths: Yeah, all the characters realize, once you meet her, the effect that she has over people and that dictates the direction some of the characters go off in.
Does everyone respect Lilith?
Griffiths: She is very powerful and very seductive. She thinks the weaker you are, the more easily she's got you in her grasp. There are so many characters in the Authority for her to have an effect on. How people do respond and how everybody reacts to that, their actions are dictated by how powerful she is.
Do people actually believe she exists or when she arrives, will there be some skeptics?
Griffiths: Some people are so sure that she exists that when they see her they are not surprised. Some people are very skeptical before and after they see her. I guess the only thing you could really compare it to is a supreme being and how different humans feel about whether or not that is real.MORE
KCRW has a new article that is more in depth that the June 11th one-
KCRW Exclusive: Iggy Pop and Best Coast's Bethany Cosentino Duet on Let's Boot and Rally for True Blood.
From KCRW DJ Gary Calamar:
How did Iggy Pop and Best Coast's Bethany Cosentinocome to collaborate on a track for HBO's True Blood?
Well, it's a bit of a long story so read it below and check out the track "Let's Boot and Rally", written by me (!) and James Combs. It will air on the episode of True Blood airing thisSunday, July 8. (available on iTunes now)
Stream "Let's Boot and Rally"
I am the luckiest guy in the world to work as music supervisor on HBO's True Blood.
Alan Ball has created this creepy sexy, fun world and I get to add songs to it. For the most part I am picking existing songs, and sometimes I commission a new song from an artist…but in this case I co-wrote the song….and Iggy Pop and Bethany Cosentino are singing it. CRAZY !
Each episode is named after a song that is used in that show. We had a situation where we had an episode called "Boot and Rally" but we really didn't have a song that was True Bloody enough to use. What to do. Should we change the title of the episode ?
I suggested that maybe we can have someone write a new song called "Boot and Rally"…..Everyone agreed to give it a try and I started brainstorming.
Now, I have always been a weekend songwriter. I can bang out a handful of chords and I must say I've written a few stone classics over the years….in my mind anyway. Back at my office I break out my trusty rhyming dictionary and I start thumbing through it….mmm, one thing leads to another and I started getting, how you say, inspired. At this point I called my very talented friend and brilliant songwriter, James Combsand asked him to collaborate. We got down to business and came up with a song "Let's Boot and Rally". As many songwriters say, "the song just wrote itself", "I was just a vessel". That's what happened, kinda.
Meanwhile, to backtrack a little….Iggy Pop, or should I say Iggy's people, had reached out to me saying he was a True Blood fan and if any opportunities come up, to please keep Iggy in mind. What ? Music to my ears. We sent Iggy the demo of "LB&R". He loved it and said sign me up.
So, as I was listening to my favorite song this summer, "The Only Place" by Best Coast, and I thought maybe Bethany might like to join in the fun of "Let's Boot and Rally". Nah, she's too busy with her fabulous new album her great fashion line and being the cover girl for all the hip mags. What the heck (I don't talk dirty) I said. Why not give her a call. "Hullo Bethany" ….She dug the song the most and jumped at the chance to sing with Mr. Pop.
The rest, as they say, might be history….
Interview with Kristin Bauer from About.com read it all at the link-
Pam's alter ego, Kristin van Straten has spent years honing her craft and taking on role after role that would ultimately lead to the opportunity of a lifetime on the hit HBO series. When she's not running Fangtasia, this lovely leading lady spends her time
saving animals
and is currently working on a documentary about the ivory trade in Africa.
I had the incredible opportunity to chat with this incredibly talented and funny actor about her role on
True Blood
, how she got started in the biz and the causes close to her heart...
Q: Did you grow up knowing you wanted to pursue a career in acting?
Kristin:
"No, not at all. I came from Wisconsin -- I came from a field with horses in it. The little school I went to didn't have a drama department in it, so this was something I discovered after college. I was looking for a way to put a roof over my head and food in my mouth. I was a maid, a nanny, a window washer and once I moved to L.A., it was almost impossible to avoid the business. I started doing makeup and saw that it paid more than being a maid, so I went to makeup school and once I got on a set, I just loved set life. It's a wonderful culmination of all kinds of dysfunctional, creative, funny, interesting people."
Q: Tell us about your charity...
Kristin:
"It's for African elephants because the ivory and rhino horn trade is on a massive upswing, so I'm going to be spending my hiatus trying to do something about that. It looks like I'm going to be shooting a documentary, so I've got to figure out how to fund that and get a camera crew. I've been busy organizing that, so in my spare time I'm going to be painting the cast and auctioning those to fund the project."
Q: You've appeared in dozens of television series, which role before True Blood was your favorite?
Kristin:
"I had so much fun on a lot of shows for different reasons, but probably the most iconic was Seinfeld
-- I was man hands. It was fun to be part of that history on
Seinfeld
. Jerry is hysterical and very down to earth. It was a very happy set. For year seven of a huge hit, it was very relaxed and everyone had a good time."
Q: Tell us about your role as Pam on True Blood...
Kristin:
"She is the most unapologetic vampire. The thing that's fun to play about her is how little she has to care about being liked. I see her as really truthful as opposed to harsh. She's saying what we're all thinking. It's a really fun role and the writing is so fantastic. I look forward to every script."
Q: I've heard that season five is the "year of the Pam," how much deeper will we get into your backstory?
Kristin:
"I, of course love that rumor! I got my backstory and I'm a maker now -- it's a big year for Pam. We're going to find out about her making and it's very informative about her relationship with Eric. She's not a nurturing gal and I feel like her backstory explains why because she comes from a tough time to be a woman. We get more of her viewpoint on that."
Q: What similarities do you share with Pam?
Kristin:
"I think that my family would tell you that we have a lot of similarities to Pam and luckily my husband doesn't agree. I have a reputation in my family as being incredibly blunt and over the years I've learned to curb that. My husband thinks that I am very patient and sweet -- thank god."
Q: How long does it take to put in the fangs?
Kristin:
"They are really well-formed. They go in like a retainer and you say the line with them and without them and Jon Massey in post makes you look really cool. The clicking in and out happens later."