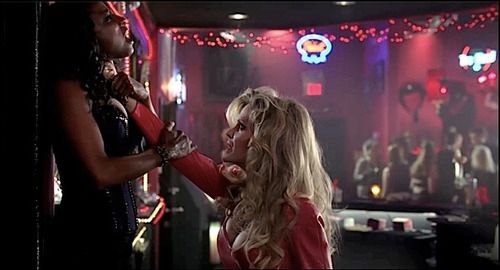 Emmy noms are in and look who is on the list! Supporting Actor, Miniseries or Movie-
Denis O'Hare, American Horror Story, Fangfuckingtastic! Urno Talbot is ecstatic.
The Fangover: RIP Nike Golf Polo, Hello Russell Edgington; Hoyt Makes a Questionable Wardrobe Decision

"Peace is for p**sies." Those are the last words Roman hears before getting staked by a not-at-all-silvered Russell Edgington, who'd just completed a soliloquy that began with, "I wanna gorge on human blood, not because some f**king bible tells me to, but because I like it." Fans were stunned by the sudden turn of events—a sentiment summed up by @DarlingSookie who tweeted, "Oh. My. Godric." EW sent off The Guardian of the Authority with the message, "RIP, Nike golf polo. And welcome back, Russell Edgington."
In the Interactive Features on HBO GO, show creator Alan Ball expressed some admiration for Roman, whose struggles to maintain order has some echoes in the real world. "I want Roman to succeed," he says. "He's a voice of reason among the people who are trying to pull us back into the dark ages." And for those of you still holding out hope that the lack of the tell-tale vampire goo might mean Meloni may have made it, we've got some bad news. Episode director Dan Attias explains in the Inside the Episode video that Roman is very much dead, and the reason why you were spared the gruesome details is that "often times what's most scary, or even horrific, is what you don't see."
A different moment in this episode puts that theory to the test, since we can't imagine anything more horrific than Hoyt's fangbanger get-up. What could he have possibly been thinking? Costume designer Audrey Fisher has a pretty good idea:
"Hoyt tried to put a little more thought into his new identity. Maybe he went to Hot Topic, thought the tie was cool and funky, and that the purple shirt would make him a little different than all those 'bangers in black. The costume is Hoyt's attempt to get comfortable and confident, but it also shows that he's really out of place because it doesn't look quite right. He's not a true Fangbanger at heart -- he's more of a tourist in that world."
Also unexpected was the reappearance of Alfre Woodard as Ruby Jean Reynolds, Lafayette's mother. Ruby Jean set theTwitterverse on fire, making "Alfre Woodard" a WORLDWIDE trending topic, in a performance the Examiner calls "insane and hilarious."
Lastly, as you may have noticed, this past weekend was San Diego Comic-con. You can relive the highlights from the event with HBO Connect's archives of the True Blood panel and on-the-scene coverage from Janina Gavankar who plays Luna.
Buzz's first bites
a
re up, we had his AE recap up yesterday, since B&A are moving this is it for the week.
Getting Glamoured Alcide , Recoiling from Sookie Alcide
, or
Hoggin' the Bed Alcide?
How's a girl to choose?!
Nice to see
Cody Green
, winner of Bravo's
Step Up and Dance
, doing something slightly less gay with himself as a fairy stripper.
Ruby
and
Lafayette
are truly the Sophia and Dorothy of our generation. "Still smokin' that bone, Pussycat?"
They did NOT just go there with the whole
Pam/Tara
Missy/slave thing.
Anyone who leaves A LOADED CROSSBOW out on the floor deserves to die behind the cash register to the sounds of a rerun of
Hillbilly Hand-Fishin
'.
Hey,
Luna
! Nice to see you not dead!
And finally, farewell,
Roman
– we knew you not at all and we're really okay with that. We will always have a special place for you in our Nike Swoosh.
For me this ep was a return to form (Flying
Jess
? Hungover
Sookie
? Bloodbath on a SHUTTLE BUS, for Pete's sake?!) and I'm feeling much better going into the second half of Season 5.
Many of us in the tri-state area never experienced relentless heat like this in our lives, I sure never did. This is where vamp envy comes in, to not feel the temperature would sure be nice right now in 100 degrees, 107 heat index. The Jersey tomatoes are great this year, that's me looking at the bright side of global warming and heatstroke.
New promo clips-
Ep. 55 Clip - Together at Last
This makes me think I was right about Dieter not being in the Chancellor's Cabal that Ms. Salome is heading up, I wonder if Rosalyn is in the dark with him?
Jason's face! Fae are all Brits, and The Claudites don't look a lick alike. Fairy jewelry is lovely, we know HBO marketing crew is going to be selling that toute suite!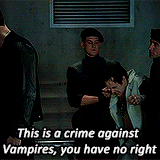 This scene will never gets old, I will be reposting all next hiatus, thanks Tempella
I am never getting tired of this latter season 5 video, now on HBO-
B has more screencaps for the vamp on the bridge, since we are all theorizing about who it is, she thinks it might be Elijah (casting info here) and that would be a relief to many of us who don't want it to be either fuck up 1 or 2. Since Elijah is a strong mo, is he going to be biblical Elijah? Seems to be a theme this season so I can see it. GIFs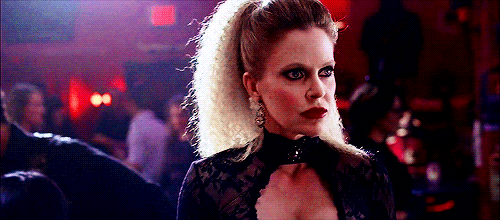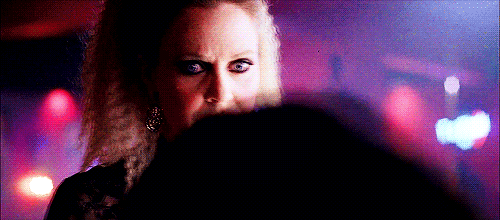 Hunched over vamp on a Bridge Over the River Why the Fuck? Thoughts? Russell or Roman? Clear now that it is a Sookie memory brought about by the Fae circle.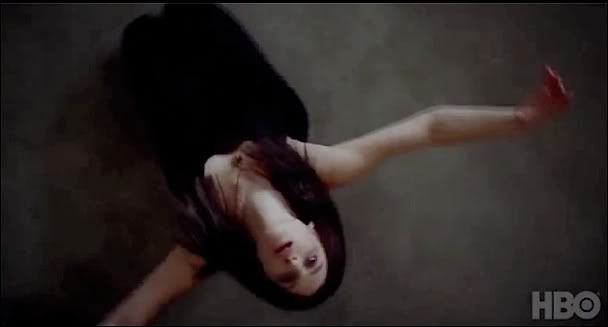 My body is ready-the face of cra-cra with over used meme, I just had to.
True Blood beat all cable in ratings, tvbythenumbers.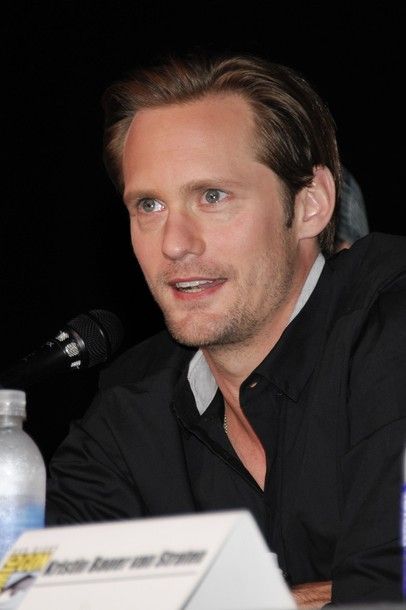 Celebuzz picks dream Emmys-
Dream Emmy Nominees: Alexander Skarsgard, 'True Blood'
The Emmys aren't too keen on supernatural shows. But, Skarsgard's performance of an amnesia-stricken Eric was basically an entirely new part -- with just the subtle likenesses of what we've known of the vampire.
Alexander Wang tweeted -Alexander Skarsgard in the Fall 2012 Men's Classic Button Down with Combo Collar Insert in Black (available 8/1).
I guess AS is under contract, this photo also was tweeted-
Thanks to the Vault for posting these for people without HBOGO, and to Denis' wig.
Actor Joe Manganiello arrives at the premiere of Oscilloscope Laboratories' "Shut Up And Play The Hits" at the Arclight Theatre
Kevin Winter/Getty Images North America ZIMBIO