Janina at SDCC, meeting up with Kristian Nairn, Hodor! He is also a roving reporter at the Con and tweeting all about it, as is Janina. Follow him!
Friday 13, July at 4:14-5.15 pm, Ballroom 20
Entertainment Weekly: Powerful Women in Pop Culture (aka Women Who Kick Ass!)
Panel: Kristin Bauer van Straten, Sarah Wayne Callies, Kristin Kreuk,Nikki Reed and Anna
Torv.
Actors Anna Torv (L) and Kristin Bauer van Straten speak at Entertainment Weekly's Powerful Women In Pop Culture during Comic-Con International 2012 at San Diego Convention Center on July 13, 2012 in San Diego, California. (Photo by Alexandra Wym
an/Getty Images)
EW has this as a great moment-
Bauer van Straten strutting out with a piece of Pam's Wal-Mart track suit.
Kristin Bauer ,True Blood, Cosmic Starship Jack...
by RealTVfilms
Your mission, should you choose to accept it, is to watch the following Q&A with True Blood's inimitable Kristin Bauer and use one small portion of it to unlock some intriguing info about the rest of this season.
But you've gotta be on your game: Pam's portrayer is well practiced at the art of the double entendre, she's very good at slipping things past even the most meticulous of fans and she's the kind of steely chick who often takes inspiration from John Wayne movies. In short, bring your A game. TVLINE
Ausiello talks to Deborah Ann Woll also, Sets covered in blood!-
Some words of CC wisdom from Christina Cooper
-
Remember: Almost every panel is going to end up on Youtube.. YES, I know it's not the same as being there, and I know you won't get the free swag or see the new 40 second clip from Iron Man 3 or whatnot… But, the reality is that everything will end up on Ebay, and pretty much everything that you see at Comic-Con will get leaked or released shortly after it's viewed in the halls or ballrooms. So, please, please, please, take a deep breath (you gotta remember to breath!), get as much sleep as you can, and grab some water and food whenever you can.
New promo, oh Eric, you can do so much better, just look to Pam!
oh no Jase is losing it, fairies are using him for some agenda up their fae sleeves.
From True Blood Comics-
So today I spent most of the day on floor. Gave away some True Blood swag! I have not covered every corner yet. I'm still looking for comic books. I'll do that tomorrow. I bought a few True Blood shirts on the floor. Visited IDW and picked-up the Tainted Love Hardcover Graphic Novel, I visited with Joe Corroney a little bit. All in all it was a great day.
She has lots of piccies up of all she saw and the swag she is giving to fans of the show who she sees.
Ryan is getting more movies! Such a sweet guy, deserving of much success.
From Variety-
Ryan Kwanten likes 'Sex and Sunsets'
"True Blood" star Ryan Kwanten has been set to topline Serendipity Point Films' "Sex and Sunsets."
Jeremiah Chechick will direct from the screenplay adaptation by Megan Martin based on the novel by Tim Sandlin. Principal photography will begin on Aug. 20 in Banff and Los Angeles.
Robert Lantos is producing with Ari Lantos ("Barney's Version"). Mark Musselman is executive producer.
Kwanten will play a failed writer made famous for his many flaws and shortcomings in a blog called "Why You Suck," written by his ex wife. Story centers on him meeting the girl of his dreams on the day she is marrying the perfect man. Kwanten appeared in Warner Bros. series 'Summerland" and played the lead in ESPN's 'The Junction Boys."
Chechick's credits include "Benny & Joon" and "National Lampoon's Christmas Vacation" as well as the mini-series "Bronx is Burning." He has directed episodes of "Gossip Girl," "Burn Notice" and "Chuck."
True Blood Is Cooking with Gas at Comic-Con
If you've been adding cinnamon to your chili ever since you found out Arlene was pregnant, or if your Sunday night 'True Blood' gatherings could just use a shot of Louisiana hot sauce, then 'True Blood: Eats, Drinks and Bites from Bon Temps' is right up your dark, vampire-infested alley. The cookbook -- written in part by Alan Ball and our very own production blogger Gianna Sobol -- was on display at the Chronicle Books booth at Comic-Con this weekend, though no one got their hands on the recipes quite yet. The book is available for preorder, and the first fans who placed orders at the Con received autographed bookplates from Alan and Gianna.
"I can't wait for fans and foodies to get their hands on this book," Gianna told us. "Marcelle Bienvenu came up with some really exciting recipes that bring to life the world of Bon Temps and its many kitchens."
Check out a few of
Marcelle's
recipes at the link above. Talbot's Bisque!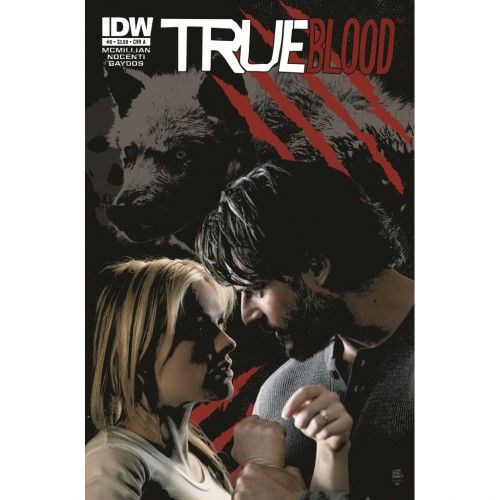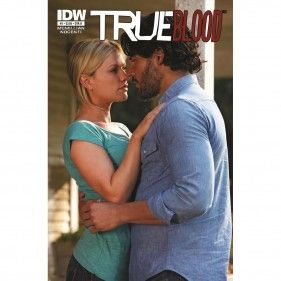 True Blood
Comic Book Issue #6 is now available for pre-order! In this issue, an ancient and powerful nomadic wolf pack comes to Bon Temp to conduct its annual "Great Hunt," a ritualistic culling of an entire town over the course of a weekend. Can Sookie and Alcide convince the werewolves and vampires to work together and save the town. Preorder now at the
HBO Store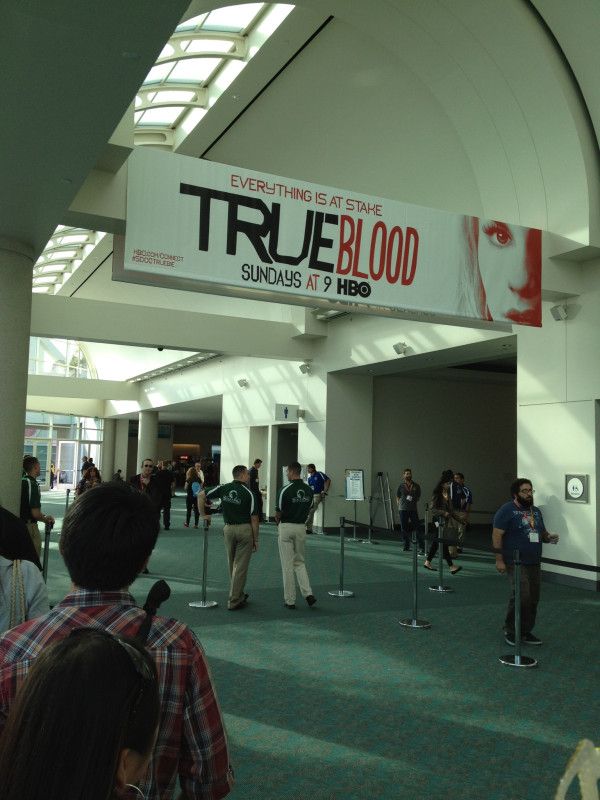 Littlest Wolf Emma, Chloe Nicole
Peter Mensah Authority Chancellor Kibwe, with his mates from Spartacus at the show's panel. I'll miss Doctore next season.