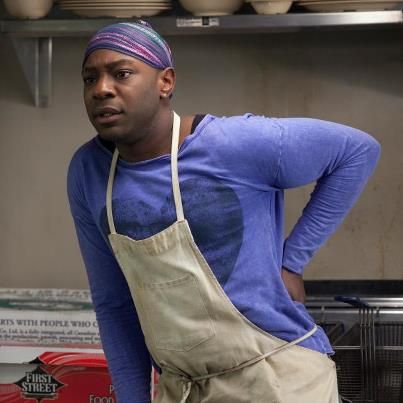 TVGuide is asking the same thing I have been wondering since last season, I miss old Lala. Here's some memories of Alan Ball's best creation, well he was.
When True Blood
first premiered, Lafayette Reynolds
added some much needed comedic relief to the HBO drama. His debaucherous — and often illegal — activities provided a nice change of pace from the whole Bill and Eric whinefest that is Sookie Stackhouse's terribly depressing life. But after five seasons, it seems Lafayette may have lost his mojo.
As an openly gay black character, Lafayette was celebrated when the series came out for destroying stereotypes and separating himself from the typical gay sidekicks you see on TV. Instead, Lafayette — while extremely flamboyant — is undeniably masculine and shown to be one of the strongest characters on the show (at least originally).

Case in point is one of our first introductions to the Merlotte's cook in Season 1. After a customer complains about not wanting a burger "with AIDS" — a jab at Lafayette's homosexuality -- he takes off his earrings in true bad girl fashion and shows the table of rednecks that just because he's gay, doesn't mean he's someone you want to mess with. "In this restaurant, a hamburger deluxe comes with french fries, lettuce, tomato, mayo and AIDS. Do anybody got a problem with that?" Lafayette shouts, before licking the bun and planting the soiled bread right on the customers face. "Tip yo' waitress," he quips before strutting off.
Both political and entertaining, Lafayette was everything a viewer could wish for. Now, however, he's about as messed up as Iraq War veteran Terry Bellefleur — and that dude is messed up! It all started in Season 3, when Lafayette started dating Jesus
and, consequently, started losing his edge. While it was nice to see the character relax a little and start to grow beyond colorful one-liners, in typical
True Blood
fashion, it all just went a little too far.
Lafayette soon added witch and medium to his already stacked resume (which includes short-order cook, prostitute and drug dealer, to name a few). These new abilities brought nothing but trouble for our favorite Bon Temps native, culminating in his forced murder of his beloved Jesus.
Gone are the days of bling-bling and jaw-dropping dance moves. Lafayette's just too busy grieving over Jesus and dealing with his own crazy brujo issues to be the hustler we fell in love with. But unless Sookie plans on getting drunk every week, we want the old Lafayette back to help lighten the mood down in Bon Temps!
Maybe he should try listening to his own advice: "Take two Vicodin with a big glass of red wine. Then smoke some badass ganja, baby. By the time you wake up... Mmm! All healed."
Then again, we don't know if even that ill-advised cocktail could fix all of Lafayette's problems.
Look how different Eric looks too, Lafayette sure got (had) moves.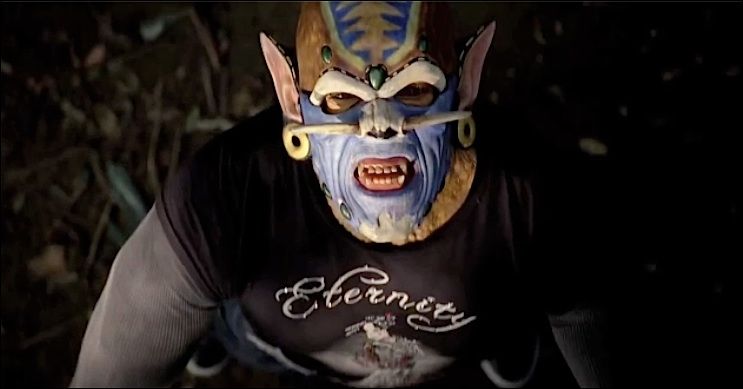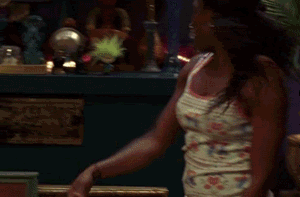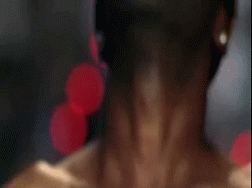 Here's some photo's and videos from the season 5 wrap party Saturday night.
Little Emma, Chloe Noelle, not in Husky puppy mode, love her fashion sense-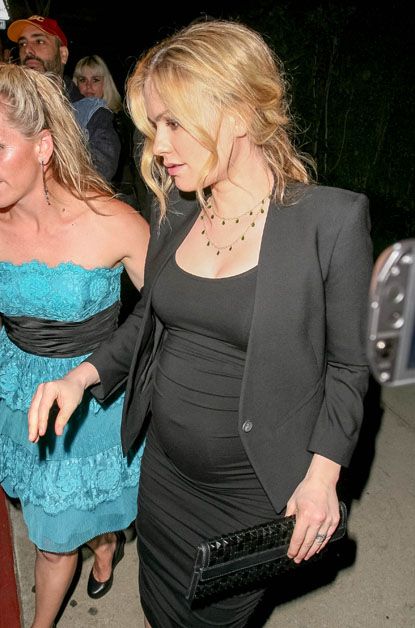 more pics of Anna at Zimbio, Lauren Holly tweeted the pic below
The woman Sam knows is Pinky from Mike The Fanboy's site, looking for her photos now.
Carolyn Hennesy tweeted a pic with her and McMillzz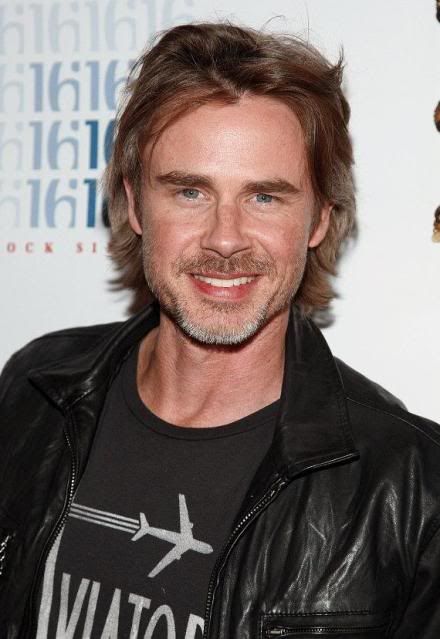 F
rom
THR
(forgot to
post it so many times)-
Nick Krause, who had a break-out role in Alexander Payne's Oscar-winning drama The Descendants, and True Blood's Sam Trammell will star in the indie White Rabbit. Written by Anthony Di Pietro, Rabbit is story of a bullied, high school teen (Krause), who begins having visions of a rabbit that he killed when he was nine years old. The rabbit, along with other imaginary characters, turn menacing in the hopes of pushing him over the edge and luring him into one last fatal act of revenge. Trammell is playing the teen's father.Tim McCann is directing the pic, which is described as a dark drama with fantasy elements. Robert Yocum of Burning Sky Films, Shaun Sanghani of SSS Entertainment, and Jacky
Morgan are producing.
TVFantic's short interview with Todd Lowe (more at the link).
Talk about the evolution of Terry. Was he originally intended to play this prominent of a role?
Well, when I first got cast, I googled "Terry Bellefleur" and saw that he was around in book nine. They've kept him on the periphery, and now they've giving me some fun stuff to play.
Can you give us any overall teases about where this storyline with Patrick is going?
I don't think I'm surprising anyone or spoiling anything by saying that there will be a supernatural payoff. It is True Blood, after all.
We adore Carrie Preston in The Good Wife and, of course, True Blood. What is she like as a scene partner?
Man, the fact that I get to kiss and fight with Carrie is the best gift I've ever received as an actor. She's a fantastic actress, a good friend, and makes me look like a pro.
Which Bellefleur wins in a fight: Terry or Andy?
Depends, if there's weapons involved, Terry wins. If it's a fist fight, Andy's got some size on me. Chris has gotten himself into good shape, so he probably wins.
What is Terry's favorite dish to cook?
Todd likes biscuits and gravy, but Terry sometimes burns the gravy. So, I'd say scrambled eggs. It's hard to mess that up. It's also therapeutic to use a whisk.
What sort of research, if any, did you do into the world of PTSD and/or veterans in general?
That's a difficult question to answer, because I try to stay sensitive to an affliction that I've thankfully never experienced. I can say I based my character on some unfortunate guys I've met in my life- Vietnam vets who fought a war which wasn't so welcome back home.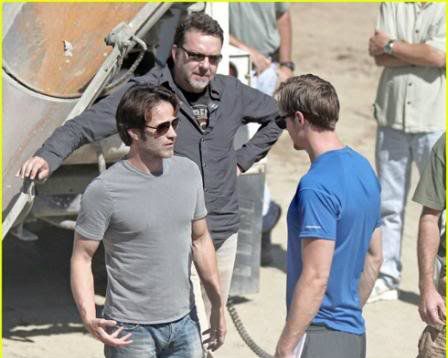 On Set photo from season 3
Very long article by the StarOnline who recently visited the True Blood set and talked to Alan Ball and some cast members, it's in it's entirety at the link-
A COOL thing happened on our way to interview True Blood creator Alan Ball at his office in Hollywood, California – we got an invite to visit Merlotte's Bar & Grill. The bar is located inside a studio called The Lot, where the creative team of True Blood – now in its fifth season – is also based. Merlotte's was quiet and deserted on the day of the visit because filming would only begin at night, but Ball, who took a group of international journalists on a tour of the bar, happily described everything he could of the establishment.
Back at his office, Ball talks to us about the fate of True Blood, now that he's made it official that he will not be coming back for the sixth season. "It is for mental and physical well being – it is such a demanding job. I'm very close to being seriously burned out," he explains of his departure from the show after five years.
The writer/director goes on to assure us that he is leaving the series in good spirits, and in good hands. "I have been working with a lot of the same writers since the beginning, so the show kind of runs itself now and I feel very confident that it will maintain a level of whatever it is that makes True Blood, True Blood." Some of the cast members feel the same way, too.
"I have huge abandonment issues so I will be sending him letters weekly to make him feel guilty," says Anna Paquin half-jokingly, a day later in Beverly Hills, during an interview with the show's three lead actors. Paquin, 30, plays Sookie Stackhouse, the precocious protagonist in True Blood.
"Honestly though, he wouldn't leave if he felt that we weren't in amazing hands. I think we're all sort of in denial with the fact that he's moving on to other things but in all fairness, I'm not sure that man has slept since the show started prepping six years ago. That concerns me a little," she says.
The first thing you notice about Paquin as she walks into the interview room wearing a knee-length black Moschino dress, is her baby bump. "It was always in our minds to plan for this in a way that wouldn't affect the schedule ... oh I've gone all American! I said 'shed-ule' instead of 'sked-ule', I've sold out," says Moyer, 43, who hails from Essex in Britain.
Even though Ball will not be working on the show in the next season, he has already come up with ideas on which direction the story should best take, and which characters would be given more – or less – prominence. "Somebody that we always thought was very good is going to be very bad," he shares after much thought, careful not to divulge any more than that.
In Season Five, fans of True Blood will see different sides to some of the characters that have never been revealed before. For one thing, Bill and Eric Northman (Alexander Skarsgard) have become buddies. "It's weird for Eric to be saving Bill. Or for Bill to save Eric. It's like, 'Why am I doing this? I hate him!' But at the same time, it's good to see something new like this happening on the show," says Skarsgard, 36.
Moyer agrees. "It was nice to give our characters a different dynamic. Instead of the usual animosity between them, Bill and Eric are actually having fun with one another."
In fact, the duo had a little too much fun that Ball actually had to put a stop to it. Skarsgard lets out a laugh remembering the incident. "Yeah, Alan called us into his office and told us that we needed to keep the stakes up on the show so we had better stop fooling around so much.
Ball figures that True Blood's popularity lies in its fantasy factor. "I think because they (vampires) are so fictional and the stories are so far from reality, one can fantasise about being taken by these supernatural creatures. Nobody wants to get taken in real life but there is a certain romantic element to being ravaged by a brute. But that is just a fantasy, and should always remain one," he stresses.
Meanwhile, Skarsgard feels a lot less homesick whenever he's around his colleagues, some of whom he considers his good friends.
"It's such a big part of my life. I came here (Hollywood) eight years ago and have been with this show for five. It has become my family away from home," says the tall blonde Swedish actor in his flawless American accent. He talks about his family and friends a lot during the interview.
"I come from a big social family and I'm still close to my friends whom I grew up with. I don't get to see them all the time though because they live in Stockholm.
"I have a lot of friends here now, too, but most of them I met through work so they are all in the (movie) industry. My friends back home are not – my best friend is a carpenter, one friend is unemployed right now and another one is still in university. It's just nice to have people around you who are from all walks of life," he shares.

With Ball leaving the show soon – the cast and crew are almost done with shooting all the season's 12 episodes – one wonders how the remaining True Blood family will cope. "I live 15 minutes away from here so I will definitely be dropping by whenever I can, just to hang out with the guys, fiddle with the script... just kidding!
"I truly believe that the show will go on well enough without me. But boy, am I going to miss Bon Temps."