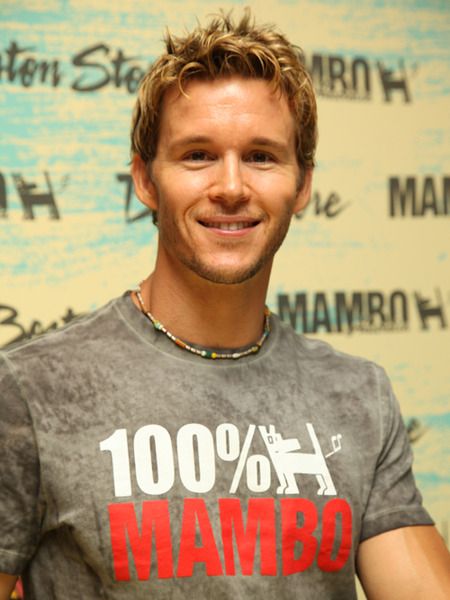 ExtraTV True Blood" star Ryan Kwanten brought a bit of the land Down Under to Wisconsin on Saturday to celebrate the Aussie surf and streetwear line
MAMBO
. Ryan is the brand's official Mambassador to the U.S.! Photo by
Harrison & Shriftman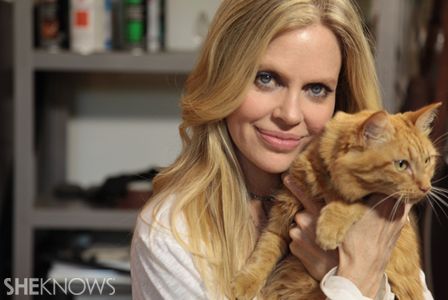 SheKnows
stops by Kristin Bauer's eco-friendly Los Angeles home to chat with the actress about everything from her tireless efforts in animal activism to her hottie co-star Alexander Skarsgard.
Joe Manganiello fancies himself a love expert these days, after his sexy turn in "Magic Mike." The onscreen stripper tells "Extra's" Renee Bargh, "I'd encourage all those guys to go out and get themselves a fireman suit and start grinding on their girlfriends...bring that suit home"
From OMGYahoo.com, longer interview at the link
Playing Sookie, the feisty fairy in True Blood, the vampire drama, now in its 5th season, in real life, Anna Paquin, 29, is becoming a first time mum with husband, Stephen Moyer, 42, her costar and vampire Bill Compton. Dressed stylishly in a black beaded dress at the Four Seasons Hotel in Beverly Hills, she is tight-lipped about her expanding family, but talks about the future of True Blood and sexy co-star Joe Manganiello.
Q: You look fantastic.
Oh thanks!
Q. The fact your body is changing at the moment, how does that play into the storyline? You spend a lot of time naked in the show. How does that work?
Well, Sookie was actually not scheduled to have a boyfriend this year, so the recent occurrences in my personal life actually has it turns out, have nothing to do with how naked or not naked Sookie is this season.
Q: Do they use a body double?
Well, they are shooting around. It's been done before. It's clothing and camera angles. And actually fewer shots of me getting my ass kicked.
Q: Hopefully.
[laughs] You know what I mean? My stunt double is getting a pretty good work out this year. But it's not as challenging as you would think.
Q: How are you feeling?
I feel great. I'm almost done with my season. It's been a long one this one as well.
Q: You must be enjoying the fact that you don't have to work out a lot because you are not on screen in that way. Your husband was saying, you can tell when he's not doing a sex scene by what he's eating for breakfast?
That's because boys are babies about being on diets. [laughs] I think girls are on them most of the time. The boys are the ones that kind of stare sadly at the craft service table and be like, 'I'm not allowed that.' And the rest of us girls are kind of like, 'Yeah, welcome to our world. [laughs] That's been the last 20 years of our lives.' It's like, you just happen to be on a show where there are lots of naked boys and man candy, so obviously the visual aesthetic, the whole thing is part of our jobs. I'm not really going to talk about the sort of specifics of my situation. It isn't something I'm comfortable talking about in public, but obviously when you are not taking your clothes off tomorrow, there's a little less stress about it. But cameras are cameras, and it's not just like everybody sits around and eats donuts just because they are not taking their clothes off. It's not like everything just goes out the window. So, my situation, no exception.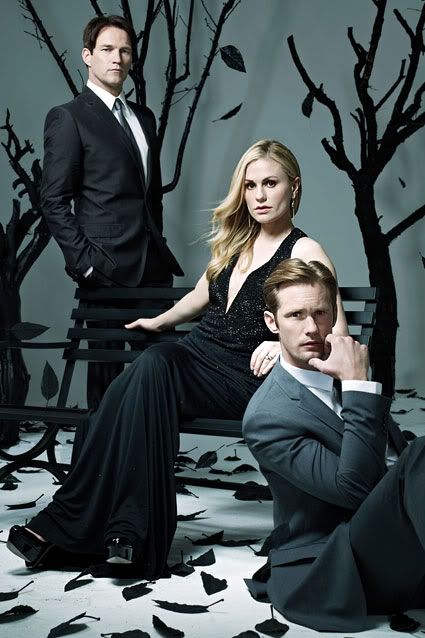 The scans from Emmy Magazine at Askarsgard.com, the fab photos were released weeks ago.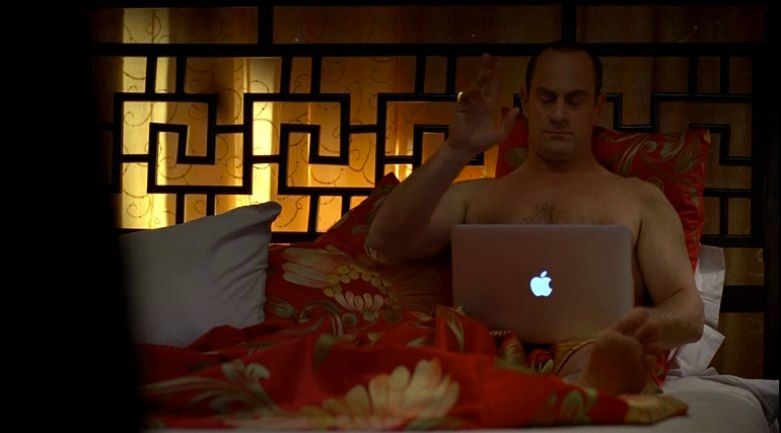 Meredith Woerner's Pros and Cons recap of We'll Meet Again from io9.com, all at link
Between copious shots of sexy Vampire Meloni holding various Apple Products in his mitts, this was a fairly crazy True Bloodepisode. Things are starting to heat up in Bon Temps, and this week delivered a pantsload of crazy — and some totally deserved bloodshed.
Pro: Team Matching Jump Suits is back.
Con: Lafayette catches the tail end of Sookie's conversation with Alcide, in which she implicates him in the cover up of a murder, tampering of evidence, etc. Naturally Lafayette is unhappy about this. "The one motherfucking thing I needed from you Sook, is to zip it." Dear sweet Lafayette, that is the one thing Sookie Stackhouse cannot do, whatever the fuck you need her to. Sookie is a walking "LOL NO" meme.
Con: Meanwhile on the roads of South Dakota Terry has a flashback which basically reveals what happened in Iraq. I love Terry. I love the moments of his quiet looped wildness, his flashes of wisdom, but mainly I love Terry for the aggressive way his character loves his family and friends. But vets suffering from PTSD — we've seen this done before and a lot better. I don't need something this complicated, sandwiched in between a shifter orgy of horses. Fingers crossed, something bigger comes out of this storyline — because this season is already overburdened with plots and characters.
Pro: Pam sleeps in high heels! We knew she slept in a pink velour jogging suit, but not WITH heels on. Swoon!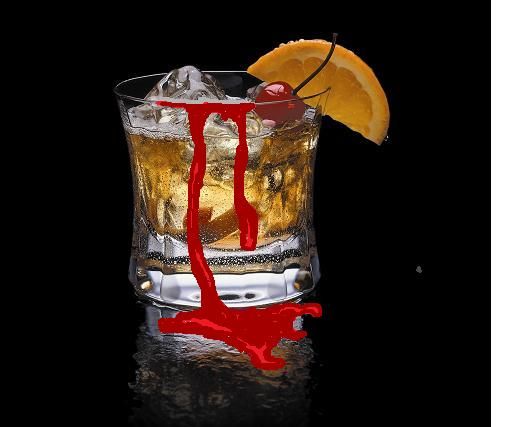 Campblood
delivers on some mixed drink recipes. This is how you do it ONTHESIX, not Sookie Drunkie style at all, next episode that girl will be puking out her fairy guts.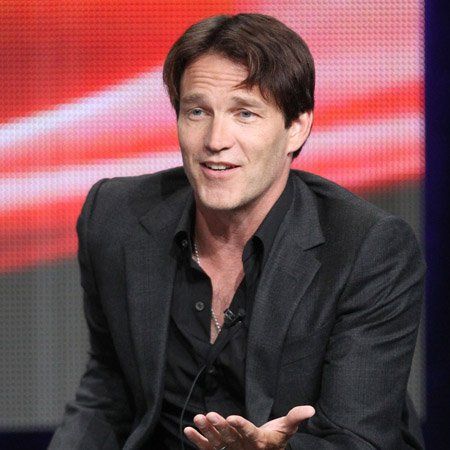 OMGYahoo.com also talked to Stephen Moyer, I am thinking this is from the True Blood press conference they did a couple of weeks ago.-
Today he's in Beverly Hills to promote the show. In a good mood, he talks a little about becoming a father again, and the future of True Blood, now in Season 5.
Q: So how nervous are you about being a dad again?
Not at all, l love it.
Q: How has Anna been?
She's great. She's very excited.
Q: Has she been sick?
I'm not going to answer any questions for my wife. You can try and get stuff out of her.
Q: If it came down to a fight between Bill and Eric [Alex Skarsgard], who would win? And if it was between you and Alexander?
If it was between and Bill, Eric would definitely win, because he's like 830 years older. And in our mythology, that means a lot. And between me and Alex, I don't know, I think I'd bite his knee caps and cut his legs off.
Q: Have you had a laugh at Joe Manganiello's expense about Magic Mike?
Well haven't really needed to, he's done it all for us. [laughter] And any time you ask him about it, he will do the moves. And it got to the point actually on set where Anna would go, so hang on a minute, what did you do? And then he would do it again. And not quite realize it I think, but it was the seventeenth time he'd showed us in two days. [laughter] And that was funny. And it got to the point in the end where the cameraman, our crew, was like, 'No, he's not going to do it again. He's doing it again.' [laughter] He would dry hump a chair, or dry hump the camera, he's had a lot of fun.
Q: He's pretty impressive at dry humping.
Yeah, he's very good at dry humping. [laughter] Apparently he's been good at that since he's been ten. [laughter]
Q: You can lead a fairly normal life, it's not a 9 to 5 but I'm sure your call times are different, but at least it's a pretty regular life, so when you guys go off hiatus and you guys go off for three months and relax?
When we first started the job, it was six months, this gig. It's now eight months for twelve episodes, nothing else shoots as long as we do, and we are talking about Mad Men or Breaking Bad, or Justified or any of those shows, they shoot eight days per hour. Mad Men usually starts when we are about two months into our show and then four months later they are done, and two months later, we are still going. We shoot 20 day episodes.
Q: So are you a guy who calls an agent and goes, "I need to have another gig," during your hiatus or are you a guy who says, "I'm going to just relax?"
You know, I'm the guy who says he's going to relax and then works the whole time. [laughs] Last year, I had ten days off. And we started, I did two movies and I produced a movie, and we literally we finished the movie that we were producing on the 24th Anna was in, and we started up again on the 28th of November, and I was fried. And I can't do it again this year. So yes, my intention was to literally sit for a month or two, but I'm not, I'm doing a film. [laughs]
There's a lot of other stuff going on and I wonder about my old dog's arthritis most of the time. And we've been laughing a lot of that lately, because my irascible old fucker who is 13, will only do anything if there's a big pile of meat in front of him. My dog is an angry old man.
Q: Is it a relief not to be doing as many sex scenes as you used to in terms of working out and what you are eating?
Yeah. I went straight back to the chocolate croissants this year. [laughter] As soon as I knew that it was about politics, I was like all right, we're not going to be having any sex and then of course the next thing is, you get a script and it's like, "Oh fuck," and it just means, when you are as busy as I've been this year, it means getting up an hour earlier at five, which is annoying, cause you have to do it.
Q: How do you want to meet your true death?
We have an amazing death this year coming up with one of our characters and I don't want to give anything away, but it's one of the best I've read, and that's one of the joys that I think of being a writer on this show, is that they have to try and come up with new stuff. Cause as I said earlier, Alan [Ball] is not into repetition at all. You will not see anybody doing anything the same, because it's just not what our show has become. Somebody pitched something and I can't tell you what it is, I think one of the boys pitched something this year, that would be something that I don't think has ever been done before, which…
Q: You can't even hint?
I can't, because it's an idea, it's not even written. And I don't know, I think Bill, being the old romantic that he is, would like to meet the true death, in some sense of contentment. There's a really nice scene coming up actually in my episode where we go back again to him visiting Bon Temps years ago, and he meets somebody. I think that he still has a lot of guilt about his children, and about abandoning them. Not that he chose it, because he was plucked away from his children, and I think there's still a huge guilt there, and I think he'd like to see that okay before he was ripped away.Viva Press
The episode he is talking about is this one, with his daughter -
TRUE BLOOD, Episode #508, "Somebody That I Used to Know"
Director: Stephen Moyer
Writer: Mark Hudis
Location: L.A.
Start Date: approx. 4/2/12
[REGGIE] Male, mid 20s to early 30s. Caucasian. A good looking redneck, a member of a trashy, low-rent anti-vampire hate group. Co-star
[SARAH COMPTON-HARRIS] Female Caucasian 70s - 80s. Seen in a flashback to 1931, the elderly, very frail Sarah has been ravaged by cancer and is close to death. One day guest star.