They're Back!!! CampBlood Werqing It. They said more than a few things that I said here also, great minds do think alike. Yes they do.
When it comes to the out-of-the-gate looniness of the Season 5 premiere of "True Blood", we think Pam said it best: Color us impressed at new vamps, old foes, unexpected twists, and the most uncomfortable funeral dinner EVER. As usual, Brian and Andy from Campblood.org are here to stumble through the highlights and lowlights, Do Bad Things, and drop a "Whatever, Sookie!" or two.
Urno thinks whoever released Russell wants him to fuck up The Authority OR is an enemy of Eric and Bill. More likely it's someone in the Authority who isn't liking the way Roman is doing things and know Kingee is up to the task
( after he grows his skin back of course).
From Rhoswen7
TRUE BLOOD, Episode #512, "Save Yourself" (Additional Role)
Writer: Alan Ball
Director: Michael Lehmann
Location: L.A.
Start Date: Approx. 6/13/12
[SOOKIE STACKHOUSE DOPPELGANGER] Female, Caucasian, Long Blonde Hair, 5'5", 115 lbs. size 4, 34 B. Waist - 25-26" Hip - 34-35". No Lines.
I know I posted the interview where this was mentioned, was it with Todd Lowe? Alan Ball? It's here somewhere from last week, they said it was how they would get around the pregnancy or as it was put "growing baby bump". I'm pretty positive it's already cast. must. get .sleep.
The Fangover Returns: Tara Turns to the Other Side; A Social Media Record Falls; and Jessica Feels Like the First Time
After months of anticipation and speculation True Blood picked up just where it left off—with Sookie in her frequently blood-soaked kitchen, a lifeless Tara in her arms. One night underground with a Walmart-sweatsuit-clad Pam later, and Bon Temps' biggest vampire hater has turned into a full-fledged fanger. Be sure to check out HBO Go's interactive viewing experience for a step-by-step guide on How to Turn a Vampire and other goodies, including a slideshow of Jason's many moments in captivity and lost script pages from Bill and Eric's excellent car trunk adventure.
Season five's kick-off made an even bigger social splash than last year's—or for that matter, any show ever on premium cable,
according to Bluefin Labs
, which estimated that 242,000 comments were shared on
Facebook
and
Twitter
Sunday night. It certainly seemed that way, with the terms #trueblood and #BadThings trending on Twitter throughout all of
Maker's Day
, and "Vampire Tara," Poor Lafayette," "Yes Jessica," and, of course, "Super Snatch" all doing so during the premiere.
The re-cappers were also back in full-force:
Behind the scenes of the Bullett shoot, if I posted this before, oh well, I am brain dead.
TVGuide's 25 Sexiest Men, I'm only posting this because Alexander is #20 and a site I like posted it.
I posted a pic from this but it was from the waist up, ha, this is the whole dealio from Justjared, so non- matching head to toe.
Redband trailer for Magic Mike-
From True Blood's official Facebook page, Tara wearing the same leather below.
Are they fighting over Jason? Screencaps from Skarsgardfans, thanks again B.
Is Kibwe, Doctore, giving the side-eye to Roman? Maybe he isn't happy with things in The Authority, this is like playing Clue (as far as who released Russell).
BUZZZZZZZZZ! Wrong answer Billy, Dieter acting like a twisted Alex Trebeck.
Denis O'Hare tweeted this last night, so cute.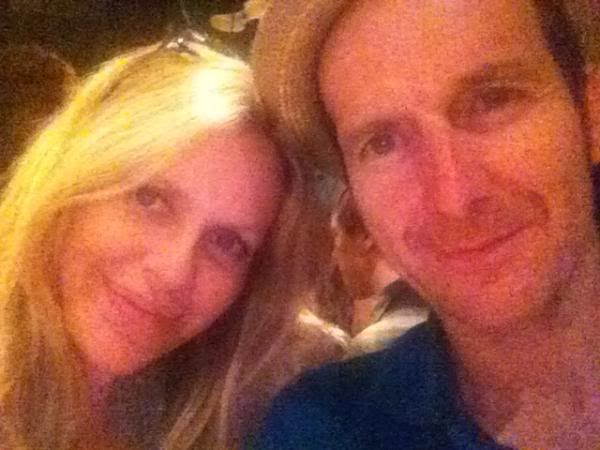 McMillian tweeted this later
TBC: Who is your favorite character to write for and why?
AN: I adore Eric, but it's really Michael McMillian that's nailed his sassy deadpan wit. Michael's the lead writer on the first batch of stories, and then I take a turn with a trilogy of Alcide and werewolf stories. Alcide is still a bit of a mystery man, so that will be fun. I adore Lafayette (who doesn't?) but I also look forward to writing some of the support cast, like Andy Bellefleur: he just walks into a scene and he's funny.
Wow, what a cover! Regard Magazine has Kristin inside and on the cover, this is how to GLAMOUR! Text here after many photos.
Gary Calamar talks about this season's music with Fresh102.7, so no speculation needed on what the tunes will be -
The season premiere
featured a couple of classic songs and one new take on a timeless hit. "Turn! Turn! Turn!" played as the credits rolled, but it wasn't the iconic version by The Byrds. Instead, it was a new version recorded by Kentucky rock band My Morning Jacket.
Music supervisor Gary Calamar, who has been nominated for a Grammy twice for True Blood's soundtracks, says that they almost weren't able to get the song cleared for the show. "The Byrds made the song famous, but this arrangement was written by Pete Seeger," he explained in an exclusive interview with
CBS Local
. So, the legendary folk singer would have to approve of their usage. "Pete Seeger's publicist was overly cautious, and didn't know if his classic song would be right for this bloody, sexy vampire show." At first they were turned down.
"But I used my secret weapon – begging – and got them to change their minds. "
Early in the episode, two of the characters – vampires Bill Compton and Eric Northman -have been captured by their enemies. As they're being transported in the trunk of a car, Paul McCartney's "Silly Love Songs" plays on the stereo.
Later on, another vampire – Jessica Hamby the red headed vampire is seen leading her new pals through a rendition of The Runaways' "Cherry Bomb" on Guitar Hero, while her (sometime) love interest Jason Stackhouse plays the plastic axe. At the end of "Cherry Bomb," a lovesick Jason leaves the party with a girl he's just picked up, Jessica launches into yet another classic: Foreigner's "Feels Like The First Time."
As for the rest of the season, Calamar reveals a few musical secrets. Next week's episode, "Authority Always Wins," features a cover of John Mellencamp's "Authority Song" by New York rockabilly singer Bosco Delrey.
Later in the season,
Iggy Pop
duets with Bethany Cosentino from indie pop group Best Coast on a new song called "Boot And Rally" for an episode of the same name. That project was a particular thrill for Calamar: "When we watched the show, there was a song that the writers kind of penciled in that didn't really work," he says. "And we were thinking should we change the title. I suggested we have someone write a new song called 'Boot and Rally.'" That "someone" turned out to be Calamar himself, who worked on the song with another writer named James Combs.
But how did they get the Rock and Roll Hall of Famer on the song? Pop's people reached out to the True Blood team early in the season, to offer the services of the Stooges frontman, who counts himself among the show's faithful. A huge fan of the punk rock legend, Calamar says "It was a major thrill! I can barely believe it, it's amazing."
This season will also feature a new song by much-buzzed about newcomers Alabama Shakes, a previously released cover of Tears For Fears' "Everybody Wants To Rule The World" by New York punk/pop group Care Bears On Fire, and Los Lobos covering the World War II era hit "We'll Meet Again."
Access Hollywood, more at link-
"True Blood" just kicked off its Season 5 with a stellar start this past Sunday, but series star Sam Trammell is already sharing details about the upcoming finale.
The actor, who plays shape shifter Sam Merlotte on the hit HBO series, stopped by Access Hollywood Live on Wednesday where he told Billy Bush and Kit Hoover that season will end with something that left him dumbfounded. "The season finale this year — we just read it yesterday. There's something that happens to me that is just ridiculous. It's great, it's great!" the excited actor told Billy and Kit.
"We're shooting [the finale] now," he explained. "I got excited, until I realized what was technically going to be demanded. It's going to look great, [and] it's going to feel kind of odd."
As for looking great himself, Sam – who has quite a bit of onscreen nudity, told Billy and Kit he keeps fit in a variety of ways.
"You try to exercise, you try to mix it up. I go surfing, you do a little jumping rope," he said of his fitness regime.