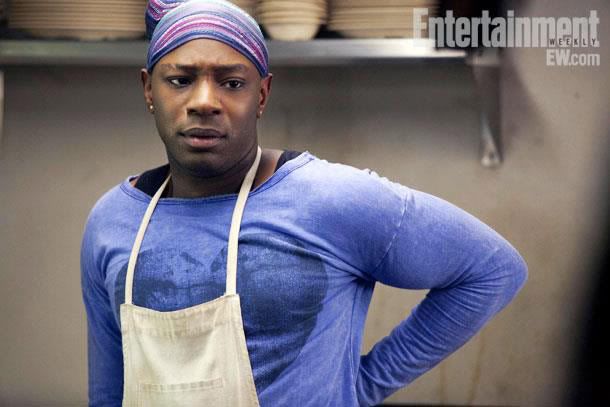 one more piccie from EW behind the scenes photos (from HBO)
We did it and we did it in style! One more night to dream of season 5 before it's a reality. HBO has gifted us with 2 more Inside True Blood Blogs, aw, so good to us.
There's A LOT of blood on this show, which means there are tons of varieties used in the filming. There's the kind for vampires exploding, which usually includes those stringy bits we call "nernes." There are blood mats to cover the ground after a good staking or a gruesome murder. And there's blood for the actors to drink, which I'm told is very, very sweet. And if we need to see the blood on their lips after they take a sip, the blood is thickened, so it really sticks. Kind of like a milk mustache...
Eric's Office
By Gianna Sobol
Eric keeps a lot of things in his office: stores of liquor bottles, boxes of Tru Blood, Fangtasia bills and this photo of himself and his progeny. Eric likes to pretend he's tough, but we all know that deep down, he's a little sentimental.
From the official Facebook page-
TODAY: Catch-up on the first 6 episodes of Season 4 on
HBO
Zone (2-6)
TOMORROW: Follow live commentaries at HBO Connect during the last 6 episodes of Season 4 on HBO Zone (2-6) and the Season 5 premiere:
http://itsh.bo/omLMxX
MONDAY: Chat live with a special Mystery Guest from the cast at HBO Connect (announced on-air after the premiere).
RSVP: True Blood: Chats & Commentaries (click the link)
Makers Day commentaries include Suzuki Ingerslev, Production Designer from True Blood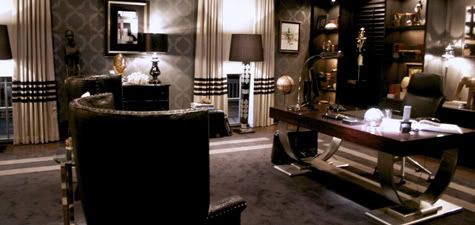 Audrey Fisher, Costume Designer from True Blood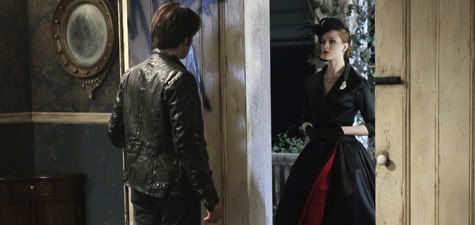 @TrueBloodDotNet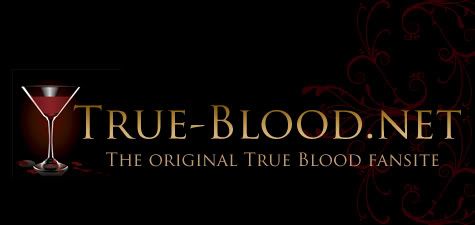 and Deborah Ann Woll.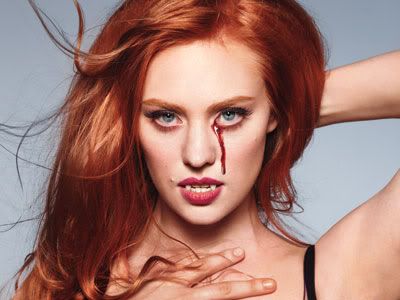 Chat with a Mystery Guest on Monday.
HBO had the Inside the ep for the premiere up for about an hour and E2 preview, they took it down so I removed the comments I posted. It was a big booboo, but it's up on youtube now. SPOILER WARNING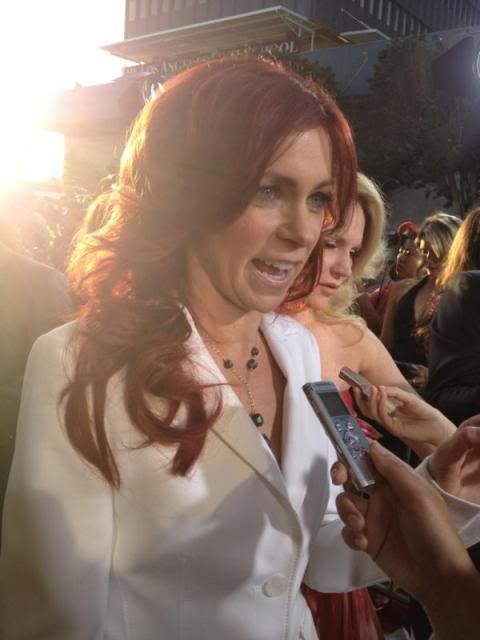 From Huffpo with Carrie Preston- she talks more True Blood and the Good Wife at the link.
I caught up with Carrie Preston, who plays fan-favorite redhead Arlene, to hear more about the interesting turn things take this season with Arlene and her troubled hubby Terry Bellefleur (Todd Lowe), and she also talked about the other new man in her life: Terry's old war buddy Patrick, played by Scott Foley. But don't jump to any conclusions that it'll get romantic ...
"Yes, she's been married four times, but she's still traditional and a kind of stand-by-your-man Southern woman," Preston assured us.
Then there's the Emmy buzz surrounding her "Good Wife" guest starring stint -- she explains why her quirky character from that show is giving Arlene a run for her money, and why watching her real-life hubby, "Lost" alum and "Person of Interest" star Michael Emerson, go through the awards process is helping keep it all in perspective.
You mentioned next season ... which isn't a spoiler really, but it made my ears perk up. With so many characters, and more new people added every single season, are you ever amazed that Arlene has lasted so long?
Yes, of course! It's a real blessing. I think that the show needs Arlene and Terry and Andy Bellefleur and Hoyt -- the people who are playing the townspeople -- because otherwise there is no context for the vampires and werewolves and everything. There's no context for them if we don't continue to remind the audience that they are existing in a real world, albeit fictitiously drawn by the writers. I think Arlene is a real representative of that world, and also of how judgmental that world can be. I'm aware of that function that she has in the show, because that's out there in our country. If you want to, you can read into our show a lot of social and political themes. And if you don't want to, you can just look at it as a fantasy soap opera, and that's why I love it because it exists on both of those levels.
Where do Arlene's loyalties lie? Because it seems like she might be spending more time with Patrick, played by Scott Foley, to try to get to the bottom of Terry's issues ...
Yes, we definitely do. Arlene is ... yes, she's been married four times, but she's still traditional and a kind of stand-by-your-man Southern woman. She's really strong, very opinionated, but has a really big heart and is going to do what she can to protect certainly her kids, but her relationship, too.
Jessica is back vlogging and her site is re-VAMPed too
Another one who thinks they are a real vamp, SOURCE
Some very good cast interviews, I missed most of these except for Ryan's. C
lick the link for Todd's-
Uinterview | Videos: Todd Lowe On 'True Blood' Season 5
Uinterview | Videos: Kristin Bauer van Straten On 'True Blood' Season 5
OOOH-this connects to the pic above, the drinking kind of fake blood, love Kristin's voice.
Janina on Good Day LA, with a different

new promo

!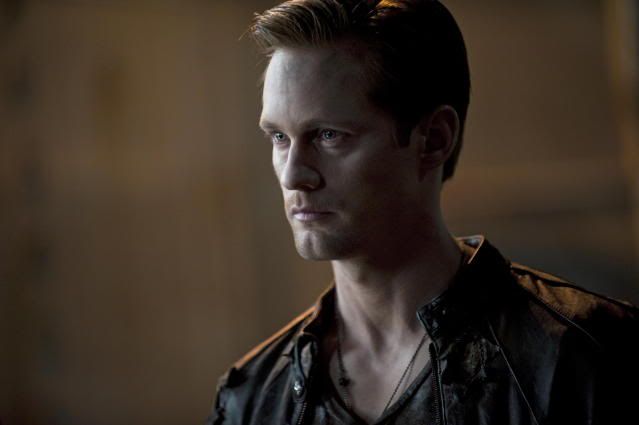 A bit from Tommy Lightfoot Garrett's review
-
"Turn! Turn! Turn!" changes everything. I mean, absolutely everything! And leads directly to more excitement for another season of the hit show. On Sunday night, Sookie (Anna Paquin) and Lafayette (Nelsan Ellis) struggle with the aftermath of Tara's (Rutina Wesley) shooting, while also cleaning up after Debbie Pelt. But it really also leads to Pam being placed in the middle of it all, and we know that means drama! It also means great dialogue, as Kristin (Pam) has the best dialogue of any actor I have ever known. Lafayette is heartbroken, but thrust into a new situation which opens up his mind, and his soul to a whole new way of living. Believe me, when Jesus died, it was devastating to viewers. But, it leads to more excitement this season, especially on episodes one and two.
Meanwhile, Bill (Stephen Moyer) and Eric (Alexander Skarsgård), cleaning up a mess of their own, are visited by the Vampire Authority, one of whom is Nora (Lucy Griffiths), a woman from Eric's past. There is something that is magical when Lucy (as Nora) shows up. Eric changes, he seems quite different, and yet more exciting than before. If that's possible! Bill and Eric's cleanup is even messier than what is going on at Sookie's, especially in the backyard!
MTV's Hollywood Crush has a romantic wish list for season 5 HERE
Five Questions With Nelsan Ellis, the whole thing is HERE
1Given that your character was going to be killed off at the end of the first season, you obviously know a thing or two about hanging on for dear life. Yeah, Lafayette was supposed to die. But [creator/executive producer] Alan Ball decided to keep me. And it blows my mind, the things I've gotten to do since. Based on what I was doing in the first season [in which Lafayette was introduced as a short-order cook, a drug dealer and a prostitute], I put my mind on one track. Then they completely busted all the boundaries and took the character places I never thought he'd go. That's why I love this show. You never know what's coming next.
TrueBlood-News has all the scans from EW at this link, Thanks you Maria!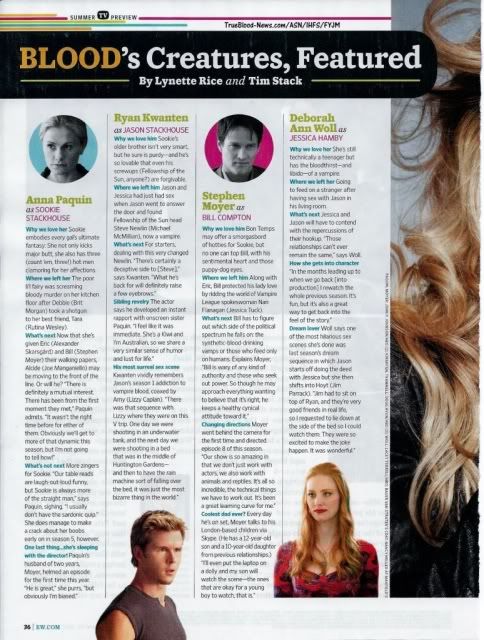 HBO Connect gives props to our friends at True-blood.net