Video Q&A with Joe M, there's so many for the Magic Mike premiere, here's some of the text and many more photos at Zimbio More HERE (the Insider)
Why, Joe Manganiello
, do you think both star/producer Channing Tatum
and director Steven Soderbergh
had you in mind for the role of Big Dick Richie in "Magic Mike?"
"Whatever ex-girlfriend talked to them, she should be on the Christmas card list," jokes Manganiello, best known as werewolf Alcide on "True Blood." "They sent me the script, and I found out right away what I was going to have to do, which was: penis pump, fireman suit, head-to-toe gold paint. And I went, 'I'm in. let's do this.'"
Before filming, you talked to a friend who used to be a male stripper for background information. What was a story he told you that was especially helpful or amusing?
Well, there [are] so much drugs. They used to have drums of GHB backstage and they would do rails of speed and they would try to time it out so they would peak right onstage with the girl. And they would say that backstage there would be women who were going to get married the next day and they'd be backstage just doing stuff with the guys. And then they'd go to the parking lot, some girl's waiting next to their car so they're doing the girls in the car and they'd have these regulars that would follow them home and then [be with them] all night long ... [Then they'd] get up and lift some weights, go back, rinse and repeat. And the guys, it almost had this sense of pro wrestling. These guys are like these egos and feathered hair and they were just beating each other up backstage, getting into fights in thongs and knee-high white patent-leather go-go boots. It was like, "What is this? What is this world?" It was so funny and insane and tragic and depraved all at the same time. So I really got a sense for what that world was.
Photo from Samsung Galaxy SIII Launch more here
This is the first movie in a while that's inspiring girls' nights out that doesn't have "Sex and the City" or "Sisterhood" in the title.
Exactly. It's that audience but, I want to say on steroids, but I mean maybe estrogen—
Estrogen pills?
Yeah. It really is, there's a level of energy because of the sexualized nature of what we're doing. I mean it seems ridiculous to think that putting on a fireman suit elicits the response that it does, but it does! I questioned it and went, "Really? This, with the fireman?"
But I love that Big Dick Richie has a phobia of fire.
[Laughs.] Yes. He doesn't really like it. Fog machines are cool, real fire no.
How long did you have to sit around to become a man covered in gold?
I sat in a chair for a little over an hour with a team of five women [laughs] who had gold paint, just covering every crevice with gold.
You've had several roles where people wouldn't exactly say you're lacking for masculinity. What's something that touches on your softer side that might surprise people?
Oh, jeez. I think there's a lot of sensitivity in the character I play on "True Blood." He's a deconstructivist werewolf. He's not what you would typically think of a werewolf to be. He's very sensitive. He's a bunny inside of this monstrous frame. And I think when he gets hurt it's when it gets scary. ... There's a lot of that in me I think. I was a super-sensitive kid growing up. I mean hell, I had a career ahead of me in college athletics that I gave up to go do classical theater, which in western Pennsylvania is not really the move.
MORE
MTV's article
Jessica's baby Vamp Blog- Vampire Sex 101
I missed out on sex ed, mostly because I was home-schooled and my parents wouldn't have dared include that in my curriculum. But I had a few friends at the local junior high who said they missed out too. All the funding for arts, music, and apparently sex ed, got cut just around the time we were all hitting puberty. So there were a bunch of horny and ignorant teenagers (a terrible combination) walking around my town. But guess what? It ain't any better now that I'm a vampire.
There's no such thing as vampire sex ed. All the urges and the desires are amplified, times fifty, but there's nobody to teach us about the best positions, the differences between having sex with a human versus another vampire, about protection… like, do we need it? Does that even apply to us? There's so much to learn!
So I guess what I'm trying to do is open up the conversation. Now that I've had a little experience, I thought I'd share a few things I've picked up along the way with y'all. So here are some of my likes and dislikes, I hope it helps some of you out there!
My favorite way to do it? Wild. I like to let loose. Be a crazy vampire. To show how turned on I am and for that to turn my partner on even more. Submissiveness bores the shit outta me.
Where do I like to do it best? The couch. Beds are so expected. But the couch, it's comfy and private, but still feels spontaneous.
What to do with those fangs? My ex-boyfriend was scared of 'em. But I think a little fang nibble is hot. Besides, I ain't gonna scratch you.
But what about those fang boners? I promise they get easier to control! Give it time, patience and practice.
What turns me on? Besides Jason Stackhouse? I'm not sure any aphrodisiacs really work on vampires. I've heard things about faerie blood, but that's a whole other can of worms I don't know enough about, really. What tends gets me going is talking. Give me instructions. Tell me what to do. Or just talk dirty, if you want. I like a man that's got a lot to say.
And finally… can two people that are insanely attracted to each other really just be friends? Honestly, I just don't know.
Another photo of Sam in Vegas, this is one of several from Zimbio-Actor Sam Trammell seen celebrating the season 5 premiere of popular vampire show 'True Blood' at the Gallery Nightclub in Planet Hollywood Casino in Las Vegas
Remember this scene, I found it looking for Sam vids on YT, so funny, for Laura P!
She's letting loose again, this time about Russell, gotta love Valentina interviews, this is from
Vulture
.
How do you audition to play a vampire?The only note Alan gave me was, "Don't be afraid of your sexual power." So I just went for it. I put in some fake hair because I had short hair at the time, and because I thought Salome, or the archetype of that kind of woman, would be dancing with this long hair. And a really tiny dress. But I think they were looking for something that was more ancient. In the end, I didn't overthink it. I was also drawn to her naturally. When you meet some characters, you feel immediately like you know who they are and where they come from.
Salome manages to bring all the boys to the yard in a single day. Bill, Eric, Roman. Should Sookie just give up?
But I love Sookie! Those relationships are just on hold. What Bill and Eric have with her, I think, will never end and will always be there. Salome is a woman, but she's got a more masculine side to her, you know? She's not someone you want to protect. She doesn't have that. So in that way, she might be intriguing for the boys. And of course between vampires there's this sexual freedom. They can have sex without meaning they have responsibility to each other. That's the beautiful part of being a vampire. All the conventional lead-up is unnecessary. Exploring your most primal instincts is where you start.
When Salome tells Bill about her real history, that in fact she was the victim of her mother, is it a moment of truth for her? Or is she just playing Bill?
That's the scene where I started to understand where her wounds are. She has scars. She's been betrayed. I think that's a moment of truth, but I think she uses that truth to bring people to her side. So she's using truth, but she's also really opening up to him.
I loved when she's trying to coax information out of Eric, and she's coming on to him, and he says to her, "Are you lonely? Is this how you make friends?"
[Laughs.] I know. He gets her. And she gets him. She says, "You're cold," and that's because it hurt. She doesn't trust Eric, but at the same time she understands where he comes from. He knows who she is. It's difficult to sway Eric. They react to each other knowing who the other is.
Her heart really belongs to Roman then.
They've been lovers for centuries. But I think you've seen that Roman might be a little too dogmatic in his thinking. There are going to be issues between the two of them, for sure. She honestly loves him, and she's going to try to make him see things in a different way.
The cast of True Blood might be larger than any other currently on television. Is there anyone you wanted to work with but didn't get to?
I love every character on the show but I only had a chance to work with a few — Bill, Eric, Roman.
I did get to work with Denis O'Hare — that was my big dream when I was cast. I kept asking, "Am I going to get to work with Denis?
" I would have loved for Salome to meet Lafayette. I was hoping by the end of the season we would have had something, but not really. Nelsan is fantastic.
What did you get to do with Denis?
He's the coolest, most generous and incredible actor. I learned a lot from him. There's one moment where he's like, throwing me during this very powerful fight scene between the two of us. Shooting that was scary and fun at the same time. It was internally bloody, a lot of rage coming out. Russell's 3,000 years old, so he's an older vampire than me. I hope I'm allowed to say we fight.
MORE
One more recap and only because it's from Campblood's Brian who writes for AfterElton, as well as Vlogging with hubs Andy. Read it all at the link-
Andy takes Holly outside and confronts her about the Assbook - sorry, Facebook photo that her kids posted, and then asks her to go steady. Men! She reminds him that she's a witch AND a single mom, and he reminds her that he's a recovering V addict AND Andy Bellefleur. It's like a match made in theBon Temps Tattler's Missed Connections section.
Back inside, Arlene wanders into the freezer, and is violently attacked by Tara. But it's just a dream (Tara's, not Arlene's), and Lafayette is trying to get her to drink some True Blood. She snaps at him with the most popular phrase in our house: "Don't you f*cking touch me!" Out in the dining room, Alcide confronts Sookieand demands to know what's going on with Debbie. Sookie plays dumb (well), but they're interrupted by the ruckus of Tara throwing Lafayette out of the walk-in and emerging in all her filthy, frosty vampire glory. Arlene and Alcide are shocked - and Tara nearly spills the beans about whatever she might know about Sookie (although she was definitely out cold when Sookie killed Debbie, right? So what would she know?) before she zips out into the night.
Later, while waiting for that gumbo for table six Arlene shames Lafayette for turning Tara, and he responds by throwing Cajun spices at her. Come on, hookah - so soon after Rene? That's just rude. He then pours a bottle of bleach into the gumbo ... and catches the brujo demon thing's face in the mirror. He dumps out the gumbo and wonders what on Earth is going on with his storyline this season.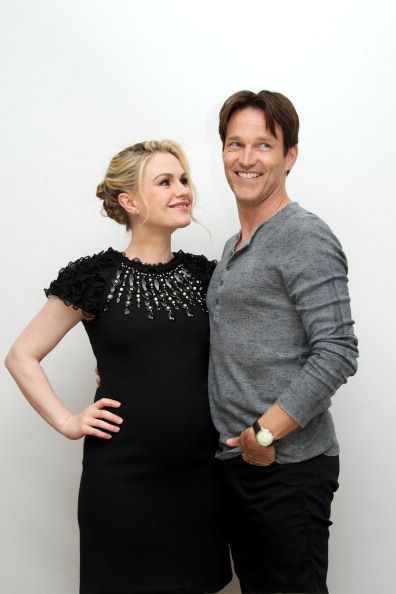 The Nest has pics from The True Blood Press conference (no idea what that is), more here.
another interview with Giles, can't ember so go HERE
Viggo Mortensen Offered Lead In Dracula Tale, 'The Last Voyage of the Demeter'
Some interesting news landed on our doorstep for Millenium Films'

The Last Voyage of the Demeter

, the ex-Summit/Sony Screen Gems project that's been in development hell since 2004. Movement was confirmed back in May when Dog Soldiers, Doomsday and The Descent's Neil Marshall was attached to direct. Now we've got more from the ship that carried Dracula's coffin from Transylvania to England.




Although yet to be confirmed, we're told Ben Kingsley is still attached to play the film's Captain. In addition, Viggo Mortensen (A History of Violence, The Road, The Lord of the Rings) has been offered the lead role of "Henry Clemens," a source exclusively reveals to Bloody. There's no real word on Noomi Rapace, coming off Prometheus, other than she "may" still be starring as "Anna Billington." I can only guess it comes down to scheduling, especially with a movie that's been stuck ashore for nearly a decade.




The latest draft was written by Lowell Cauffiel and is said to place the voyage center stage in a tale that is reminiscent of the first movie in the Alien franchise, in which a crew is slaughtered one-by-one by a mysterious passenger.
I don't think Viggo would take this but I had to post.