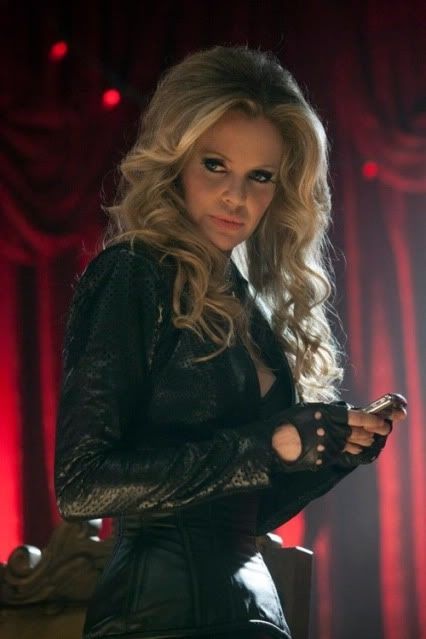 Kristin Bauer's Pam is one of the reasons to not miss an episode of HBO's sexy, salacious True Blood. Pam is a bisexual vampire and brothel-owner who constantly flaunts her sexuality; it's as if passion drips from her every extremity. What has many viewers extra excited this season is the prospect that Pam may have a fling with Rutina Wesley's Tara, another lady-loving character. Pam turned Tara into a vampire in the season premiere, which is the perfect way for the writers to get them in the sack (or coffin). AfterEllen caught up with Bauer and got some juicy tidbits from the sexy, tattooed actress.
In response to the question of whether or not Pam has been with women Bauer told AE,
"I think it's just who she is and she can see sexy in men or women, but I feel that also coming from that life, if you happen to be — I had a friend who was bisexual and he was exactly 50/50. He was like "Hot is hot." And if you have that proclivity and came from that background, personally, I would be choosing the sex that hadn't caused you pain. So that's what I have in my head."
On whether or not Pam and Tara will hook up Bauer said, "Well, Rutina and I, of course, saw the equation and have been wondering [if we'll be paired together romantically]."
Bauer also weighed in on Pam's relationship with on Miss Sookie Stackhouse.
Pam often flirts with Sookie and she's a fairy, but yet, she was Eric's and the great thing about
True Blood
and HBO is we get to explore these areas and for a few reasons. We don't have censorship. That's a pretty strong word but we can be very free here and also we get to take our time and watch these complex relationships develop, so yes, it's been fun and hopefully it's fun for the watchers.Source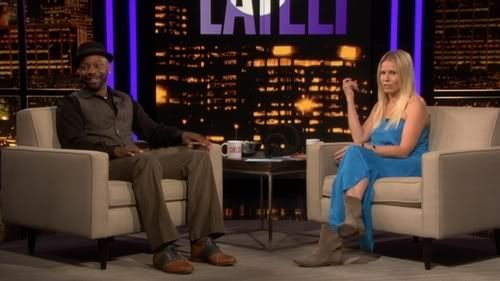 Chelsea: "How did you decide to play a gay character if you're a straight guy?"
Nelsan: "I just act like my mama…I've been watching her all my life. I've been watching her and imitating her. I can just do what she do [snaps fingers]."
Chelsea: "Your parents are conservative right, your father's like a Deacon?"
Nelsan: "My father's a super duper Deacon. He's one of those Deacon's who jumps and shouts 'Jesus!' So then he has a son on TV wearing lipstick going 'hooker' [snaps fingers again]."
Handler: "So what does he say about the show? He must have been horrified in the beginning."
Nelsan: "This type of material would never exist in my father's house, it never has. Now, he's watching the show. I mean he supports me now, in the beginning, not so much.
"It's just like that and Jesus don't exist in his world but uh now he called me yesterday and he said 'The first episode was good, son, it wasn't all weird like it always is.'"
Check out Nelsan's documentary celebrating LBGT poets, I Am Damn Wonderful, HERE.
Twistgossip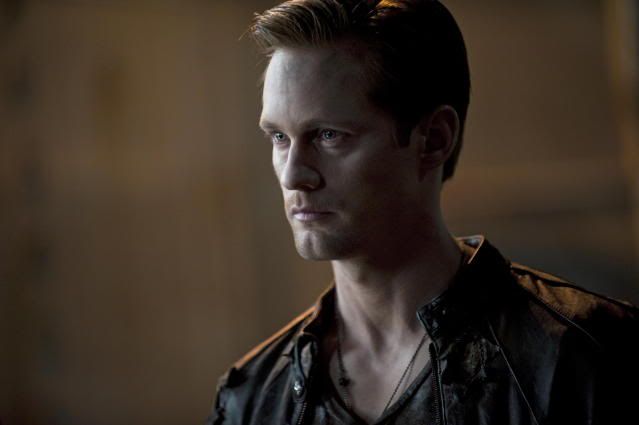 From Yahoo news-
Q: Alexander, what can you tell us about the upcoming 5th season of True Blood?
Skarsgård: Oh, I don't want to spoil to much of the fun, but this year will probably be an epic year in the series. More blood, more thrills! Eric will be meeting a very special new member of his circle - my vampire sister Nora (British actress Lucy Griffiths) will be appearing on the show. She's also Godric's child and a very important part of his life.
Q: At the end of the 4th season, Sookie breaks up with both your character, Eric, and with Bill. Is this the end of the menage a trois?
Skarsgård: (Laughs) Eric and Bill are going to be working on their bromance a bit now. We team up against a natural enemy. They have no choice but to set aside their disputes and form an alliance of sorts. It's going to be a bit like Butch Cassidy and the Sundance Kid.
Q: In addition to True Blood, your film career is also taking off. Are you at all anxious to end your vampire duties?
Skarsgård: No, no. I love my work in the series. This is a great character and Eric is tremendously popular all over the world. It would be insane if I wanted to leave the series voluntarily. Right now I'm enjoying getting to do movies in between seasons and I'm trying to find good projects and see where that takes me. I remember what it's like to spend years not getting any phone calls and not having any scripts sent my way. So I'm very happy to have True Blood to look forward to every year and I'm enjoying seeing my character and the series unfold. I don't think it's an accident that we have a very big following.
Q: Do you ever worry that playing such a popular character like Eric will create too strong an identification with audiences and overshadow your film roles in the coming years?
Skarsgård: No. Audiences are able to separate you from your other characters quite easily as long as you don't play similar roles and of course no vampires! So I've been playing different kinds of characters in movies like Melancholia, where I play a passive man, a much weaker man than Eric, who is very much an alpha male. Also my role in Battleship was very different. As long as I avoid playing vampires or similar roles in films, I don't think audiences will have much difficulty separating me from Eric. I actually think the identification works in your favour because people think they know what you will be doing and then your character in a movie does something to surprise you.
Q: You've also worked on several other films that will be coming out soon. What can you tell us about What Maisie Knew?
Skarsgård: I wanted to do that film mainly because it gave me the chance to work with Julianne
Moore, whom I've always thought is one of the best actresses in the business. The film is a modern updating of the 1897 Henry James novel, and it's about a custody battle between Julianne's character and Steve Coogan's character. I play the stepfather caught in between and I really loved working with the little girl Onata Aprile who plays Maisie.More at the SOURCE
Hollywood Life's teeny spoiler-
The first few episodes of True Blood's Fifth Season
offer up a parade of new characters, but viewers should be careful not to get attached to any of them too quickly. Someone we first encounter on the June 17 episode meets his untimely end a few weeks later. (Oops! Did I say
his
? Crap, I always do that.)
That Marcellus IS So Funny
My love of Bela Lugosi has no bounds so this guitar is the greatest thing ever, look at the case! Source
If you're both a horror fan and guitar player, take note: ESP Guitars is coming out with a limited edition LTD "Bela Lugosi's Tales from the Grave" guitar, which comes with a limited edition killer coffin case as well. There will be only 325 of these made worldwide.
The guitar will be featured at the 2012 San Diego Comic-Con this July and will be heavily publicized by ESP in Premier Guitar magazine's October issue.
Clips from Authority Always Wins, this 1st one was in the mistakenly released Inside the Episode last week. Valentina as Salome escorts Ike & Marcellus to HQ.
Caps from Skarsgardfans, more there.
Carolyn Hennesy did a fun interview with WhollyGastronomy, we'll be meeting Rosalyn Harris soon. Read it all at the source.
You grew up in show business with a famous aunt and a successful father that worked behind the scenes, were you one of the privileged few that just got to eat out and never wait a table a day in your life?
Oh, heavens…it was a life of leisure for me and a whirlwind of fine dining. As for silverware, I'd usually just remove the silver spoon from up out my ass. Right, now in all seriousness…no, we didn't dine out everyday. My mother was/is an excellent cook and extremely thrifty. "El Torito" or "Ah Fongs" (thank you, I just dated myself) was a rare occasion and a big night out.
Where was your first restaurant job? How long did it last?
My one and only job waiting tables (I was a hostess at several eateries, chief among them being Miceli's on Cahuenga…and that was only because I can't really sing, and you have to sing if you're gonna wait…oh, never mind. I do love their pizza. Try a slice. Tell Joe I sent you.) was at a little Mediterranean spot, the name of which I can't remember. It was disastrous; I was a walking fistfight. I was impatient with those who hadn't made up their minds. I dropped food. I couldn't have cared less. I DO remember the name of the owner…Avi…because he followed me out to my car one day after working there two weeks and demanded I hand over an even larger portion of my tips for the busboys. And I'm a good tipper. I never went back. But I still loves me a good falafel!
Another photos from Emmy Magazine, you can purchase this issue here
USA Today talks with Stephen Moyer-There are hidden hazards to being a full-time vampire. The whole interview is at the link.
The season marks big firsts for Moyer, 42. His wife and co-star, Anna Paquin, 29, is pregnant with their first child. (Moyer has two children, Lilac, 10 and Billy, 12, from previous relationships.) The actor began lobbying creator Alan Ball for a shot at directing during Season 1. After Moyer shadowed True Blood directors last year, Ball decided the actor was ready. "It's a very strong episode," says Ball. "He directed a sex scene that might be the hottest sex scene we've ever had on the show."
"I didn't get the easiest of episodes," concedes Moyer, who was charged with Episode 8, which involves complicated flashbacks. "I was terrified — not of being able to do the job, but I was scared of how the other actors would react to me telling them what to do." But "they were so supportive. It is a giant family, and there were times when I knew they had my back."
Of course, "I got a bit of sass from the wife," he says with a grin. "She was like, 'Oh, my God, this director is such a diva.'" (The show has shot around her pregnancy.) Moyer teared up when Paquin gave him a book full of stills from his episode, signed by the cast and crew.
EW put up a short review yesterday.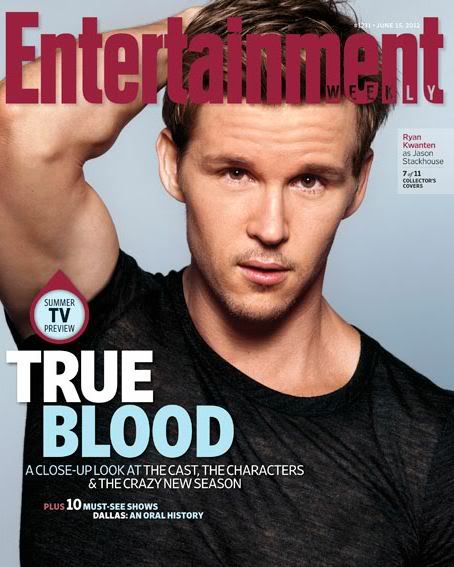 Ryan also did a Parade interview-
Ryan Kwanten
, 35, is excited that season five of
True Blood
will show a (dare we say) smarter and more mature Jason Stackhouse.
"When you look at Jason in season one he had a very tunnel view of the world and some would say an ignorant view. And now, that speech he gave to Newlin was 'Look, I accept who you are, whether it's a vampire, whether it's a gay man, or both. But that's not the way this dog barks,'" the handsome and talented Aussie told Parade.com. "That's a huge step for Jason to change his spots...Towards the end of the season, which we are shooting now, he puts the things he has learned into practice and starts to show his true colors."
On Jason possiby being turned into a vampire
.
"I don't think he would enjoy that. As much as he wants a supernatural, superhuman power, he's enjoying, almost as much as I am, being one of the few humans left in that town."
Jason: the new sheriff in town?
"Andy is sort of losing his stranglehold on being a sheriff so Jason is very much taking the reigns of authority and responsibility, which knowing his history, that's a pretty scary thing putting this guy in charge."

How he matures this season.
"Even in that first episode, you get a good indiciation that Jason, at the very least, is trying to be a better man. He's aware of his fallibilities where before there was an innocence to him. He would keep making the same mistakes, never really learning. Now he's aware how much his faults hurt him and other people. Him and Sookie towards the middle of the season find out new information about their parents. It will give the audience a real weight about what the characters have gone through and the reasons they do the things they do; why they are the way they are."
Jason's driving motivation.
"He's making a conscious effort to have some direction in life and he's making a conscious effort to put other people before himself. That's the bane of existence of being a policeman. He first joined for the cool factor, to carry a firearm and those accoutrements, but he quickly realizes there is a responsibility that comes with that power. He mans up pretty well. Towards the end of the season, which we are shooting now, he puts the things he has learned into practice and starts to show his true colors. I'm kind of proud of the way he has grown up." MORE
This is Peter Mensah as Doctore in Spartacus, he's our new Kibwe.