"I trust no one."
S
unday at 9PM
We'll Meet Again
During the episode, join the online conversation at HBO Connect by using #meetagain.The header of HBO
s True Blood's newsletter says "Lafayette Endangers Sookie." (She does such a good job doing that herself, don't lay it all on Lala.)
Sad Eric needs some Sad Charlie Brown music, that's better.
Zap2it has some spoiler hints for Sunday's episode. They say they are shocking, if they shock anyone who reads this ol' blog, well, I'd be shocked.
1. Animal Magnetism: What happens when you mix a mutually attracted werewolf and fairy with lots and lots of alcohol and nothing to lose? You do that math.
2. Angel of Death: Everyone (except for some four-legged friends) is hating on Sookie . Is it really her fault that death follows her like a duck on a junebug? Maybe some folks have a right to be irritated, but trying to kill her seems a wee bit extreme, no?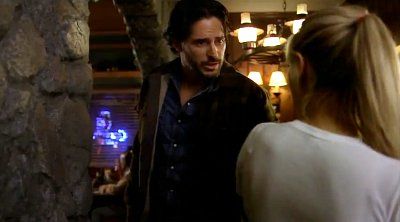 Sookie, you killed my ex but let's get drunk and I'll show you some stripper moves.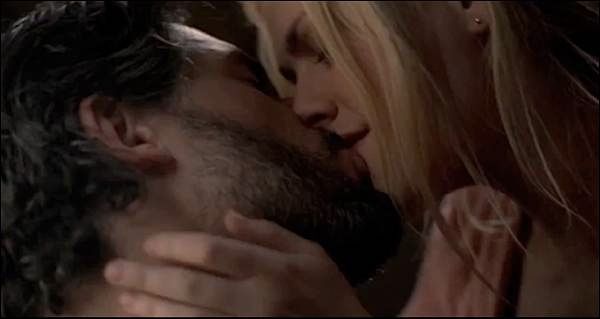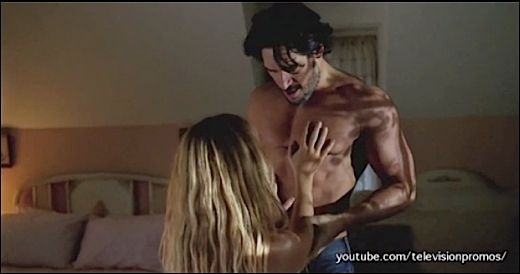 3. An Offer She Can't Refuse: Death might seem preferable after Sookie's betrayal makes an immortal enemy of one of her former lovers who needs her special gifts -- and will do whatever it takes to force her to use them.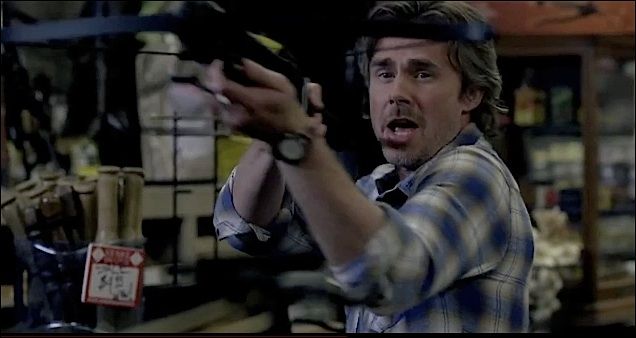 4. Hunting Party: Forget Sookie for a minute: Sam is the one who will be surrounded by corpses -- victims of violent murder -- by the end of the episode. Seems things are going to get a whole lot worse before they get better for the shape-shifting barkeep. (Shifter murders!)
5. Family Secrets: Jason's random run-in with his chatty cousin Hadley (Lindsey Haun) rocks his world, and -- once she finds out the truth -- Sookie's too. The Stackhouses will be forced to reconsider everything they thought they knew about their family's past.
After all that, EW's InsideTV tell's us Terry and the reason for his PTSD get's squeezed into the hour also.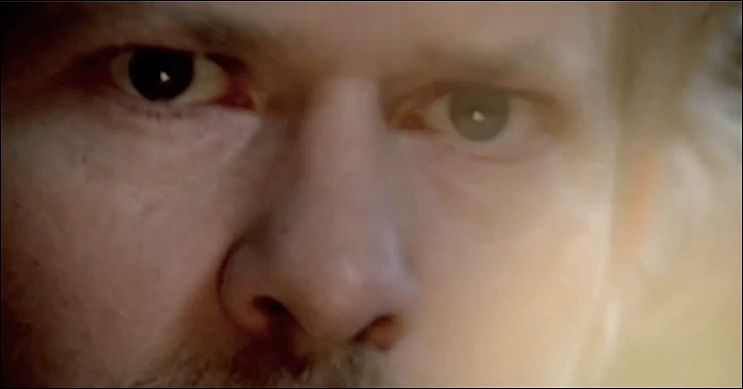 Terry (Todd Lowe) goes on a journey with former military buddy Patrick (Scott Foley) on this week's episode of True Blood, and it will give fans a glimpse into the corners of the character's mind that are still plagued by memories of war.
Via flashbacks, fans will see Terry's war experience, and reveals will be made that will help propel the character's storyline until the end of the season. (Yes, it involves guest star Brian Gherity and, yes, there's a supernatural twist!) But creating the Middle East in the middle of a California desert was not an easy feat. And Lowe credits production designer Suzuki Ingerslev for the scenes viewers will be treated to this Sunday. "She makes magic," he says. "There are a lot of people behind the scenes who make the show look as good as it does."
Meanwhile, he adds, Terry's experience while away will definitely test his relationship with Arlene (Carrie Preston). "It's a lot for a wife to put up with — a husband saying he's leaving unannounced to an undisclosed location. I can't speak for Carrie, but for the character Arlene, she has to put up a lot with Terry's history and past. So we're going to be trying her patience a little bit this year," he says.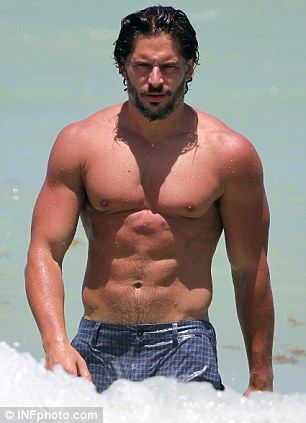 Jarrett from The Insider has Magic Mike-itis, but I will just get to the True Blood goodies-
Insider.com: What have you enjoyed about Alcide's arc so far this season?
Joe: Sunday's episode is one that fans have been waiting three years for! Really meaty with the storyline involving Debbie's parents. Everything picks up in a big way this week. You'll see Alcide dealing with Debbie's parents now that he knows what Sookie did. You'll also see him deal with Sookie after dealing with her parents, which is some heavy stuff. He's such a stoic man of few words and the writers really found some situations and scenes and was to give him some really great material.
Insider.com: How much does finding out Sookie killed Debbie, turned Tara and lied about it affect Alcide's take on her?
Joe: It's a really complex set of emotions. I mean, number one, he's dated Debbie since they were kids. There's a sense of loss, a sense of guilt and lots of remorse because he couldn't cure her permanently. There's sadness in her being gone, but also a sense of understanding because Debbie had pointed guns at Sookie multiple times. Alcide knows how crazy she was. So there's a bit of relief too because that can't happen again. But then there's confusion and anger over why Sookie didn't bring this to him immediately. Why she was not only lying to him, but planning to keep lying to him. There's some betrayal there and all of that is wrapped up into one. Alcide is dealing with this Incredible Hulk-style anger. And once the wolf starts rising up, he knows that he won't completely be in control.
Insider.com: Should Sookie be afraid of Alcide? (and his swinging Johnson?)
Joe: I think he feels the anger rising so it's more of a sense of needing to extricate himself from the situation because he's afraid of what he might do when pushed to the edge. It's like when you get in an argument with your significant other, you go for a walk to cool off. Imagine going through that as a werewolf and it's more like, I need to cool off so I don't smash this wall, I don't flip this car, I don't attack somebody that I love.
Insider.com: This season also brings Robert Patrick in as Jackson, Alcide's dad. How was it working with him?
Joe: He's awesome. I love him. He brings such a depth to the character. The two of us have such great chemistry on set. It's one of these classic father/son relationships where they don't say a lot, but there is so much conveyed non-verbally. You'll see what a really bad example of werewolves his father set for him and how that's made Alcide sees it as a curse.
Insider.com: Looking at the rest of the season, what else are you excited for fans to see?
Joe: I've been waiting for three years for what happens to Alcide in the finale, so I'm very excited for fans to see that. For me, it's a great ending. I see it as the end of the third act for my character. MORE
Good interview from AccessHollywood with the beauteous Kristin Bauer, at the link you can read how she went to see Magic Mike with her GFs. Here's some of it-
Access: This season on 'True Blood' it was revealed that Pam had gotten together with Eric (in her backstory). When you saw that in the script – and you're friends with Alexander Skarsgard – what went through your head?
Kristin: I have such comfort with Alex and such trust that I just kept trying to picture what I wanted the scene to look like, because we've waited so long for this… We've known Pam for the last five years, and she's 100-and-some-years-old. We know that she's pretty unapologetic, she's pretty blunt, she's pretty harsh, she really only has affection for one person and then [as an actress, I] work my way backwards and go, 'Wait a minute, what would be the genesis of that? How do I find the vulnerability? I have to show the vulnerability because we have to understand why she leapt into this other life and chose it.'
Access: You actually got to kiss Alex for the first time. He talks about those kinds of things as part of the job, but when you actually have to kiss a friend – after all this time – it seems like it would be a little weird.
Kristin: Yeah, I know. [But] for some reason, it didn't feel weird… But Stephen [Moyer, who plays Bill Compton] and Mariana Klaveno [who plays Lorena]… they were standing right outside the doorway to that room in the brothel… So we kiss and [Alex] sort of scoops me and twirls me out of the scene — one of my legs is incredibly tangled up inside the skirts… I'm battling with this fabric and six inches from Stephen and Mariana who are staring at us like they're watching their parents make out.
Kristin: I look at them and go, 'What?' and they go, 'It's like watching our parents kiss.' I'm like, 'What do you mean by that!' So there's always this difference between the experience of filming it and then what it looks like, and I felt like when I watched it that it was good. It was perfect.
Access: Why do you think Pam needed to escape the life she was in by slitting her wrists in the hopes that Eric would turn her into a vampire?
Kristin: I feel, from an actor's viewpoint and talking to Raelle Tucker, who wrote that episode, she had to force the issue with Eric. She could see that he wasn't gonna do it, and also, it shows the same Pam that we know today — that she's a very committed, ballsy person and that she also really was only giving up five years of life. She was saying, the story doesn't end well for women in this time… I will die alone, horribly. It shows that bold character that we know, and it also, to me, really represented how unbelievably happy she is and unapologetic about being a vampire. She had no love for humanity. She chose this, she forced this and then the fact [is] that he really does save her.
Access: What's coming up in the Pam/Eric storyline? He's in some trouble again.
Kristin: What is coming up, is we see a couple of things. One is the depth to which the Vampire Authority is affecting all of our lives and how extreme the situation could possibly get and it forces us into making tough decisions and we see on the [promotional] billboard – 'Everything's At Stake' – and I think, yeah, it is. So much of what Pam values, which is mainly her relationship with Eric — even that is now at stake. MORE
Celebuzz also has some more Kristin goodness-
Celebuzz: How do you think Pam is dealing with being a maker?Kristin Bauer van Straten: It feels as if it was a simple deal. "Maker? I don't even like her, she's been trying to kill us. Let her die, who cares if she's standing there sobbing." We're going to see the next evolvement of that on Sunday.
CB: What can we expect from that relationship?
KB: Pam is going to have to do some tough love… Pam and Tara are actually similar creatures in a lot of ways, so they're going to butt heads a lot. And I love that Pam always wins. I'm not even sure how it's going to wrap up yet. We haven't filmed [Episode] 12 yet, but it's been a fascinating year to play the estrangement from my maker and then being a maker… We're going to find out if Pam has a heart for anyone besides Eric — very deep, deep down inside.
CB: Is it possible that Pam and Eric's relationship is coming to an end?
KB: It can't be. I think that it can't. There has to be that bond between Pam and Eric. They have to survive everything. It just has to or I won't be able to take it. MORE
Video from last years SDCC, doesn't it get you anxious for this year's panels?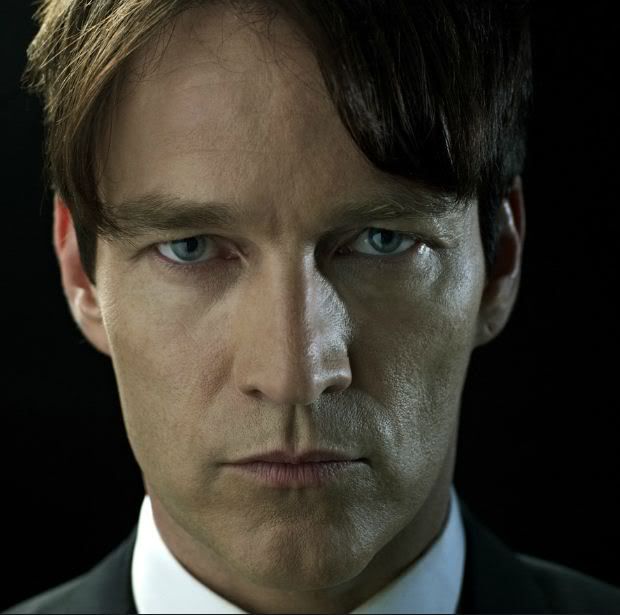 "True Blood" and The Barrens' Stephen Moyer has joined the cast of Devil's Knot in a lead role, says Deadline.
The "True Blood" vamp will play prosecutor John Fogelman in the film about the wrongfully convicted and imprisoned West Memphis 3. He joins Colin Firth, Reese Witherspoon, Alessandro Nivola and more in the cast. He will begin work on the Atom Eyogen-directed film immediately to fit in shooting around his schedule for the HBO vampire series.
Devil's Knot tells the true story of how, despite no psychical evidence, teens Jason Baldwin, Damien Echols and Jessie Misskelley were found guilty and jailed for a triple homicide in 1993. They were finally released last year. The movie is based on the 2003 book "Devil's Knot: The True Story Of The West Memphis Three" by investigative reporter Mara Leveritt. More
More on the SDCC Panel from EW-
True Blood
panel in Ballroom 20 will once again be moderated by Tim Stack of
Entertainment Weekly
. Panelists include: Alan Ball, creator and executive producer, and cast members (in alphabetical order): Kristin Bauer van Straten (Pam Swynford de Beaufort), Nelsan Ellis (Lafayette Reynolds), Ryan Kwanten (Jason Stackhouse), Joe Manganiello (Alcide Herveaux), Christopher Meloni (Roman Zimojic), Stephen Moyer (Bill Compton), Anna Paquin (Sookie Stackhouse), Alexander Skarsgard (Eric Northman), Sam Trammell (Sam Merlotte), Rutina Wesley (Tara Thornton) and Deborah Ann Woll (Jessica Hamby).
HighlightHollywood has a synopsis of "We'll Meet Again" and more at the link.
This week in Hollywoodland Highlight Hollywood has an exclusive sneak peek into the fourth episode of "True Blood," and here's what you can expect on "We'll Meet Again," plus interviews with Kristin Bauer van Straten and Giles Matthey about his upcoming new role on "True Blood" as a fairy. Sam Trammell's been cast in the Indie film "White Rabbit" and tomorrow you find out why Sookie's "the angel of death," or is it Sam Merlotte? Plus, a preview of HBO's "Newsroom," the second episode, "Dallas" has been renewed on TNT and more news from Hollywood. Have a great weekend!
Tomorrow night HBO will be airing "True Blood's" latest "We'll Meet Again." As we previously reported on Monday, Eric (Alexander Skarsgård) and Bill (Stephen Moyer) have doubts they will survive the search for Russell, especially after they are initially rebuffed by Sookie. (Denis O'Hare). Sookie (Anna Paquin) opens up to Alcide (Joe Manganiello), but it costs her big. An irate Lafayette (Nelsan Ellis) unwittingly puts Sookie's life in danger, and she faces another potential tragedy. At Authority headquarters, Roman (Christopher Meloni) and Salome (Valentina Cervi) continue interrogating Nora (Lucy Griffiths) about the Sanguinistas – and a possible traitor within the Council, and we get closer to learning who dug up Russell.
An exasperated Pam (Kristin Bauer van Straten) forces Tara (Rutina Wesley) to toe the line, while secretly admiring her spunk. Andy (Chris Bauer) and Jason (Ryan Kwanten) go to a burlesque party, and find a secret that blows Jason's mind! Sam's (Sam Trammell) shifter friends invite him for a run, and it's just what he needs. Terry (Todd Lowe) flashes back to a deadly night in Iraq, and viewers find out a little more about his past as a Marine. Hoyt (Jim Parrack) tests the fangbanger waters, and will shock the audience, what is real mission is. Sookie drowns her sorrows, again! More
From Carolyn Hennesy's twitter today (Saturday)-Yesterday was my last day of filming for this season of TB. Without question, one of if not THE best experiences of my career. GO TB!!!!