True Blood is almost here, let's dance!
Kate A.: True Blood scoop! Who brought Russell back?
Excellent question! Let's ask him, shall we? "It's somebody who nobody knows yet," Dennis O'Hare tells us. "It's a surprising character. And I think you get a hint in episode two, and then a big hint in episode five." One thing we do know for sure: Russell did not grow softer while buried in the cement...except for one thing. "He's still vicious, he's still dangerous, he's still highly charming, but they added all this stuff to him. We get to see him fall in love!" Awww! Ain't nothing sweeter than a former vampire king falling in love, right?
Jeanette in Lansing, Mich.: So is Tara dead or what? #TrueBlood
"[I'm] definitely coming back, just can't tell you quite how," Rutina Wesley reveals to us. "The interesting thing, for me, is the fans watching Tara recover. She kind of becomes a new woman. The journey she's about to embark on is out of control." Out of control in a sense that she's now a ghost yelling at Sookie from beyond the grave? June 10…get here already!
TVGuide's Natalie Abrams discusses Tara-
Bon Temps is not an easy place to live, and Tara Thornton is one native who's suffered from sticking around her hometown.
Tara paid the price for being Sookie's friend in the Season 4 finale of True Blood when she selflessly jumped in front of the shotgun blast that Debbie Pelt intended for Sookie
. The finale left fans wondering if Tara could possibly recover from the giant hole in her head, as Sookie cradled her seemingly lifeless body. Will anyone come to their rescue?
"Tara is still a part of the show," creator Alan Ball told TVGuide.com at the True Blood Season 5 premiere party on Wednesday. "I'm sure fans have a lot of different ideas of how that could be possible, and one of those ideas is correct."
One theory is that vampires Bill and Eric would somehow help shared love interest Sookie, even though she had decided not to be with either of them. "I can tell you that Bill and Eric can't come running to the rescue," Wesley tells TVGuide.com. "They just killed a member of the Authority, so they're going to have a big mess to clean up themselves, so Sookie's going to have to figure this out on her own. But, you know, she's strong and resourceful and doesn't need a man to figure out her problems."
However Tara returns — whether that be as a ghost, a vampire or back to her human self, revived by vampire blood — Wesley says the once sisterly relationship between Sookie and Tara will be significantly different after that night. "That's going to be the interesting part to watch: Tara's reaction to Sookie and Sookie's reaction to Tara," she says. "All I can say is it's charged." So it could still be that Lala is channeling Tara while he's yelling at Sookie that she's the angel of death, or not.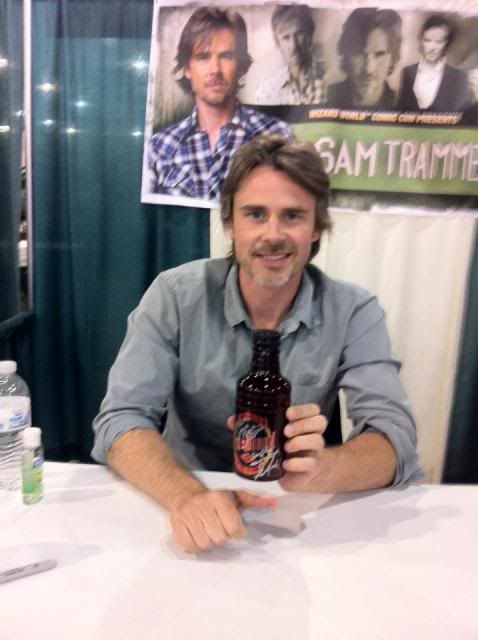 Sam Trammell is such a doll, from me that is a big compliment. Thanks to Shelita who went to Philicon last weekend-
Sam Trammell with my autographed bottle of True Blood
B-Sleuth has some great pics from the after party, Jersey girl makes good.
Oh no, he's going to make Denis jealous for this hat, ok, I even want this hat.
First photo of Dale Dickey from the premiere and it's B who got the pic! Same thing with Anna Camp, I didn't know she was there till now, go check out all her photos they are great, Skarsgardfans.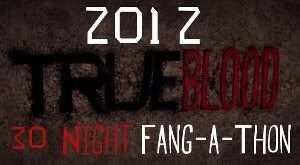 Janina and her mom at the premiere, from her twitter.
You can get some of the jewelry as seen on True Blood from the designer HERE