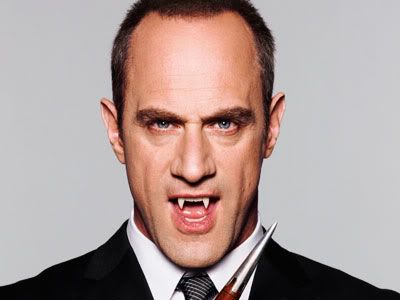 Christopher Meloni talks to TVGuide, whole interview at the link.
Following such a long run on SVU, what was it about True Blood that made you want to join the series?
Chris Meloni: I don't think you could go farther afield from SVU than joining the world of Bon Temps and the whole True Blood werewolves, werepanthers, faeries and vampires running around. That was what it was. I really was just looking for something absolutely completely different than the world that SVU had.
Was it hard switching gears or were you totally game for it?
Meloni: No. From the moment I decided to move on and try different stuff I was completely open. I'm ready to roll and I was very happy that this was one of the first projects that came my way.
Tell us about the Vampire Authority and what their beliefs are.
Meloni: I found it interesting that they carry on the polarizing aspect of politics today, which I think there's a lot of set-in-stone fanaticism in politics today and in the world, whether it's Islamic or Christian or Tea Party whatever. So Roman is a guy who's absolutely certain about his beliefs, which is coexistence with humans. On the surface it seems reasonable and right, and yet people can get caught up in their own sense of power and rank and maybe they go too far with implementing their beliefs. So the Authority is the governing body of all vampires and they're trying to dictate how vampires will operate in this world in coexisting with humans.
What is Roman's role within the Authority?
Meloni: He's the political and spiritual leader, whether he's self-appointed or not, we never get to.
How will the Authority be dealing with the impending civil war between those who want mainstreaming and those who don't?
Meloni: Kill them all. Reasoning can only go so far, then you've got to resort to the stake.
Does the Authority fear Russell?
Meloni: Yeah because he truly does have incredible strength as a vampire because of his age, so I think he's a natural enemy. On top of it, I think he's unstable. There's nothing worse than an old, psychopathic vampire. MORE
THR also interviewed Mr Meloni- I'll post the things not in the above interview and as always go to the link for the whole read.
"His unbending drive to get what he wants," says Meloni, who spoke to THR from the set of the upcoming Jackie Robinson biopic, 42, in which he plays Brooklyn Dodger manager Leo Durocher. "I think on the outside if you're with him, you agree and you want to follow someone like that. If you disagree, then you think he's a fanatic."
Although Roman may be one of the older vampires in town, Meloni says his character isn't as wise as his years. "You know who acts like that? A child," he says. "And I thought that was what kind of funny about it. Here you have this very impressive entity, yet underneath it all, he's a big old baby."
True Blood is known for his supernatural drama, and it's heavy-dose of sex scenes, which can range from slightly strange to extremely twisted. Fans of Meloni have been wondering if his character will get to do any bed hopping this season.
Meloni tells THR he wasn't sure if he could reveal that particular piece of information, but did hint, "I am in bed. With my lover." (I think it's Salome)
Justjared has pics of Joe at the airport like good stalkers would. Below Joe talks Magic Mike with The Morning Show on Global.
Interview is in English y Espanol-
I think this video below is from FYeahJoeManganiello, the best source for Joe info BTW (their tumblr too), I don't know much about Viddler yet. He seems very down to earth in this vid.
This set from "Abraham Lincoln:Vampire Hunter" is exactly how I imagined Damon Julian's decrepit Southern mansion looked on the plantation in "Fevre Dream".
This casting news was posted on True-blood.net last night also-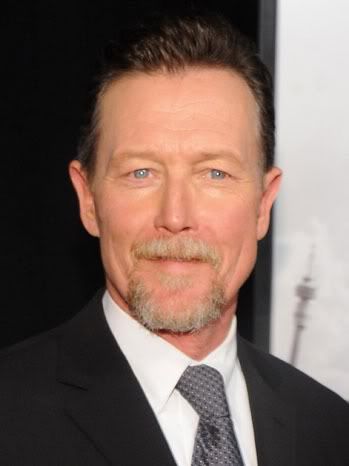 The Alan Ball vampire drama has enlisted Terminator 2 star Robert Patrick for a recurring guest role as Alcide's father Jackson Herveaux, The Hollywood Reporter has confirmed.
Patrick will first appear in a flashback episode that depicts Alcide
and Debbie Pelt
as teenagers in the 1980s. At the time, Jackson was said to be a "powerful, inspiring and heroic" guy, but in the present, he's given up on life.
Jackson, as a way to repay his father's debt to Eric
, also stands as the reason that Alcide first agreed to help Sookie
search for Bill
during Season 3.
He's scheduled to make his debut in Episode 9, slated to air Aug. 5 and titled "Everybody Wants to Rule the World."
In addition to appearing in
True Blood
, Patrick will next be seen in ABC's upcoming freshman drama
Last Resort
, in which he plays the master chief of a NATO sub in the series from
Shawn Ryan
(
The Shield, Terriers
).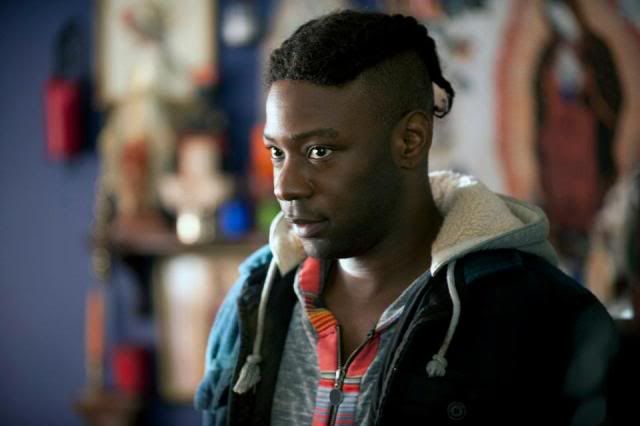 This is a Lafayette Theory from Vulture on how good an episode of TB will be, now I will have to watch out for it.-
True Blood's a strange show. Not just because of its constant sexual assaults, or its inability to focus on one story line, or its more-is-more attitude about the supernatural — though of course all those things are true. True Blood is the type of strange show whose main characters are by far the worst and least interesting of the bunch. Everyone knows Lafayette is the best character, but beyond that he's also a microcosm of the show. When things make sense for Lafayette's character, things make sense on True Blood. Yes, it's rare on both counts.
It's not that things have to be happy for Lafayette for the show to be enjoyable. (No one on True Blood is ever happy, except sometimes Jason, and he has the mental capabilities of a cucumber.) But are cogent stories too much to ask for? In season two, Eric kidnapped and tortured Lafayette, and the beloved Merlotte's cook suffered from PTSD and vague eroticized Stockholm Syndrome. Sad, yes, but great TV! The second season fell apart, though, as Lafayette and most of the other characters fell under Marianne's weird orgy spell. No more weird orgy spells, True Blood. Not coincidentally, Lafayette did not have any real interesting stories in season three, and that's the season that is by far the most forgettable. (The less we see of Sophie-Ann the Vampire Queen, the better.) Lafayette's slow, reluctant introduction to the witch community in season four was great, and the first few episodes seemed like a return to season-two silly fun. But then Lafayette and Jesus went to Mexico, and someone dream-killed a goat, and then Lafayette channeled Tio Luca, and then he became a medium, and the constant spirit possession stuff just became too much.
For the first ten seasons of Law & Order: SVU, you could tell within the first few minutes how good the episode was going to be based only on how good Mariska Hargitay's hair looked. A nicely groomed Detective Olivia Benson means a solid episode; too much hair gel and overly "piece-y" bangs means the episode is skippable. There's a similar test for True Blood: Does Lafayette appear in a meaningful capacity in the "previously on True Blood" segment? If so, that's probably going to be a decent episode. If not, that's because you don't need to be refreshed on what his story line is, which means it's either lousy, insignificant, or disconnected from the rest of the plot — which is a bad, bad sign. Not as bad as the reemergence of the werepanther stories, but bad.
Regard Magazine also did an interview and photo shoot with Carolyn Hennesy, they did one with Kristing that we featured earlier this week. Again I have to say, stunningly beautiful photos. Full interview here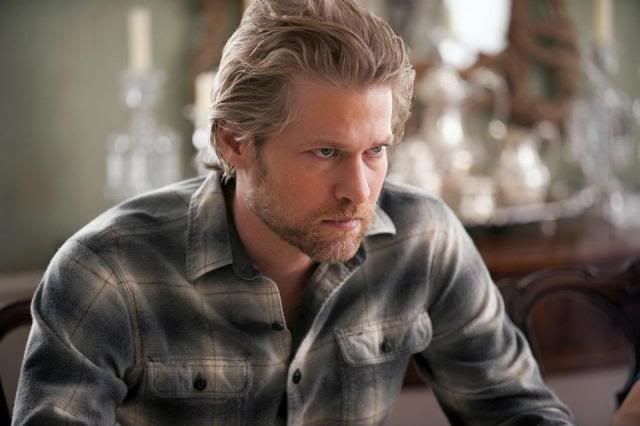 Jarrett from The Insider does a Q&A with Todd Lowe! M
ore at the site HERE
True Blood's recently launched fifth season made good on a promise the 2011 finale hinted at by giving fan-favorite Terry Bellefleur a sizable storyline worthy of actor Todd Lowe, who many of us first came to love as Lane's leading man on Gilmore Girls. Zack fans will be pleased to hear that Todd and GG creator Amy Sherman-Palladino will be reuniting this summer on her new ABC Family show, Bunheads, when Todd plays a Paradise resident -- a role he tells me will be 180 degrees away from hisTrue Blood character.
What excited you about Terry getting such a sizable storyline this season?
Todd Lowe: I've been on the periphery of the show up until now, as a comic button, but I've gotten some heavier more dramatic stuff to play this year. It's been great.
Insider.com: What are you excited for fans to learn about Terry this year?
Todd: Fans are going to be rewarded because we do go back and see why Terry has been so odd in seasons one through four. We see the cause of that. We know this from the premiere, fire is going to play an important part in Terry's storyline and we're going to see the cause of that. We're going to see why fire is so integral.
Insider.com: Will we see more of Mikey, Terry and Arlene's ghost-loving son?
Todd: Mikey has been asleep upstairs for most of the season. And he stays upstairs for most of the season.
Insider.com: The arrival of Scott's character Patrick has led to some tension in Terry's marriage. Will that continue?
Todd: Yes, the marriage is going to be tested in a big way. I don't want to stray too far from having Carrie Preston as a scene partner because I think we have great chemistry and it's one of those things where our eccentricities mesh well together. I hope that our marriage stays in tact, but I can't promise that it will.
Insider.com: Looking at season five as a whole, what are you excited for fans to see?
Todd: This season, viewers who have stuck with us and know the mythology are going to be rewarded. We go deeper into the supporting characters, while still maintaining the dynamic between Sookie and her suitors. I think it's more streamlined than it has been in seasons passed, and those hardcore fans are going to be rewarded with more information about the supporting characters.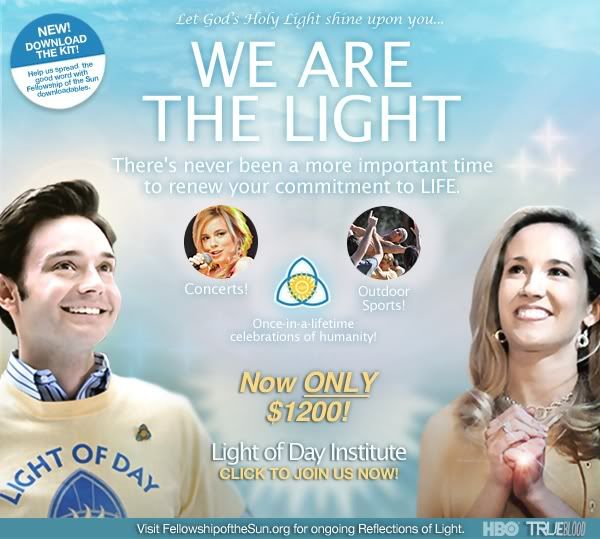 Joy Parade thank you, who ever you may be for posting on Viddler, transcript posted on yesterday's blog.
Sam Trammel is doing the Vegas thing this weekend too, PLANET HOLLYWOOD RESORT — Actor Sam Trammell helps Gallery Nightclub celebrate the new season of True Blood. The club will become Merlotte's Bar, incorporating a sexy bayou theme accompanied by entertainers and lingerie-clad acrobats dressed in seductive Southern attire. Pussycat Dolls Burlesque Saloon will change into a Fangtasia-inspired venue, as the Pussycat Dolls dancers evoke a vampire-glam style on the burlesque stage. [EaterWire]