Five more days to go, get the Maker's Day App from Facebook HERE
Emmy Magazine is previewed here, more great photos HERE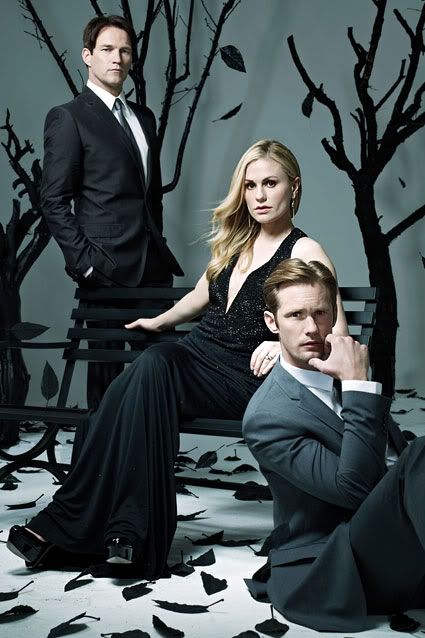 True Blood stars Alexander Skarsgard, Anna Paquin and Stephen Moyer are featured in Emmy Magazine's annual For Your Consideration Issue and ETOnline has an exclusive sneak peek at their stunning photoshoot.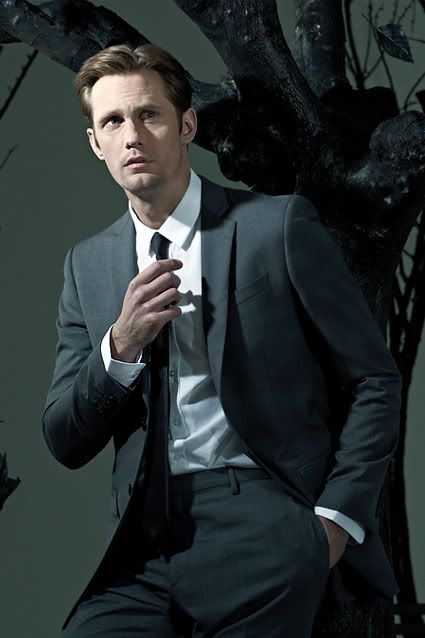 There's an interview with Ryan in in-flight JetStar magazine by David Smeidt, you can skim through it HERE it starts on page 32.
It's a rare celebrity interview that begins with an apology, but then Ryan Kwanten is a rare celebrity. "I'm sorry we had to move the time around a bit," he says, his Australian accent tempered by the odd flat Californian vowel. Truth be told, rescheduling is par for the course when trying to eke a few minutes from a schedule that's more packed than the red carpet on Oscars night. Aside from playing hyper-sexed, somewhat troubled Jason Stackhouse on the vampire juggernaut that is the
True Blood
television series and writing a book that satirises the self-help genre, Kwanten is also starring in the new Australian movie
Not Suitable For Children
.
More screencaps at Skarsgardfans, wheeeee!
Denis O'Hare is still filming, from his twitter-

Fantastic day of shooting yesterday on the old TB. Another great episode written by Alexander Woo and Directed by Scott Winant. I'm Lucky.
From Megabuzz-
I can't wait to see Russell Edgington again on True Blood. Got any scoop on his return?— Mark
NATALIE:
The former King of Mississippi will be getting a new love interest this season, and it's someone we've already met! Here are a few clues straight from
Denis O'Hare
: "He's taller than I am, but he's not as good a dresser," he says. "On hair terms, we're on par, neck and neck because I wear a wig, of course, but his hair is pretty rockin'. I think I still win on the hair thing." Could Russell's new lover be the same person who dug him up from his concrete grave? "No, I have many fans, many people working for Russell," O'Hare adds coyly. Oh it is really sounding like NEWLIN to me!
From TVLine's Ausiello-
Question: Wait… you get to
seeTrue Blood episodes
before they premiere!? —Kevin
Ausiello: Um, yeah. That's kind of how this whole thing works. I've actually already screened the first four episodes of True Blood's new season and, based on what I'm seeing so far, I feel very comfortable declaring Season 5 the year of the Pam. Between the origin stuff with Eric and her present-day storyline with [SPOILER], Kristin Bauer van Straten's vamp is practically in every other scene — and the show is the better for it. I'm starting the 2013 Emmy campaign for KBvS now. The woman is a national treasure! (The folks at Walmart will probably beg to differ after they watch Sunday's premiere, but whatevs.)
Question: Anything else you can share on Tina Majorino? Love her. —Tim
Ausiello: Her first scene is with Eric and Bill. A shirtless Eric and a shirtless Bill.
Question: Can't wait for True Blood this Sunday! Is it safe to say Russell is back to exact revenge on Bill and Eric? —Yvette
Ausiello: "Russell doesn't forget anything, but he's also smart enough to know when to let bygones be bygones — for tactical and political reasons," the king's portrayer, Denis O'Hare, tells TVLine. "There may be a greater good."
From Eonline's Kristin-Janea in Placentia, Calif.: I was absolutely devastated for Lafayette last year when Jesus died. I don't think he can handle losing both Tara and Jesus!
Come on, y'all, this is
True Blood
! Just because someone "dies" doesn't mean they're gone for good, right? We caught up with the sexy nurse himself,
Kevin Alejandro
, and he tells us audiences could be seeing this
brujo
again. "My character definitely has a role in this season, but I can't tell you how." Alejandro teased. "I'll tell you this, the death of Jesus really has affected Lafayette (
Nelsan Ellis
) in a very dramatic way, so you can expect to see how he deals with that and how it affects the other people around him. There's a lot more depth to Lafayette that audience is in store for, hope you're ready for it!" Please, we've been ready for months!
Kandice in Austin: Can I try to glamour you into giving us some True Blood scoop?!
Well you could try, but we were going to give it up anyways! We've seen vampires, witches, werewolves and fairies, but now there's a new kind of mythical being in Bon Temps. At the end of last season, we met Patrick
, Terry's commanding officer in Iraq, who will be heavily involved in this season's drama. Foley explains, "We're going to see a lot of Terry figuring out who he is and coming to grips with what he has done in is past, especially over in Iraq. And we're going to find out whether Terry and Arlene stay together." But what is it about Patrick that makes him so important? Foley teases, "I bring in a substantial supernatural element to the show that hasn't been seen yet." Start the speculation fangbangers!
So is the Iraqui Woman a ghost, Ereshkigal (Mesopotamian queen of the dead) a demon, an avenging spirit, Pazuzu ?
Q&A with Composer Nathan Barr
by Gianna Sobol
As the season premiere nears, Nathan Barr is busy scoring upcoming episodes, getting everything in order for an on-time delivery. I stopped him for a few minutes to talk about his music, his most memorable scenes, and what it's like being the guy who scores True Blood.
Gianna: You've been with True Blood since season one, how did you find yourself composing for this show? What was the hiring process like for you? Did you go after the gig or did Alan come to you?
Nathan: My score to Hostelserendipitously ended up in the cutting room and was temped into the pilot, so when it came time to interview composers, I was on the short list. I met with Alan and several other editors and producers and pitched them my musical take on the show. In a nutshell, since the songs were going to handle the regional Southern feel, the score could steer away from slide guitars, harmonicas, or any other instruments which might have been a bit on the nose. Following the meeting, I believe Alan went away on vacation with a stack of my cd's and those of one other composer, and upon returning I got the call that I was going to be hired. It was a very exciting day.
Gianna: How has the show changed -- at least from your perspective and regarding the work that you do -- from season one to now?
Nathan: Since season 1, the amount of score has increased dramatically. I am currently at work on Season 5 and on average there is a solid 10-15 minutes more score per episode than what was required in Season 1. The scope of the story in the show has also blown up quite a bit, and so the score has followed that journey by becoming a bit more grand and orchestral. It still has all the flavor and tone of what was established in season 1, it's just a bit bigger. This shift began in Season 4 with the massive Faerie sequence which kicked off the season. Ever since, an orchestral palette has been a part of the show. In addition, there are always new and interesting characters who require new themes.
Gianna: What was the hardest scene you've had to score and why?
Nathan: Generally at the end of each season there are a couple of intense action sequences. What comes to mind are the Maenad wedding ceremony at the end of season 2, and the "Bill and Eric burned at the stake" sequence at the end of season 4. In addition to being longer cues -- sometimes over 10 minutes -- these sequences also require a lot of detailed musical work so all the various beats throughout a scene are covered. These scenes are often the most difficult and time consuming.
Gianna: What's your favorite part about working on this show?
Nathan: My favorite part of working on the show hands down is the people. Everyone I work with in post is so supportive and excited about the show, and this creates an environment that is ripe for creativity. On many shows, there seems to be some sort of a 'fear factor' driving things. That element is not at all present on True Blood.
Gianna: Anything you can tell us about the upcoming season? Have you started working already? How's it going?
Nathan: I am just finishing the third episode in season 5 as I write this and it's going wonderfully. I just finished writing the theme for Salome, which takes the score into new territory. Every season has a new set of surprises and challenges from a musical standpoint and that keeps the whole process very fresh and exciting.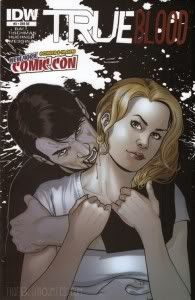 True Blood Comics has an interview with Mariah Huehner, who co-wrote (with David Tischman) "True Blood All Together Now" and "The French Quarter". She talks about working with Alan Ball, the writing process and how she got the gig.
That's all the Maker's Day Ecards on Facebook