AccessHollywood has a Trueblood rundown for Season 5, with links for all the premiere interviews. There's more goodies HERE.
True Blood" returns for its fifth season on Sunday, and Denis O'Hare said to expect a refreshed take on Season 3 favorite, former Vampire King of Mississippi, Russell Edgington.
"What everyone is expecting, is that he's going to come out of the ground, spitting sparks… and what they've done is satisfied that, but also given you something else, which I think is really smart," Denis told Access Hollywood last week at the premiere of HBO's pulpy vampire drama in Los Angeles. "We get to see a different side of him and a lot more of the humor — without losing the viciousness — which is great."
Season 5 is being set up as a battle between the vampires who want the bloodsuckers to live in harmony with humans (mainstreamers) and those who don't – like Russell.
"He's an anarchist; he doesn't believe in joining groups; he doesn't believe in actually obeying rules, so I think it's really hard for him to be in any sort of framework, so he might play along for a little while," Denis teased.
Alan Ball (Creator): "It is really the most epic season," he told Access. However, star Anna Paquin's pregnancy won't affect her character – fairy/human/waitress/butt-kicker Sookie Stackhouse – but it will affect her wardrobe.
"I actually heard from the costume designer midway through the season, she said 'Sookie can't wear a Merlotte's T-shirt anymore.' And I went, 'Well, it's a good thing Sookie really isn't at Merlotte's anymore, she's basically trying to save the World' outfits," he added. (so she isnt at Merlotte's this season, Whaaaa?)
Kristin Bauer van Straten on the reveal of Pam's backstory: "It explains her personality and her connection to her maker, and her unsympathetic nature, and I also feel like why she takes such effort to dress."
Nelsan Ellis on Lafayette moving on without Jesus: "He's a bit dreary… It was a powerful romance and now he loses him, by his own hand… but he comes out of it."
And on how his character might deal with life-threatening situations in the future: "If Lafayette's life is in peril, he has acquired some skills where he can thoroughly defend himself."
Sam Trammell on the troubles ahead for Sam Merlotte: "Physically, it's probably the worst season. I get hurt pretty bad this year. No human being could survive the amount of physical abuse I take this year."
EW has 11 different covers out on June 8 and behind the scene photos from HBO.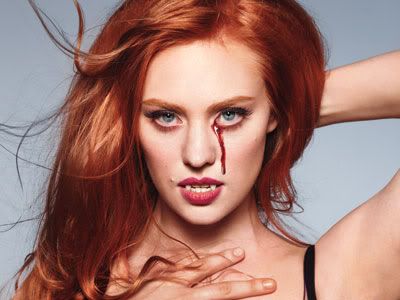 When penning the fifth season ofTrue Blood, the frightening yet disarmingly funny vampire drama that returns to HBO this Sunday, creator Alan Ball found inspiration (in all places!) by watching the scary-in-their-own-right presidential primaries."My first instinct about going into religion and politics was from watching Michele Bachmann, who thinks she has a direct line to God." Ball told EW. "What would happen if she became president? A lot of right-wingers would like to see a theocracy in America. From there we thought, 'What would a vampire theocracy be and how would you justify it? What kind of impact would it have on humans?'"The result is a battle between the Tru Blood-sipping Authority, headed by Roman Zimojic (Christopher Meloni), and religious extremists like the Sanguinistas, who believe humans were created by God for one purpose only: to serve as a hearty meal. "Sanguine is from the Latin word for blood, and I was trying to find a name that like a real movement," explains Ball.