Dieter and his finger on the button, zap! Screencap from Skarsgardfans
7 Questions with Christopher Heyerdahl HERE
Hmm, this is an interesting spoiler, since that door in the Authority's chamber is where I thought she'd repose all Queen of the Damned-like (if you read the book you know what I mean).
MegaBuzz-What's coming up on True Blood? — John
NATALIE:
You know that creepy story we heard this week about Lilith, the first vampire, for whom Adam and Eve were supposedly created as food? Well, guess what? We'll actually meet her this season — but not everyone will believe that she is who she says she is. "I don't know if Roman believes it," Christopher Meloni tells us. "He puts on the garb of a spiritual leader, possibly with a wink and a certain cynicism, so he's willing to take that bet now that [she] isn't real."
From Ausiello's Spoilers-
Question: I'm on the fence about this season's True Blood. Tell me something that will make me want to stick with it. —Lori
Ausiello: Three "couples" will have sex for the first time in this Sunday's episode.
Question: The previews for True Blood seem to spell doom for Arlene (Carrie Preston). First Andy seems to be questioning someone about her whereabouts, and now Tara's attacking her in her freezer. —Kellen
Ausiello: There's a pretty dramatic death in the next couple weeks, but Arlene is not the victim. In sorta-related news…
Question: Any plans for Carrie Preston to return to The Good Wife? —Caroline
Ausiello: Yep! "They definitely want me back," Preston tells TVLine. "We're just trying to work out the details. HBO has been very kind in giving me permission to do some more."
The Fangover: Who Are the Authority?; Mellen-campiness
and Baby Werewolves; Pam Leaves a Maker's Mark
What do we know about the Authority? They're ancient. They're powerful. They're diverse. They preform blood rituals in Aramaic. And one of them was a cast member on Law and Order: SVU. Find out secrets of the Authority in this cast and crew video MORE
what you didn't see in this week's episode, but may have caught in the HBO Go interactive features, is a little snippet of Sarah Newlin's literary output: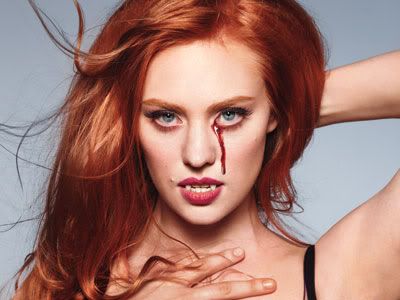 It's a Deborah day in the neighborhood, Q and A with Vulture, more at link.
She's already chased off Newlin twice. Isn't she just fighting her feelings for Jason because of Hoyt?
They obviously have a very strong attraction to one another and a lot of chemistry, but they did start in a guilty way, betraying Hoyt. It's going to take a lot of healing before they can move forward as a couple. She doesn't want to hurt Jason the way she hurt Hoyt. Right now, she's of the opinion that relationships between humans and vampires on an intimate level don't work.
Jessica seems to be enjoying being an older and more powerful vampire than Newlin.
She's also going cross paths with new baby vamp Tara. Jessica's single now, so she'll be hanging out at Fangtasia more, which is where Tara's maker Pam works. When Jess finds out that there are vamps younger than her, it's very exciting.
Will she be playing big sister?
Jessica's finally dabbling in the benefits of being a vampire herself, so I think she's going to make Tara feel a little better about it.
Speaking of Fangtasia, the teaser trailer featured Hoyt trolling around the bar with a lot guyliner on.
A lot of guyliner. He's all sort of fangbanger'd out. He's got a very interesting storyline this year in which Jessica weaves in and out.
True Blood star Deborah Ann Woll discusses the interesting way she met her boyfriend, and his amazing story. Source
Deborah Ann Woll: An Angel Who Plays a Demon on "True Blood" Young Hollywood
Issue #2 of the ongoing comic out today, gash in a sundress cover.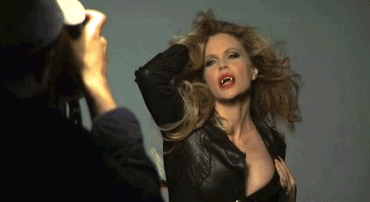 Pam getting handy from Cybergus
Authority Always Wins... Or Does It? Darlin Sookie w/Guest Ann from True Blood Comics on this week's True Blood Bites
Listen to internet radio with TrueBites on Blog Talk Radio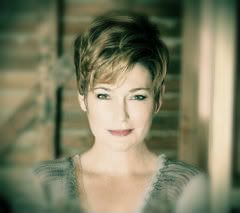 The Buzz's Podcast interview with Carolyn Hennesy can be listened to
here
.
This is part of it-
Carolyn Hennesy
stars as Rosalyn Harris on HBO's
vamp-tastic show, "True Blood
" Hennesy made her first appearance on the show June 17th, and gave us some insight into the character:
"Roman
, who is the guardian, decides the ultimate fate. I have a little fun in upcoming episodes. I think, in next week's episode, I do a little torturing. It's FUN! With Rosalyn, you have the hair and the pearls, and DON'T cross her. She will say anything with a smile as the fangs click out. Rosalyn is a good ol' Texas gal. Because the character of Roman is so strong, she chooses her words very, very carefully. She is not above giving out some home-spun advice when she needs to."
Hennesy had nothing but amazing things to say about her "True Blood" co-stars, as well as another newcomer to the show, Chris Meloni: "I see it on my Twitter following from people telling me, 'You lucky dog to be in the same room with all of these people.' To top it all off, they are lovely as people and generous as actors. They are all very funny and very giving, concerned about their show and doing a good show. I am extremely lucky."
Fans may also recognize the actress from her Daytime Emmy nominated role, Diane Miller, from "General Hospital."