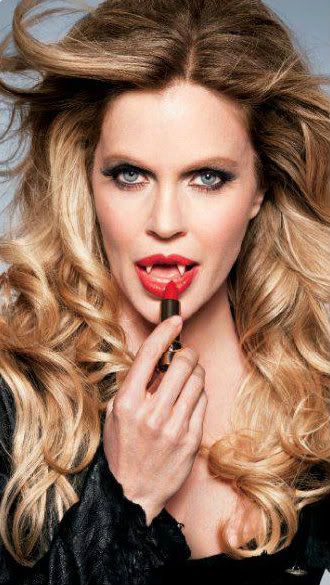 Tara is a Vampire!
Rutina Wesley's character was brutally shot in last season's finale, and it wasn't so much that she was turned into a vampire that was surprising (we knew she would still be a series regular), but the fact Pam agreed to be her maker was pretty shocking.
'In(Vamp)Centuous!' Eric Had Sex With His Sister
Definitely didn't see that one coming. In the preview, we saw Eric getting hot and heavy with a brunette, but color us shocked when it wasn't an ex-fangbanger friend, but rather a relative. Still, no complaints about that scene here: "A Naked Eric" is a "Totally-Fine-By-Us Eric."
Screencaps by Skarsgardfans, thanks B.
All Pam, All the Time: True Blood One-Liners of the Night
Kristen Bauer absolutely stole the episode. From "f–ktard" to "super snatch," Walmart-dressed Pam killed it on the premiere with her extra sassy vocabulary.
"Super snatch became our favorite phrase to use on set," Bauer laughed while talking with Celebuzz at the premiere party. As if we weren't in love with the cast already.
Jesus Lives (Sorta)
Jesus and Layfayette (Nelsan Ellis) are one of the show's best couples, so part of us died when Jesus croaked during the season 4 finale. However, his missing body leaves us tons of hope. Plus, the fact co-star Kevin Alejandro (Jesus) teased, "no one is ever really dead in Bon Temps" when Celebuzz asked if he would be back this season.
Sookie Stays Single
Hey– it's just for one episode so far, but that's something! Not only does Sookie go cold turkey when it comes to Eric and Bill, but she somehow passes on Alcide too.
BuddyTV's recap is very inclusive, me likey.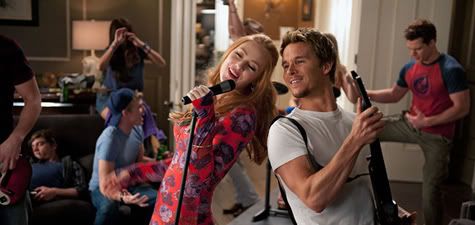 Ausiello's Recap bitsies-
A Hairy Situation In the wake of Marcus' demise, Sam is so determined to protect not only Luna and Emma but also Alcide — who, you'll recall, actually put the wolfman in the pet cemetery — that he "confesses" to the killing. Just when it's looking like Marcus' mother, Martha (try saying that three times fast!), is going to make a Scooby snack of Sam, Alcide arrives and bravely sets the record straight.
In Passing
Alcide alerts Sookie to Russell's return; Jesus' body goes missing; Andy and Holly get caught in bed by her teenage sons, Wade and Rocky; Andy agrees to fix a speeding ticket for sleazy Judge Clements; Patrick reveals to Terry that mysterious fires have been claiming the lives of their fellow Iraq veterans; and what looks like a possible suicide attempt by Lafayette… turns out just to be a makeover: He doesn't take a razor to his wrists, he uses it to shave his head.
So while y'all are getting ready to watch episode 1, we are already getting things together to shoot the finale of season 5. It's CRAZY! And I can't help but overhear some of the most ridiculous things in our prep meetings…
It sounds like I'm going to need to get some torsos and some heads.
We do have latex codpieces, they only take 20 minutes to apply.
I would deluge her completely in blood. She's exploding! The blood would go everywhere.
We should be prepared to throw a couple of body parts at her.
C'mon little Buddy, you're the Gilligan to my Skipper, I won't leave you behind as sure as my name is Ike Applebaum.
NAAAAAAAATTTTTTEEEE, ok I feel better, Brendan McCarthy is with the hillbillies.
Eonline's Kristin (the critics seem so redundant, trying to find something different)-
"I am wearing a Walmart sweat suit for you all. If that's not demonstration of team spirit, I don't know what is." —Pam
"I think that that's why I started acting the way that I did—all murderous and whatnot." —Newlin
"I finally have the strength to say, I'm a gay vampire American." —Newlin
"We're done with all the supernatural bulls--t. You heard me? No vampires, no witches, no ghosts, no maenads. And no motherf--cking werewolves." —Lafayette
"It even smells clean. Like lemons on top on ammonia, on top of bleach." —Alcide
"God, I wish there was somewhere else to eat in this town." —Andy
"My dead heart beats for you, the least you could do is try." —Newlin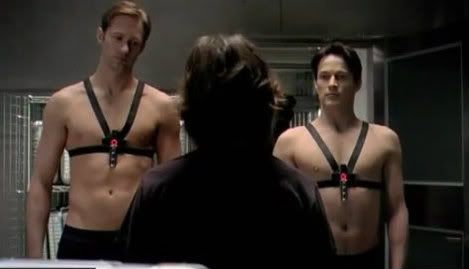 Ike, you're timing is all wrong, step to the right, left foot BEHIND the right foot, Marcellus cut out the jazzhands, we've been over this. Now lets take this routine from the top!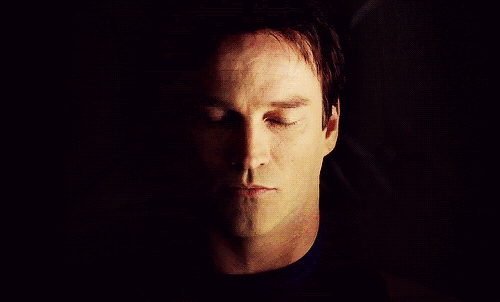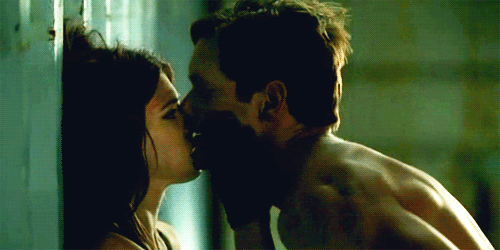 Nothing like a good explosion to get the blood going. GIF Source
Ausiello, the busy little bee, interviews Rutina Wesley at
TVLine
, more at the link
TVLINE | How long have you known?
I've known since last season. Three quarters of the way through last season I found out.
TVLINE | What was your reaction?
I was initially terrified because I was being shot in the head. [Laughs] I was like, "Where is that going to lead?" But I was also excited because I was going to be able to create a whole new Tara in a way, and explore a whole new physicality.
TVLINE | Was there a part of you that was like, "Damn, now I have to wear those uncomfortable fangs and contact lenses!"
Yes. There was a point when Stephen [Moyer] came up to me in the makeup trailer and said, "Still enjoying being a vampire?" [Laughs] It is difficult. It's a whole new routine you have to get used to. But it's been so much fun.
TVLINE | What was it like the first time you saw yourself with the fangs in?
I took a bunch of goofy pictures in my trailer. I was looking at myself and like, "Oh my God!" It was very weird getting used to seeing my face with fangs popping out. The thing that's hard is talking with them. We have this thing that if you can say Sookie Stackhouse then you're good.
TVLINE | Last season Tara mellowed out a little bit, but this season — at least in the first four episodes — she's angrier and more pissed off than ever!
It's fun being feral, as they call it. [Laughs] She's only been a vampire for a minute, and what transpires when she comes out of the grave is the most chaotic crazy thing; she doesn't know what to do. And the most important thing is the relationship between her and Sookie and her and Lafayette and how all of that plays out.
TVLINE | The best thing to come out of this, at least in my opinion, is that it bonded Tara with Pam for life. Talk about a dysfunctional relationship.
I think Kristin Bauer is a goddess. She's been so much fun to work with, and so sweet to me. She's been giving me [vampire] pointers. She's the one person who I hadn't worked with, so it's been amazing to get the chance to work with her. Their relationship is going to be fun because they both say what they want. They're both like, "Whatever." It's going to be interesting to see how that relationship grows — if it does grow.