Sorry for the tardy post, I was at the Howl Festival till a bit ago, had a good time in the East Village.
These GIFs are from my friends at DiariesBloodTumblr, last night these had me rolling! Steve Newlin dancing his little bootie off, to Jess's chagrin. Oba Oba!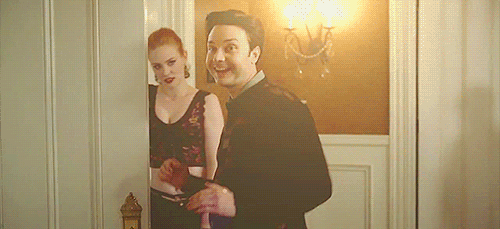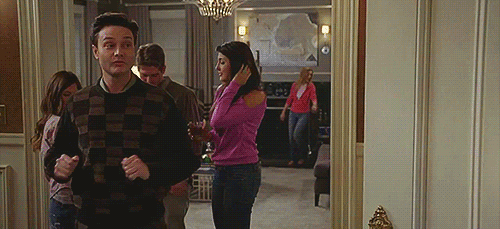 Also last night, Jim Parrack tweeted this pic, is his hair colored?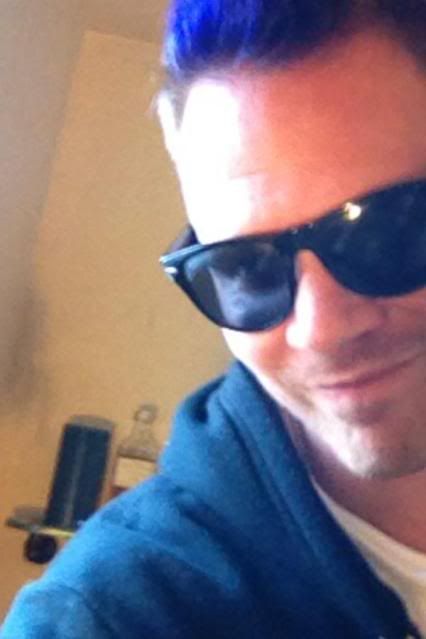 I hate to post videos with ads but this one only comes one way.
How TB is dealing with Anna's baby bump from Access Hollywood-
Anna Paquin and husband/ "True Blood" co-star Stephen Moyer are expecting their first child together, and while the news is joyous for the pair, a baby doesn't quite fit in with Sookie Stackhouse's (played by Anna) storyline.
Consequently, "True Blood" creator Alan Ball says the show will work around Anna's baby bump, using age-old on screen camera tricks.
"So, in the last few episodes, Sookie's holding a big purse in front of her at all times," Alan told Access Hollywood with a laugh, at the "True Blood" Season 5 premiere in Los Angeles on Wednesday. "I actually heard from the costume designer about midway through the season, she went, 'Sookie can't wear a Merlotte's T-shirt anymore.' And I went, 'Well, it's a good thing Sookie isn't really at Merlotte's anymore, she's basically trying to save the world.'
"So, we'll put her in loose-fitting, save the world outfits," he added.
Even an extra crispy Russell has to keep up with his calls (from season 3).
Rutina Wesley Reveals Tara's Fate On Season 5 Of 'True Blood' While Dennis O'Hare Shocks Viewers With The Identity Of The Character Who Dug Up King Russell, Highlight Hollywood News- More at the link.
Dennis O'Hare hinted about the person or character that dug him up from under the concrete, where he was placed at the end of Season 3. "Tommy, it's a surprising character. And I think you get a hint in episode two, and then a big hint in episode five." When asked what we can expect from the exiled monarch. Shall he return a bit nicer this time around. "He's still vicious, he's still dangerous, he's still highly charming, but they added all this stuff to him. We get to see him fall in love!"
And when Rutina Wesley found out our readers at Highlight Hollywood want to know if she died. She said, "Ah, isn't that sweet! They care about Tara that much?" No, not really, they just want to know! Of course we all love and care about Tara, even though her whining gets on our last nerve! She told the media, "[I'm] definitely coming back, just can't tell you quite how. The interesting thing, for me, is the fans watching Tara recover. She kind of becomes a new woman. The journey she's about to embark on is out of control."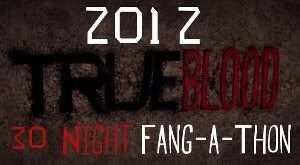 Countdown video, remember we had them before? Is that the Fae Club?
Episode listings as of June 3.
SUNDAY, JUNE 10, E1, "Turn! Turn! Turn!"
Sookie (Anna Paquin) and Lafayette (Nelsan Ellis) struggle with the aftermath of Tara's (Rutina Wesley) shooting, while also cleaning up after Debbie Pelt. Meanwhile, Bill (Stephen Moyer) and Eric (Alexander Skarsgård), cleaning up a mess of their own, are visited by the Vampire Authority, one of whom is Nora (Lucy Griffiths), a woman from Eric's past. In search of the missing Marcus, Alcide's (Joe Manganiello) werewolf pack comes after Sam (Sam Trammell). With Bill away, Jessica (Deborah Ann Woll) enjoys her new freedom by partying with local college kids; Jason (Ryan Kwanten) is visited by the recently turned Rev. Steve Newlin (Michael McMillian); Terry's (Todd Lowe) PTSD is reignited by Patrick Devins (Scott Foley), an old Iraq War buddy; and Alcide turns up at Sookie's to warn her about the recently resurfaced Russell Edgington (Denis O'Hare).
SUNDAY, JUNE 17, E2, "Authority Always Wins"
At the Vampire Authority headquarters in New Orleans, Bill and Eric meet Salome (Valentina Cervi) and become acquainted with the Authority's interrogation techniques. Pam (Kristin Bauer van Straten) recalls her human life as the madam of the Comstock Brothel in San Francisco, and her first encounter with Eric. Werewolves J.D. (Louis Herthum) and Rikki (Kelly Overton) pay tribute to Marcus, but Alcide refuses to participate or take his rightful place as the new packmaster. Martha Bozeman (Dale Dickey) shows up wanting to see her granddaughter, causing conflict for Sam and Luna (Janina Gavankar). Fearing Russell's return, Sookie procures a home-protection system; Arlene (Carrie Preston) tries to get to the bottom of Terry's erratic behavior; Steve Newlin stops by with an offer for Jessica; and Jason feels the brunt of his womanizing ways.
SUNDAY, JUNE 24, E3, "Whatever I Am, You Made Me"
Bill and Eric barter for their lives with the Authority Chancellors and their leader, Roman (Christopher Meloni). Salome and Roman enlist a new ally in the face of Russell's return. Sookie goes to Fangtasia to ask for help from Pam, who is still caught up in her memories of Eric and the strange murders at the Comstock Brothel. Andy's dalliance with Holly (Lauren Bowles) comes back to bite him in the butt; later, he's visited by Gordon (Steve Rankin) and Barbara Pelt (Linda Purl), who are searching for Debbie. Jason bumps into an old high school teacher, but their reunion brings up conflicting feelings.
SUNDAY JULY 1, E4 "We'll Meet Again"
SUNDAY JULY 8, E5, "Boot N Rally Ally"
SUNDAY JULY 15, E6, "Hopeless"
SUNDAY JULY 22, E7, "In The Beginning"
E8 "Somebody That I Used to Know"
E9 "Everybody Wants to Rule the World"
E10 "Gone, Gone, Gone"
E11 "Finally"
SUNDAY E12, "Save Yourself"
From IMDB and TV.com and of course Rhoswen7.