Denis O'Hare
, who is back from the undead as Russell Edgington, says, "In Episode 7, we have a really freaky scene where you see vampires behaving in ways they don't normally behave. It leads into Episode 8, which Stephen Moyer
[
Bill
] directed. It's an acid trip in the Vampire Authority world that Stephen's responsible for creating. It is creepy, trippy, funny, bizarre, beautiful and mind-boggling." TVGuide
Favorite Moments from the cast, note there are none from season 4 (lol), but they did pick some great scenes, ie. Sam's perfect one.
FYI, I update all day so y'all come back later.
MegaBuzz-I still can't believe Tara is a vampire! Any scoop on what's coming up for her on True Blood? — Harold
NATALIE:
Sookie and Lafayette will certainly have their hands full this week, but lest we forget, Pam is her maker, albeit begrudgingly. Still, there may be opportunities for Tara to find allies in the vampire world. They may have been sparring in Sunday's promo, but Jessica and Tara could find a friendship. "Jessica is very lonely,"
Deborah Ann Woll
tells us. "She's looking everywhere she can for someone to understand her and maybe there's an opportunity there with Tara."
Ausiello's teeny spoilers, if that-
Question: Just wondering if you could tell me which episode of True Blood Chris Meloni first appears in? I say the third but others disagree. Who's right? —Jessica
Ausiello: The Others are correct — Meloni's Vampire Authority bigwig turns up this Sunday. As doesCougar Town's Carolyn Hennesy, who plays one of his half-dozen chancellors. "We are really trying to decide the fate of vampires all over the world: mainstreaming versus non-mainstreaming," Hennesy explains. "The buck stops with us and there are those interested in following one path and those interested in another, so there's some definite in-fighting between us."
Question: Loved the True Blood premiere. What's coming up necks, er, next? —Ed
Ausiello: I'll say this: The Tanning Mom is not going to want to miss the June 24 episode.
Is he referring to this-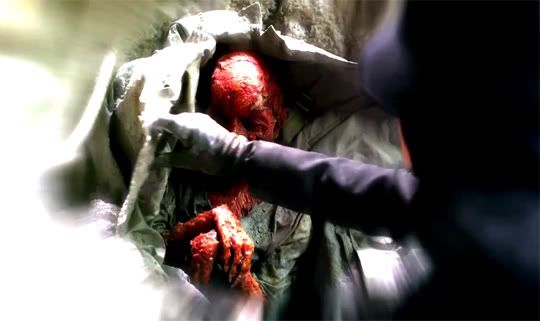 Meredith is back with her episode Pros and Cons on IO9.com (all at the site) -
Pro:
Andy and his girlfriend do it! Go Andy. Even angry sheriffs need love too. Plus, you look great, Andy!
Con: What's-her-face's kids are just more characters for the character bonfire. (keep the kids, eliminate the mom, Andy and Wood Fairy sitting in a tree)
This GIF is what I was looking for, Lafayette schooled that nosey wolf, no fear Lala! Tempella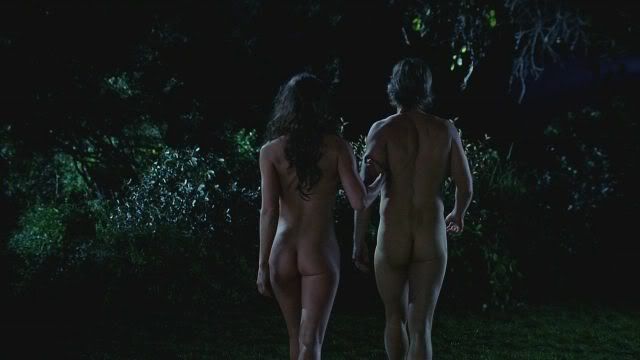 Sam and his ass, screencaps for Turn, Turn Turn at Home of the Nutty via io9.com
New Jess Vlog-
Preview from YouTube for people who have trouble with HBO videos.
Zap2It had an interview with Audrey Fisher out on Sunday, I'm just getting back to earth and going over bookmarks-
"I have to design all these incredible fantasy scenes," she says, "and things like the beautiful turn-of-the-century outfit Pam
wears in a flashback create a lot of drama and excitement and intensity in our department."
"Pam's got certain eras she really loves the designs from. She considers herself like a Barbie doll and considers her clothes like costumes. At Fangtasia we've had a
Lara Croft
outfit, a biker bitch outfit, a
Barbarella
outfit, a black widow outfit. It's fun for us to come up with a theme for each outfit. ... I imagine Pam has shoppers in New York, Paris and L.A. sending her cutting-edge things because she is a diva. It helps to have that imagined back story."
"This is another Syren piece. It's a really beautiful purple satin and black latex corset with a black latex skirt and black latex gloves. There's a little lace 1880s-looking top underneath by a wonderful company called Heavy Red that makes beautiful corsets, steampunk (think the 2011 movie
'Sucker Punch'
) and goth. This outfit was designed to replicate the silhouette from the turn of the century to provide a bridge from the turn of the century look to the current look. Pam has a look that she likes and it works even 100 years later." More great photos HERE
Kristin Bauer just tweeted the link for this HuffPo phone interview, and mentioned this outfit above, longer interview at the link-
"I'm really so happy with the world I'm living in. I hope it goes to 17 years," Bauer told The Huffington Post in a phone interview. "I hope we have vampires with walkers and denture fangs. That's my fantasy."
After the premiere, I think the one question you must be getting asked is, "Was that a real Walmart sweatsuit?"
Amazingly, I don't know. We put this thing on in the fitting -- we had a whole bunch to try -- and we did not continue after we saw that fabulous shade of yellow. And then Audrey [Fisher, "True Blood" costume designer] dyed the pants to be slightly a different yellow than the top and shortened them so they'd be too short. It's just genius.
I can't wait to see Walmart -- I'm always writing letters trying to get them to stop doing things that they shouldn't do. I have this unbelievable karma with Walmart.
Any more questionable Pam fashions coming up?
I wouldn't say questionable, but I'd say more amazing. I didn't think it was possible that Audrey Fisher could outdo herself from past seasons, but she has. You expect there's a line you cross where you've jumped the shark and go "OK, that's now ridiculous." There's an outfit coming up, that purple corset outfit, we just kept adding more and more and thought, "God, is there a line? Can you cross the line with Pam?" and after this outfit came together we were like, "No, there's no line."
The episode ended with a big cliffhanger. How's the dynamic between Pam and Tara going to evolve this season?
It's pretty fantastic because the best drama is conflict. You've got two people now tied together because Pam's one Achilles' heel has been tied into making this relationship possible, which is Sookie will fix things with Eric if she turns Tara. How else could you get Pam to turn someone she spent the last season trying to kill? She hates this girl and in a lot of ways, they're very similar. They're both in your face, they're both bold, they're both fearless, so it's a lot of conflict.
Are we going to see any romance there?
I'd love to see how they can pull that off -- two people trying to kill each other -- but with this show, anything is possible. I cannot wait to answer that question as well. I heard in the books that Pam gets a girlfriend and I'm just so curious as to how and when that can ever happen.
From what I've seen, it does seem like a very big year for Pam. There are flashbacks making it your own sort of prequel. What's it been like exploring that side of the character?
It's great to finally see how this relationship with Eric began and also who Pam was before she was a vampire. I think it explains, or supports, so beautifully what we know of Pam. The writing was just so brilliant. It makes so much sense and also it was nice to try to find and play the character that you see threads of Pam. You see who she was as a human because humans have to deal with fear -- fear of death, illness, money -- all that stuff that vampires don't have to worry about.
You have plenty of new cast members this season --Christopher Meloni, Carolyn Hennesy -- what's it been like with all these new faces?
Oh, it's great. It's so great. Really the only time we see the entire cast is at a table read and there's so many great actors and the guest stars are just amazing. Carolyn is incredible. She creates this amazing character. How lucky to have Denis O'Hare back. Oh god, Denis O'Hare is remarkable.
Will Pam and Russell be having a face-off down the line?
Well, you'll just have to see. I mean, he's pretty intimidating. I feel like whenever I'm in a scene with him and have been, he just raises the bar. And we've got Steve Newlin [Michael McMillian] back -- you know these great characters. There's a few people you're going to see back this year that you don't know about yet.
What do you think will shock fans most this season? Is there like a benchmark?
There are -- I don't remember which episode, but probably around the middle of the season. What's really fun to see this year is that everything is at stake. The vampire world -- which I'm very partial to, this probably happens in the other world, but I'm much obviously closer to the vampire world -- you think you know people and you don't. That's the fun, difficult thing for the vampires this year. We saw the clip where Eric doesn't even trust Pam because everybody is playing a card and a side, but you don't know if that's actually how they feel because we're into the political world.
Is there anybody you'd like to see guest star? You guys always have such a great guest stars.
Yeah, well, I am a huge "Deadwood" fan. I was just falling asleep watching one of those pirate movies and was reminded of Ian McShane, who played Al Swearengen.I would love to act with him.
Another interview at Hollywood.com with Kristin.